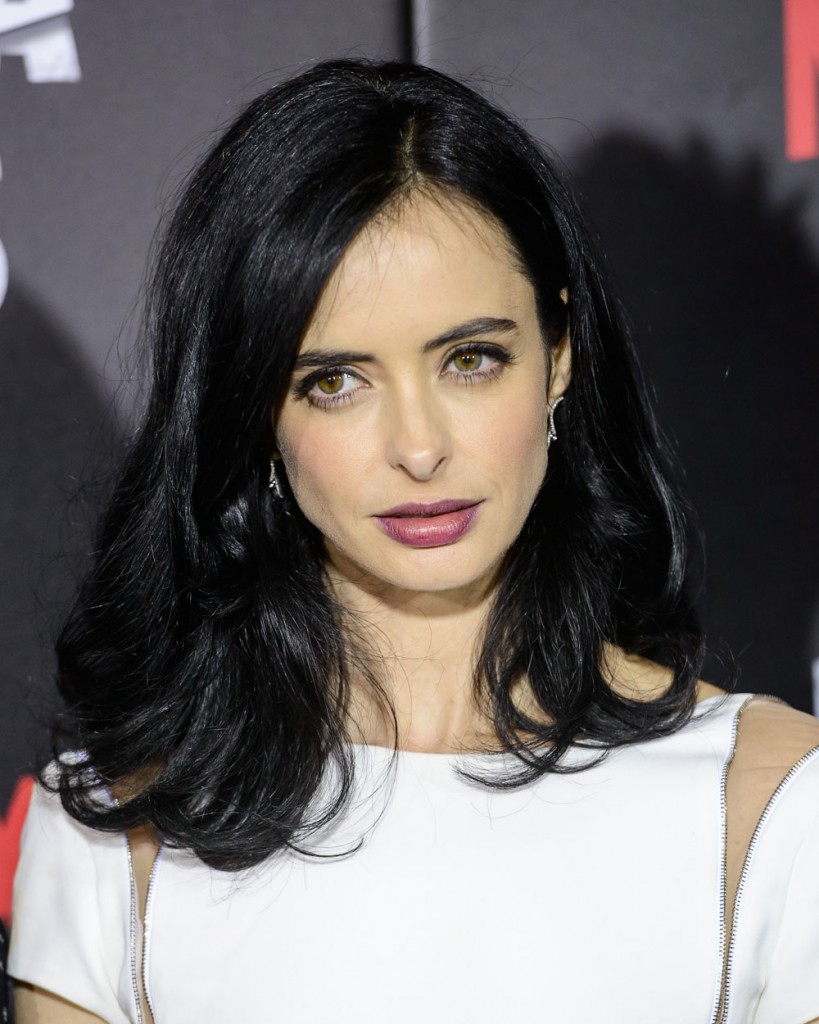 It seems like an eternity since the lovely and talented Krysten Ritter has graced our television screens (Don't Trust the B—- in Apartment 23, we hardly knew ye…and don't get me started on how much I still miss Breaking Bad), but she's back, with attitude intact. The 33-year-old actress is entering the Marvel realm, taking on the role of Jessica Jones in a new series for Netflix, which is available for streaming tomorrow.
Initially, the thought of Krysten in a tight, skimpy costume fighting crime doesn't fit with the edgy roles she's played in the past, but Jessica Jones is a dark anti-hero, eschewing the spandex for sweats. While the character she plays possesses an active libido (the trailer shows some hot and steamy stuff), the actress refuses to be defined by her sexuality, telling the LA Times, "You'll never see me putting on a short skirt and heels to use my 'sexuality' to get what I want. I don't want to play that."
Since playing conflicted characters is her forte, it's easy to see how she's a great fit for this role. Jessica Jones has superpowers – including super strength and mad jumping skills – and she initially tried to use her powers as a do-gooder, but she ends up becoming a private investigator. Her nemesis is the villainous mind-controller Kilgrave, played by Doctor Who's David Tennant. The character drinks and cracks wise, but still has a streak of vulnerability. Showrunner Melissa Rosenberg told Rolling Stone she wanted to create a character who was a "female Tony Soprano" and as a result, Krysten was more than eager to take on the role of the troubled antiheroine – after overcoming a little bit of hesitation.
I needed something complex, plus I like doing dark characters and comedy — and Jessica Jones has all of that. At first, my manager had to explain to me that Krysten, this isn't what you think it's going to be. Finally, I just said, 'Okay, fiiiine, I'll go and audition…but I'll never get it.' When you go to Marvel, they lock you in a room with the scripts; they really are that secretive. But what they gave me to read was great — and when I heard Melissa Rosenberg was the showrunner, I thought: They are serious about this. It felt very much like, 'Oh, so you say Marvel doesn't usually do a great job representing women? Well, here ya go!
[From Rolling Stone]
Krysten jumped into the role – quite literally, hitting the gym for 90 minutes a day to get her strength up to endure the stunt work involved to pass oneself off as a superheroine. She's enthusiastic about the show, saying, "It's a psychological thriller first, and a superhero show second. It's exactly the kind of female-led show I'd watch. And I kick a lot of ass without having to wear a leotard."
I am so glad Krysten is back…and it looks like I have another show to binge watch!