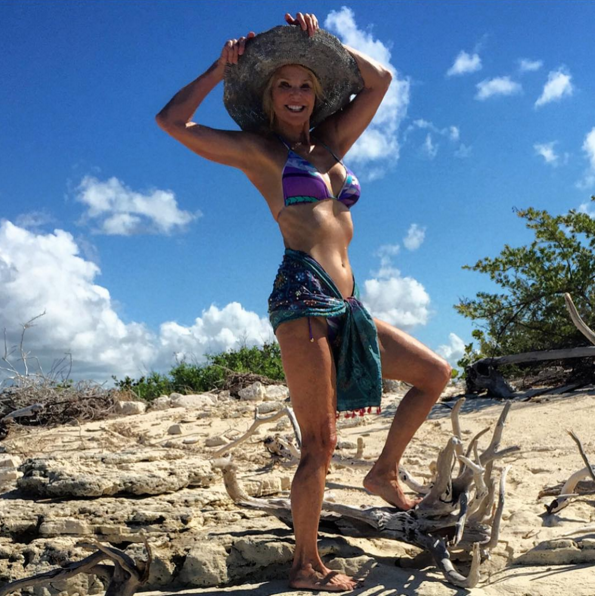 Christie Brinkley posted the above photo to Instagram yesterday, along with a plug for her book, which was smart. She's been hustling trying to promote her new beauty book, Timeless Beauty, and this gets her more press than all the random things she's been saying – that that we should "set our own standards" for beauty despite the fact that she perfectly meets societal standards for attractiveness and that she "tried" Botox in her forehead but won't ever do it again.
To be fair to Christie, she did cop to more than just Botox, in a piece for The Daily Mail which we didn't cover (I didn't see it until commenter Minty pointed it out), Christie writes that she's also done Botox in her neck, injectable fillers in "super-tiny doses," laser treatments and "Skin-tightening devices that use radiofrequency waves" which "deliver energy deep into the skin to heat it and stimulate collagen production." I think she's talking about devices like the nuface, which I keep eyeing at Amazon and wondering whether it's worth putting on my wishlist. That's like the budget version of the pricey treatments Christie uses. So Christie does admit she gets a lot done at the dermatologist, but I question whether those treatments changed the entire shape of her face. She looks great but much different than she used to.
Christie also looks amazing in a bikini that's for sure. She eats vegan and in a cover profile with People Magazine last year she said that "I treat every day like I'm eating to fuel my body." She also said that she'll have a glass of red wine at night, that she likes pasta and tries to balance out her intake with exercise. When she does gain weight, "I just get on the stick and exercise more. The more active I am, the better I feel." Her fitness routine involves running, spinning, lifting weights and spending "at least 10 minutes a day on my Total Gym machine." I can't believe she still does the Total Gym! Remember those infomercials?