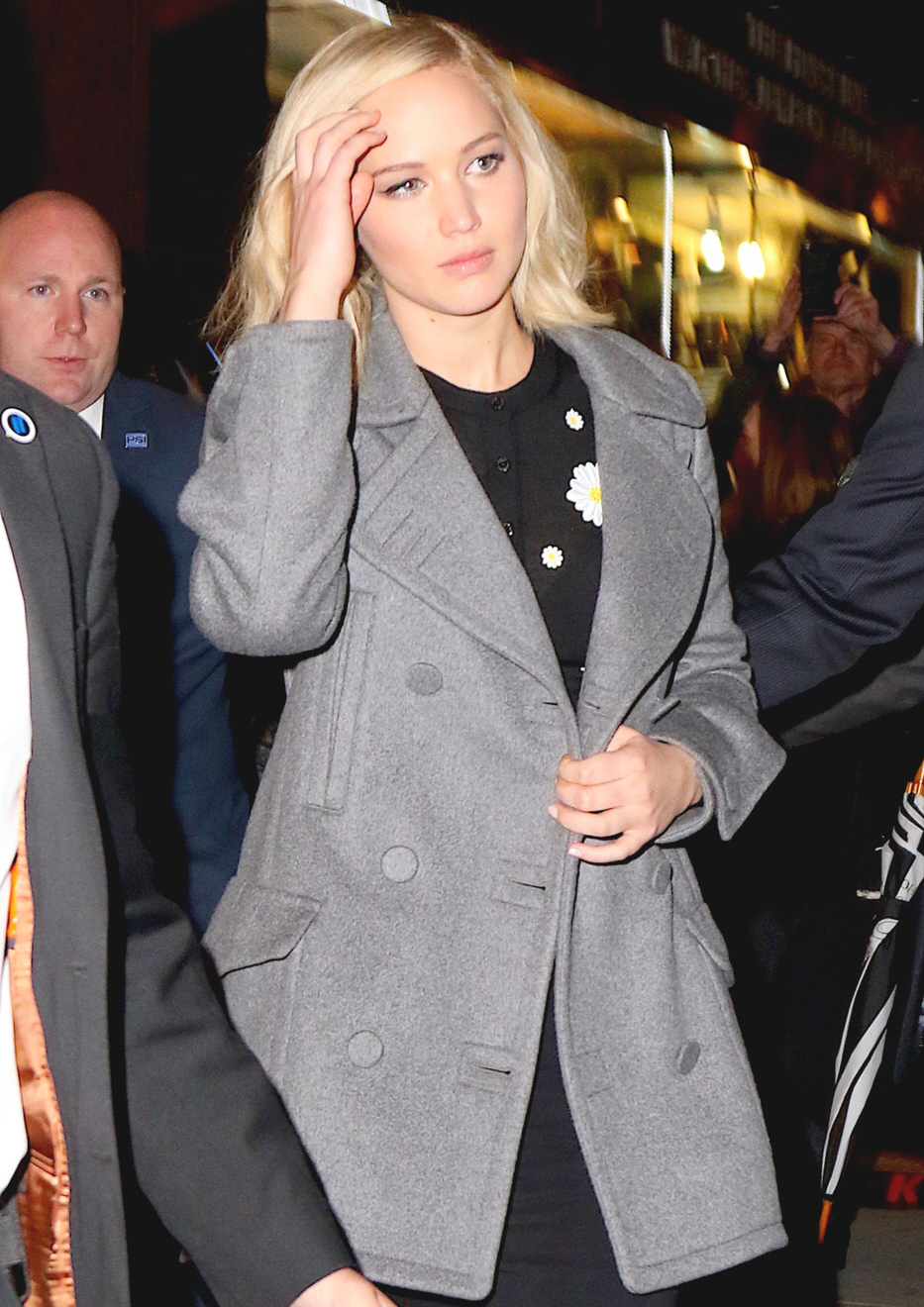 Here are some assorted photos of Jennifer Lawrence from the past week and a half, all in NYC. Jennifer reportedly spent Thanksgiving in NYC alone, although I kind of doubt she was just by herself the entire time. I bet her mom came to her, or maybe J-Law spent the holiday with friends or something.
The assorted photos include some pics of Jennifer at the first screening of Joy this weekend. I've been to the movies a lot lately, and the trailer for Joy has appeared ahead of every movie I've seen in the past two months. I still don't really get it? I mean, I know it's loosely based on the life story of Joy Mangano, the inventor of the Miracle Mop, only the "bio-pic" is more a David O. Russell fantasy than a by-the-books biography. It just looks cheesy and silly rather than dramatic. I kind of think J-Law has gotten all she needed to get out of her collaboration with David O. Russell, but J-Law says they will keep working together until they die.
Joy marks the third time Jennifer Lawrence and David O. Russell have worked together, but she says it won't be their last.

"I'll do anything with you until you die," Lawrence told Russell Saturday during a Q&A that followed the first screening of their latest collaboration, adding, "it's sweet and f—ed up."

Joy was screened Saturday in New York and Los Angeles. The Q&A, which took place in New York City, was broadcast via satellite to the West Coast. Russell pointed out that the characters for Lawrence, Robert De Niro, and Bradley Cooper were inspired by "our growth together in the last five years." Joy also marks his first film with a female protagonist and the first time, Russell noted, Lawrence is playing someone "who's not crazy" in one of his films. Joy unfolds over more than 30 years to show how one woman rises to become the matriarch of her family. She "had a fire and gift that she had buried for 17 years," Lawrence said of her character, while describing the film as a tribute to "women who are the unsung heroes of their households."

The Hunger Games star previously expressed her love for working with Russell to EW. "David and I will never, ever, ever, ever not do movies together," she said. "I love him so much that sometimes I can't talk about him without tearing up. Look! I'm tearing up. I understand every look, every eyeball move, every word he says or doesn't say. We were made for each other."

How much does she love him? Enough to face her fear of singing once again. In Joy, Lawrence and costar Edgar Ramirez duet on "Somethin' Stupid," which was made famous by Frank and Nancy Sinatra. "He's a d—," Lawrence joked of Russell making her sing in the film. "But David's so open that the fear seemed silly."
Ugh, it irritates me that Jennifer is so close to a guy who "felt up" his transgender niece. I mean…DOR has issues. People in Hollywood know about his issues. DOR is such a douche, George Clooney choked him during Three Kings and then refused to work with him again. Why is J-Law so cozy with him?
As for the "buzz"…even though reviews of Joy have been embargoed for now, a lot of critics and awards-watchers believe that J-Law will be getting another Best Actress Oscar nomination this year, and that she could be a major contender. The Best Actress race is in disarray right now, but I could see J-Law getting a Golden Globe nomination. But another Oscar nom? For this film? Ugh.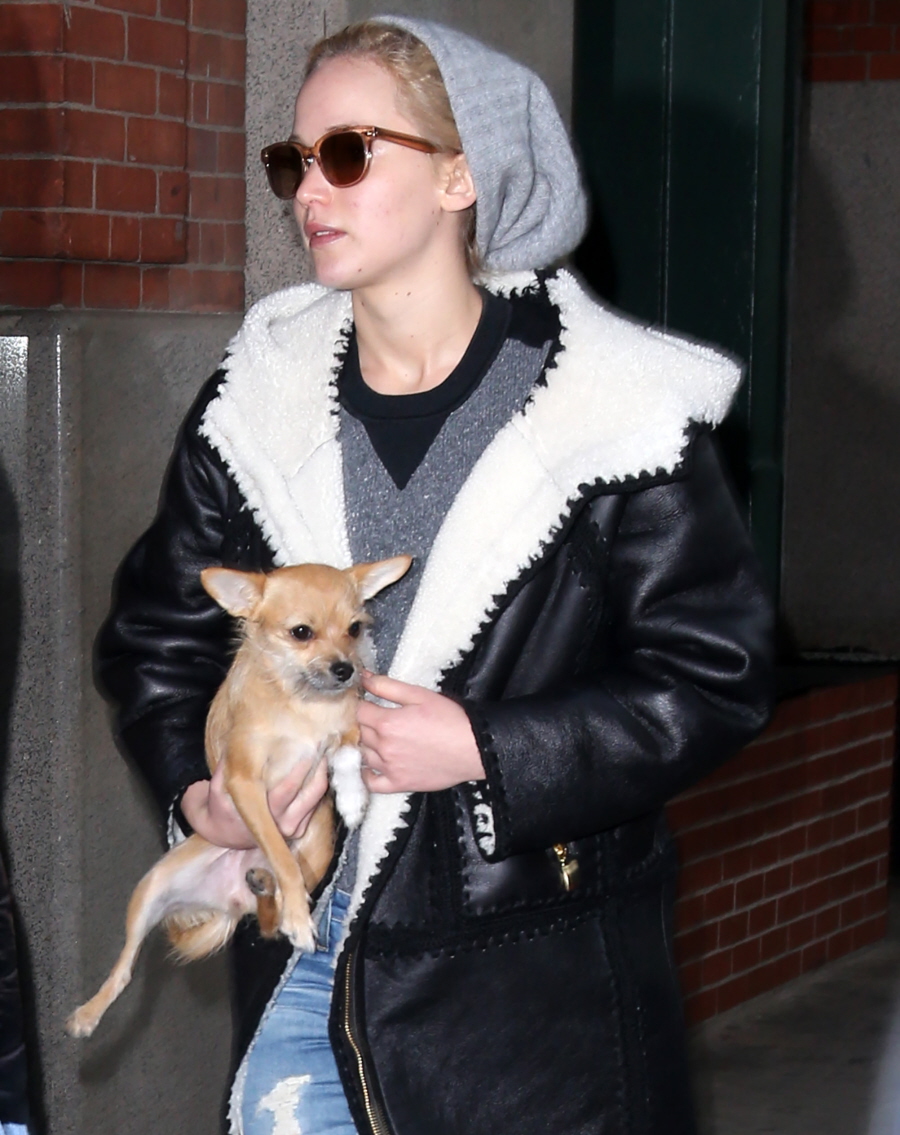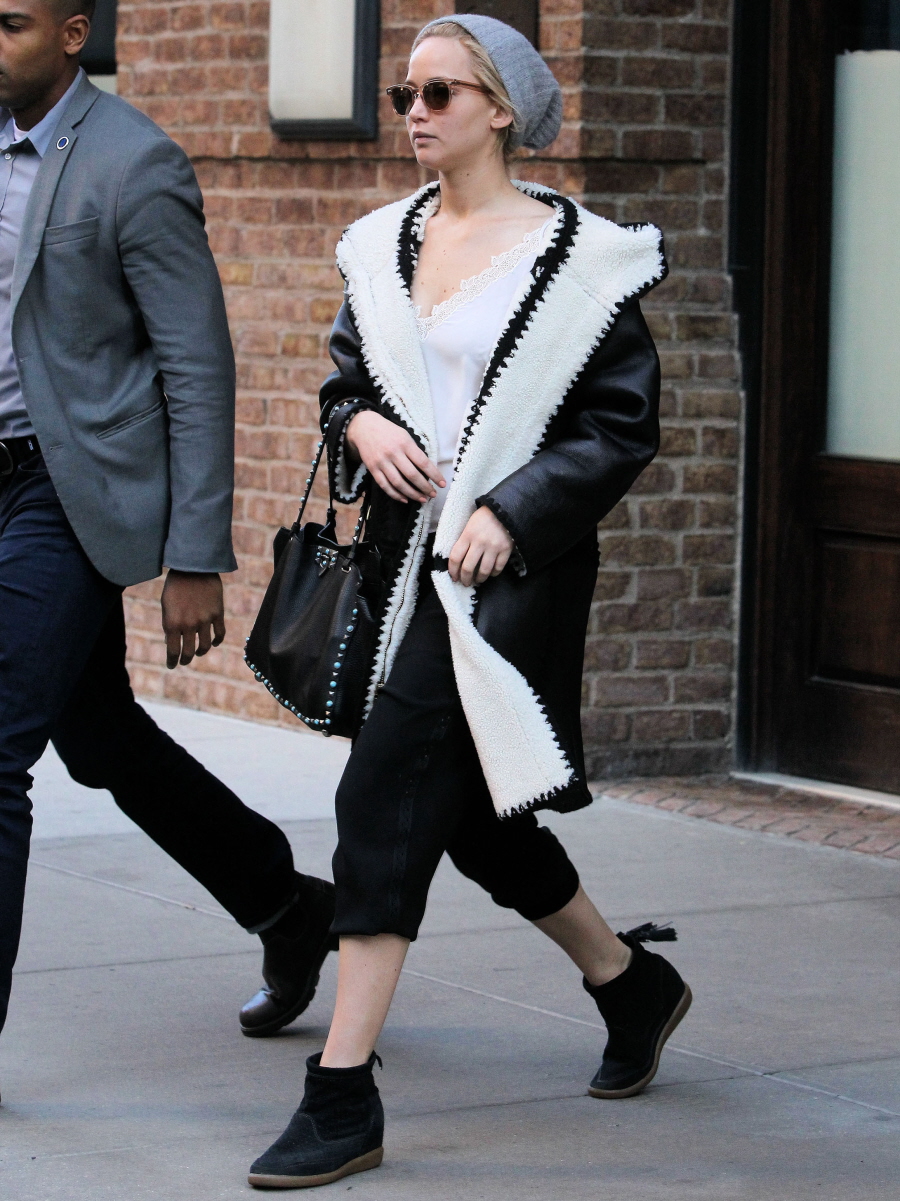 Photos courtesy of WENN, Fame/Flynet and Pacific Coast News.