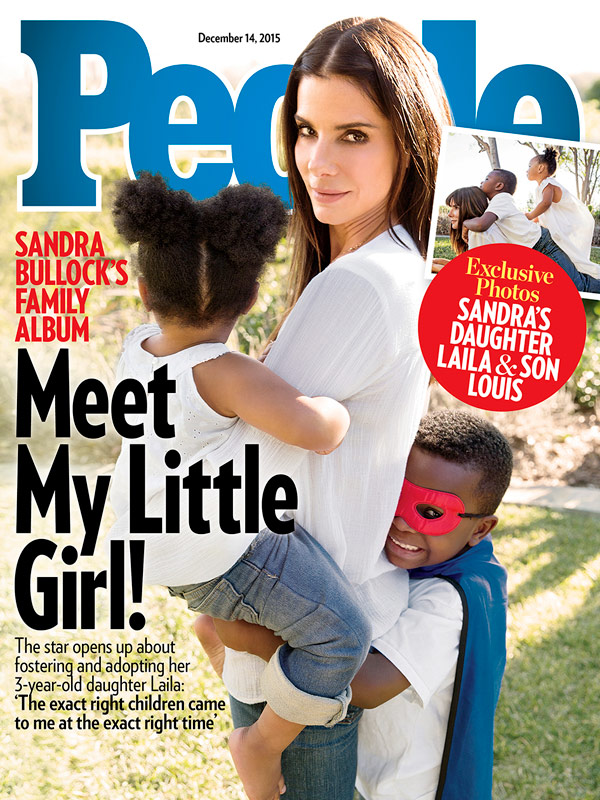 Yesterday People Magazine came out with their new cover story, on Sandra Bullock's adoption of a three and a half year-old girl, Laila, from the foster care system. Sandra waited until the adoption had officially gone through to make the announcement, explaining that she was legally obligated to keep Laila's identity private and that she'd gone to great lengths to keep paparazzi photos of the girl from being published.
People's piece was long and there are a lot of details that we didn't yet report, mostly about how Laila and her older brother Louis, five, get along. Sandra said that Louis had asked for a sibling for several years and that he didn't have a preference as to whether he had a brother or sister, but that he did want someone who had brown skin like him. She also told some cute stories about Laila and Louis bonding.
She knows she was meant to adopt Laila
I didn't want Louis to think for a second that I wanted or needed more than him, because I had everything I needed. When I look at Laila, there's not doubt in my mind that she was supposed to be here. I can tell you absolutely, the exact right children came to me at the exact right time.

Louis wanted a sibling
Louis spearheaded this whole journey. I did remind him that it could be either a brother or a sister and that we would be so lucky to have either one. He did specify that he wanted a sibling who has some brown skin.

On if she specifically wanted a daughter
Through the years there were many options that presented themselves that in the end didn't work out. All of them were boys of various ages. Not one girl. At one point I was even getting on a plane the next day when things fell through. But again, I knew that we would find our family – we just needed to be patient. So when Laila came into our lives, we just had to move over because she was coming no matter what, and she knew exactly how things were going to run.

Louis is protective of Laila
When Laila finally came to us and we were getting visits from CPS, there was an afternoon when we were outside and Louis saw their car pull up and he ran next to Laila and asked the CPS workers why they were there. They replied that they were there to see if Laila was okay. He replied, "You're not going to take her away, are you?" And at that moment, I knew I could stop worrying about whether I had found the right match.

On the first time Louis and Laila met
He grabbed her hand and dragged her into his playroom the first moment he met her. He's a wise old soul and often knows more than I give him credit for. I think he was ready for her before she even arrived, and he knew exactly what to do as a big brother. He knew to be cautious and gentle. But now that time has passed and it's like the WWE.

How they will celebrate Christmas
I will spend Christmas trying to convince Bwoono Maws [Bruno Mars, Laila loves him] to be under the tree and to somehow get Darth Va-der and Hans Solo to be there as well. The most magical part will be watching Louis show a little girl who may never have had a Christmas before what it's all about.
[From People Magazine, print edition, headers added]
Many of you noted in the comments that it looked like Sandra was deliberately hiding the kids' faces in the cover photo. In the photos in the magazine, there are only back and side view photos of Laila and Louis, there are no shots of their faces from the front except where Louis is wearing a mask. As I mentioned yesterday, Sandra's boyfriend, photographer Bryan Randall, took the photos. She didn't talk about him in the interview, but she did slyly say "the photographer was very patient." I was surprised at how open Sandra was, she's changed a lot and I think that's down to being a mom. She told this kind of devastating story of being at her mom's deathbed (Sandra's mom passed in 2000) where her mom told her "Don't be like me." Sandra explained that her mom "didn't want me to go through life shut down, afraid of feeling." She said that "life has made sure I feel everything now, and I'm not ashamed of it anymore."