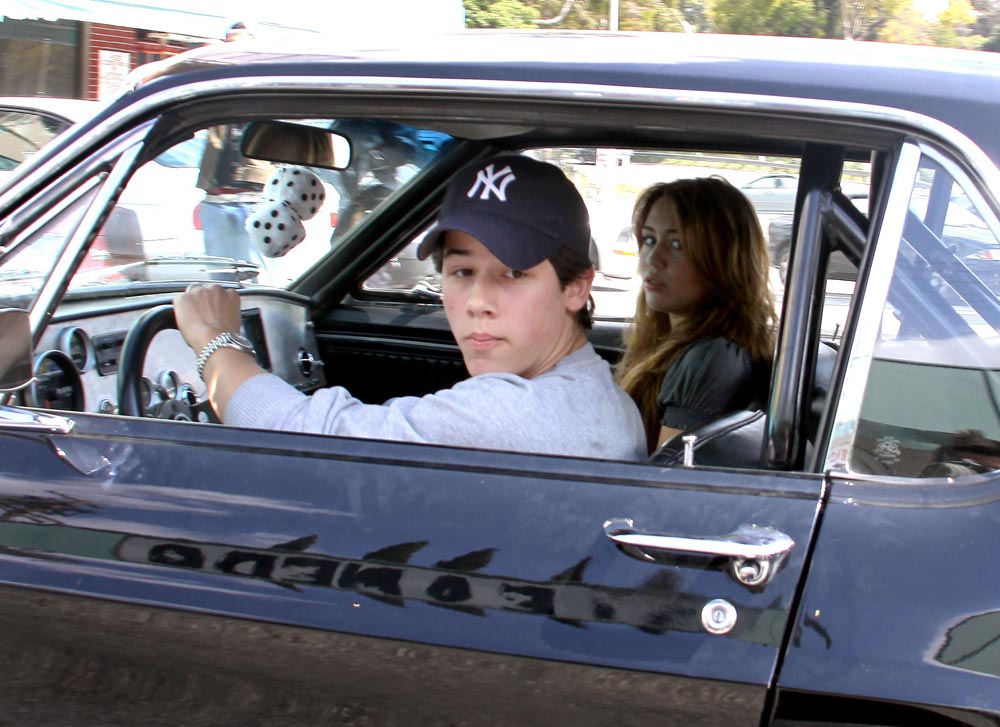 Miley Cyrus and her ex Nick Jonas, both 16, were seen talking and looking friendly at the Kids' Choice Awards late last month, and there's news that they're working on a song together for Disney that's billed as a modern version of "We Are The World."
Breakup was hard
Miley told Seventeen Magazine in an interview published last August that she "bawled for a month straight" after their breakup, thought to be in late 2007, and then dyed her hair black because she wanted "to look hard-core." Miley's mom and her best friend Mandy Jiroux confirmed Miley's account that the breakup from Nick was hard for her in interviews included with her E! True Hollywood story.
If Miley and Nick had any hard feelings between them they seem to have smoothed things out for the sake of their careers. The two Disney stars and exes were seen out to lunch on Saturday in LA – without Miley's boyfriend, Justin Gaston.
Nick hits another car in the parking lot
A video taken after Miley and Nick's lunch and posted to Hollywood.TV shows Nick involved in a minor fender bender. Nick seemed a little flustered when he was trying to pull his vintage Mustang out of the parking lot with Miley in the passenger seat. He didn't have enough room to get out of the lot and/or maneuvered poorly and knocked into a Ford Explorer, dislodging a piece off the side panel of his car. (At first I thought it was the mirror from the Explorer, but it's a piece off the Mustang and what I think is the cover to a side vent.) The other car didn't look to be damaged and Nick drove out of there without stopping. It's got to be frustrating to be surrounded by photographers. I had a few minor fender benders like that when I was a teen driver, but even at a young age you know you're supposed to stop and make sure everything is ok before you take off.
Miley: I can't help if I'm overexposed, I try to keep my life private
It's probable that Nick went out with Miley for a friendly lunch and was surprised to be surrounded by so many photographers. Miley told US Weekly in an interview published in the latest edition that it's not her fault that she's overexposed when there are photographers waiting for her every day:
"People say I'm overexposed. I can't help if there are 40 photographers outside my house. I really try to keep my life private."
Maybe Miley should quit blabbing about her boyfriend if she's striving for privacy.
Miley's movie is a hit
The Hannah Montana movie was first at the box office this weekend. There was speculation that it might underperform like the Jonas Brothers movie, but it took in a solid $34 million. Miley's massive success could be part of the reason why Nick wants to nosh and make up.
Here's video of the fender bender, thanks to Hollywood.TV. The guy whose car is hit swears at the end of the video so it's NSFW:

Photos of Miley and Nick out to lunch thanks to RIV/Fame Pictures