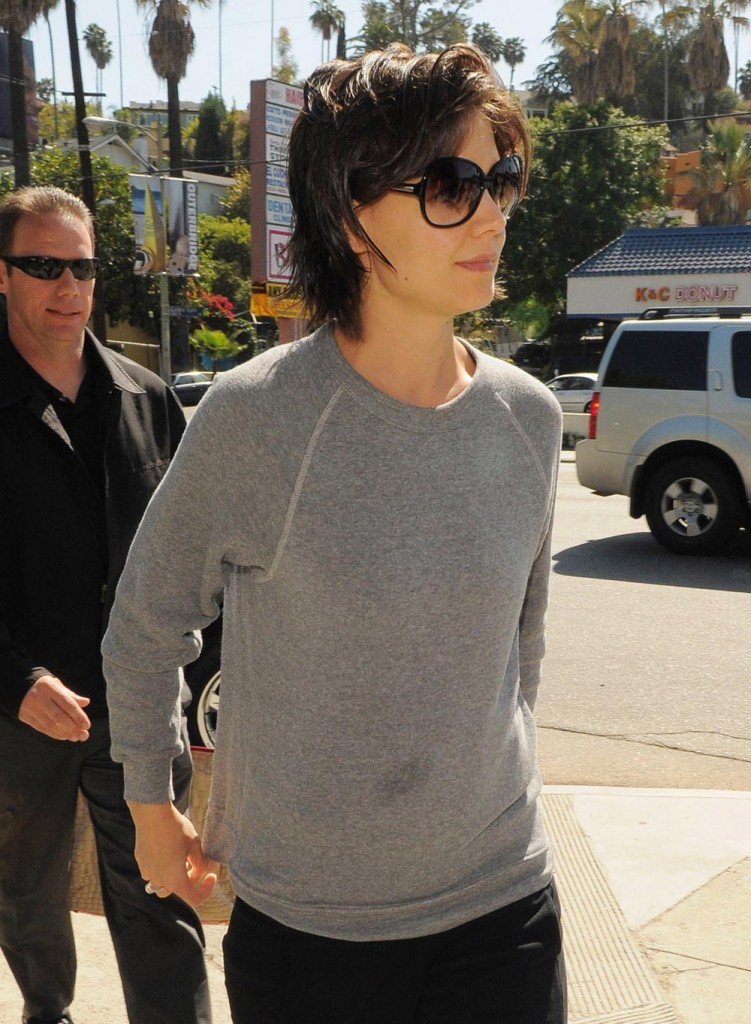 There are all sorts of reports that Tom Cruise and Katie Holmes are sending Suri to "Scientology school." If the stories are true, it's hard to verify if Suri will be going to a Scientology School or not. Cruise and Holmes are said to be sending Suri to Will and Jada Pinkett Smith's New Village Academy. The New Village Academy uses Scientology founder L. Ron Hubbard's "study tech", has language on their website that is loaded with Scientology terms and does have teachers who are known Scientologists. Smith denies that it's primarily a Scientology school, however, and says the private pre-K to Grade 6 Calabasas, CA school offers a secular education based on a mix of different educational philosophies. Suri may be going to a Scientology school if she's being enrolled in the New Village Academy, but the school doesn't admit that it's primarily run by the cult. It also is hopefully not ridden with the same problems as older established Scientology schools that have been accused of all sorts of abuses and neglect by former students.
This week's Star Magazine has another report that reminds us that Tom and Katie are the most famous representatives of Scientology. Star claims that the couple is attending Scientology marriage counseling after reaching a crisis in their relationship. This report seems to be based on known information on the cult along with the fact that Katie visited the Scientology center recently. It's doubtful Star has any insider information about the nature of their supposed counseling sessions:
Tom Cruise and Katie Holmes have been fighting… over everything from having another baby to where to live! Things have turned so sour that they've resorted to couples counseling in a last-ditch bid to work on their longtime relationship issues, insiders tell Star But they're not seeing just any specialist. The Hollywood power duo has turned to their fellow Scientologists for help.

"Scientologists often step in where there are problems in a marriage," a source tells Star. "They teach followers certain communications skills that are supposed to increase problem-solving potential…"

Sources say Scientology counselors have been focusing on Katie, 30, because she's relatively new to the religion, while Tom is an Operating Thetan, the highest rank. On March 31, Katie again met with a counselor, this time without Tom, at a Scientology house in Silver Lake, Calif. "They will come down on Katie if she is doing anything to upset Tom, because she is outranked by him," says former Scientologist Skip Press…

But it's beginning to dawn on Katie that the counselors might be biased toward her husband, says an insider. "She told Tom she wants to stop going because she doesn't feel the Scientology method is effective counseling, but Tom told her to give it another two months and then they'll discuss it again."
[From Star Magazine, print edition, April 20, 2009]
I love that pseudonym, "Skip Press," and it adds credence to this story because it makes it seem like Star has a real ex-Scientologist source who doesn't want his name used. It's possible that Katie is getting some kind of counseling at the Scientology center and going through her training at the same time. The house in Silver Lake is said to be a dance studio, though, not a Scientology house. Whatever she's doing, it looks to be taking some kind of toll on her as she has been looking worn out and tired lately. You don't have to be brainwashed to look washed out, though. Other reports that we recently covered have Katie ready for another baby so it's hard to tell what to believe.
Katie Holmes and Suri Cruise are shown on 4/9/09 outside a dance studio. Katie is also shown on 4/7/09. Credit: Fame Pictures