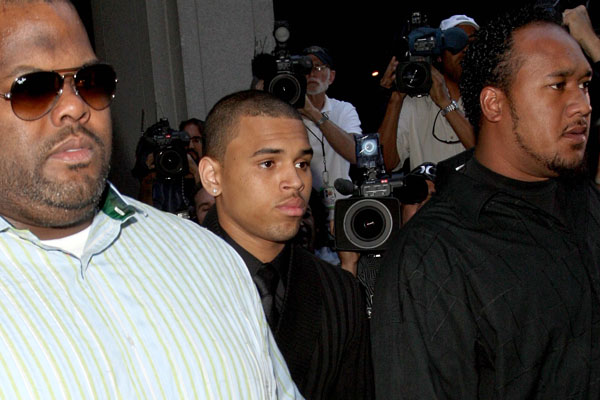 Chris Brown is said to have moved on after his hopefully now-over relationship with singer Rihanna, who he brutalized in a much-reported incident before the Grammy Awards this February. According to the NY Daily News, Brown is dating an ex-girlfriend, a college student named Erica Jackson who attends the University of Mary Washington in his native Virgina. Earlier this month, Brown was photographed playing basketball at the college with an old friend who was interested in attending. That may have been when he reconnected with Jackson:
The R&B singer has started dating again since his troubled relationship with pop chanteuse Rihanna ended last month, and it appears he has gotten back together with another ex-girlfriend.

Brown's new/old lady is University of Mary Washington student Erica Jackson. "[Chris and Erica] met in Virginia, where he's from," a source close to the singer says. "They dated back in the day and reconnected a few weeks ago when Chris was in town. They've been spending a lot of time together, but things only really heated up over the last two weeks."

And while Jackson is "no Rihanna," the general consensus among his friends and family is that the new girl is going to be good for him in the long run. "[Erica] has a good head on her shoulders; she's solid," says our insider. Chris and his new gal pal were spotted leaving a Sunset Blvd. tattoo parlor on Saturday afternoon.
"She's more of a plain Jane — cute though," says our source. At the very least, she's helping to ease Chris' pain over Rihanna. He was mad in love with that girl."

According to pals, the "mad" one in this love trifecta will be Rihanna herself. "She is going to be pissed!" says a pal of the pop starlet. "Ri is going to be so hurt that Chris has moved on so quickly and is parading this new girl around town."
[From The NY Daily News]
It's doubtful that Rihanna gives a crap who Brown sees now, and the Daily News' source is probably Brown or one of his buddies. Rihanna was away partying with friends in Hawaii the first week of April, and has been to New York and Barbados since. According to In Touch she was invited to Hawaii by Kanye West and thoroughly enjoyed herself with friends:
In the week leading up to Chris' court date, she put some serious distance between herself and her ex, traveling halfway around the world. On April 1, she checked into the Kahala Resort & Hotel in Honolulu where Kanye West has been working on his next album.

"Kanye invited Rihanna to get away from Los Angeles," her friend explains. Rihanna, 21, and her pals were seen flirting with an attractive hotel guest inside the lobby bar, The Veranda. "Rihanna and her two friends ordered champagne," Samantha 'Peanut' Jackson, a witness inside the bar, reveals to In Touch. "They were dancing, and at one point, Rihanna and her pals started flirting with the guys sitting at a table near them. She seemed very happy."
[From In Touch, print edition, April 20, 2009]
Rihanna then went to NY and then on to Barbados to be with her family. This item about Brown's reconciliation with an ex-girlfriend sounds like it's timed to make Rihanna jealous. We just heard that Brown was depressed and drinking too much, and now he's supposedly in this great romance that should make Rihanna upset.
Brown's on-again ex-girlfriend might not have enough time to feel his wrath when things inevitably go wrong. He has another court date scheduled for April 29 and faces up to four years and eight months maximum in jail, although his lawyers are trying to work out a plea that keeps him on the outside.
Chris Brown is shown outside his lawyer's office and outside court on 4/6/09. Credit: WENN.com