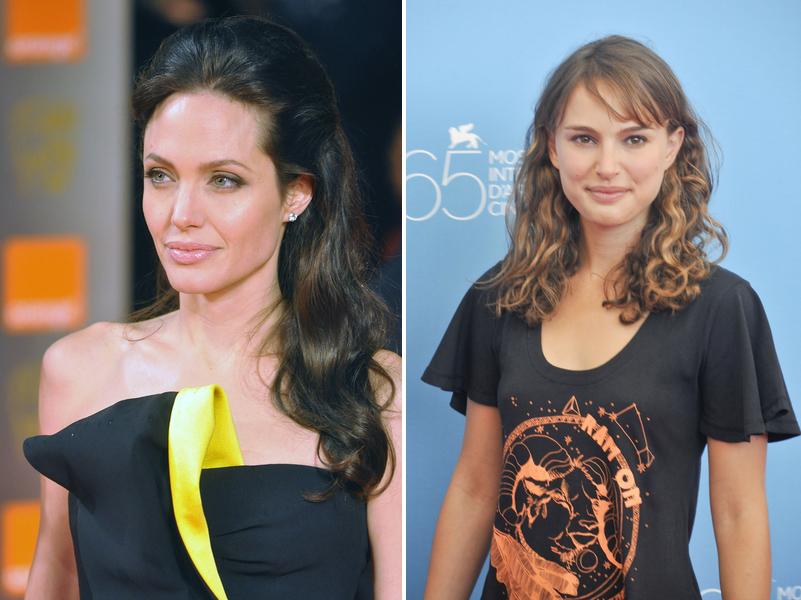 The latest Brangelina rumor is a doozy – and one we predicted. Several weeks ago, the new film Artifacts was announced. The film will star Brad Pitt and Natalie Portman, and will be produced by both of the stars' production companies. The film will be based on a book about the relationship between a twenty-something woman and her forty-something lover.
Predictably, the tabloids are now reporting that Angelina Jolie is having some sort of breakdown because Brad is going to play the lover of the young, beautiful Natalie Portman. Allegedly, when Angelina found out that Natalie had requested Brad personally, Angie had a "massive fit". Angelina is also pissed that Brad keeps saying that Natalie is "cute as a button". Natalie is cute as a button! That doesn't mean Brad's going to have an affair. But that hasn't stopped Angelina from worrying constantly about "karma" and "trust". Showbiz Spy has more:
Angelina Jolie had a "massive fit" after learning Natalie Portman had personally asked for Brad Pitt to play her older lover in a new movie.

Jolie, 33, is said to be jealous of the Closer star.

"Angelina had a massive fit and was shouting her head off. She accused Brad of flirting with Natalie," a source said.

"Angelina can't help but feel threatened. Brad knows how jealous she gets but won't stop saying how gorgeous and intelligent Natalie is. He keeps saying she is 'cute as a button.'"

"Angelina worries about karma. It's eating her up and we're sure the cause of a lot of the rows is her not quite trusting Brad."

It was recently reported that Pitt and Jolie are planning to adopt a child from the Philippines.
[From Showbiz Spy]
The rumor about Brangelina's adoption from the Philippines comes from a report in The Daily Mail. They claim that The Brange "hit a roadblock" trying to adopt a Burmese baby (probably because Burma no longer exists?) and are now trying to adopt from an adoption center in Manila:
After hitting a roadblock with plans to adopt a Burmese baby, it seems Brad Pitt and Angelina Jolie have set their sights on the Philippines for their next adoption.

Angelina, 33, took time off from the set of her latest film, Salt, to travel to Manila with the intention of adding to her rainbow family.

The Pitt-Jolie's private plane landed at Ninoy Aquino International Airport last week, before returning to New York on Monday evening.

'Brad and Ange flew out together. They want to add to their family and tried to adopt from Burma but the authorities are very strict, so they decided to look at the Philippines,' says a source.

A spokesperson for Pitt and Jolie declined to comment.
[From The Daily Mail]
The rumor about a "Burmese" adoption (really, it would be an adoption from Myanmar) probably stems from Angelina's trip to the Myanmar-Thailand border in February. Crazier things have happened, so there might be some truth to a report of an attempted adoption from the Philippines. The part of The Daily Mail report that I find fishy is the idea that Angelina and Brad flew to Manila together last week. Seriously? And only The Daily Mail noticed? That must have come as a shock to everyone on the set of Salt, where Angelina was working all week.