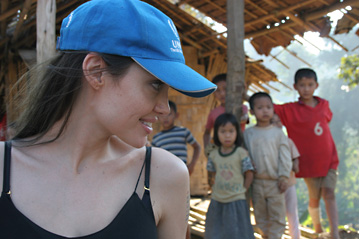 Angelina Jolie and Brad Pitt spent time yesterday in the Ban Mai Nai Soi refugee center and camp in Thailand, near the Thailand-Burma border. Burma is the old name for Myanmar, and many human-rights activists and Western world leaders still call the country Burma, as a way to acknowledge the depravity of the military junta that overtook Burma, and re-christened it Myanmar. The junta's atrocities against ethnic minorities have been well-documented, and the junta's violent actions have forced thousands of refugees to flee to neighboring countries.
While in the camp, Angelina interviewed refugees and issued her own statement. In her public statement, Angelina aimed at Thailand's government. Angelina wants the Thai government to give more freedom to tens of thousands of Burmese refugees it has kept locked inside camps for up to 20 years. She also requested increased educational opportunities be given to the Burmese refugees, many of whom will never return to Burma/Myanmar.
Thailand has refused to grant "refugee" status to thousands of Burmese refugees that crossed into their borders. There has also been an increase in Burmese refugees entering Thailand, which the UNHCR is attempting to deal with. Thanks to the International Herald Tribune for additional background information on the Burmese refugee crisis. Reliefweb has the most in-depth details of Angelina's trip.
UNHCR Goodwill Ambassador Angelina Jolie has called on the Thai government to grant Myanmar refugees in northern Thailand greater freedom of movement, after spending a day listening to refugees tell of the difficulties they have faced in two decades of living in closed camps.

"I was saddened to meet a 21-year-old woman who was born in a refugee camp, who has never even been out of the camp and is now raising her own child in a camp," Jolie said after her visit Wednesday to Ban Mai Nai Soi camp, home to 18,111 mainly Karenni registered refugees, just three kms from the Myanmar border, near Mae Hong Son.

"With no foreseeable chance that these refugees will soon be able to return to Burma (Myanmar), we must find some way to help them work and become self reliant," she said.

The 111,000 registered refugees who live in nine camps in northern Thailand along the Thai-Myanmar border are not allowed to venture outside the camps to work or receive higher education.

In a thatched two-room house on stilts, Jolie sat down on the floor and chatted with refugee Ma Pai, a 44-year-old minority ethnic Kayan woman who has applied for resettlement to the United States.

At a boarding school for orphans and children separated from their parents, Jolie listened attentively as two teenage girls – sent across the border to the refugee camp by their parents for education – told of their fears that they might have to go back to Myanmar when they finish their schooling.

"I hope we can work with the Thai authorities to speed up the government admissions process and that you will not be forced to go back to Burma if danger remains," Jolie said.

The Thai government's Provincial Admissions Board, the only body that can grant refugee status to people fleeing fighting or persecution in Myanmar, has yet to process some 5,000 people who arrived in Mae Hong Son province in 2006 and 2007, the last time there was significant fighting in Kayah State just across the border. Throughout last year, people continued to trickle into Ban Mai Nai Soi and three other camps in the province, mostly fleeing forced labour and other human rights abuses.

One 26-year-old woman, Pan Sein, told Jolie she fled her village in Kayah State last November, and took a circuitous, hazardous journey on foot that finally brought her to the camp at the beginning of January.

"Weren't you scared to leave your parents and come on your own?" Jolie asked.

"Yes, I was scared," Pan Sein replied. "It was dangerous to flee, but even more dangerous to stay in my village."

Jolie's visit came at a time of worldwide attention to the large numbers of Rohingya migrants fleeing Myanmar's northern Rakhine state in rickety boats, and just after UNHCR gained access to 78 Rohingya boat people in detention in Ranong in southern Thailand.

"Visiting Ban Mai Nai Soi and seeing how hospitable Thailand has been to 111,000 mostly Karen and Karenni refugees over the years makes me hope that Thailand will be just as generous to the Rohingya refugees who are now arriving on their shores," Jolie said.

"I also hope the Rohingya situation stabilizes and their life in Myanmar improves so the people do not feel the desperate need to flee, especially considering how dangerous their journey has become," she added. "As with all people, they deserve to have their human rights respected."
From reliefweb.com
Angelina has been a goodwill ambassador for the UNHCR (United Nations High Commission on Refugees) for nearly eight years. She has taken about 50 trips to refugee camps and centers all over the world. She has given millions of dollars to help refugees, and she has raised both money and awareness for refugee crises. Her work in this area is unimpeachable, though many will try and have tried to criticize her for it.
One of the sites for the UN, called "UN Dispatches" posted a video of Angelina visiting a refugee camp, but they're saying she's in India, visiting Burmese refugees. It seems like the video was taken back in 2006 when she was filming A Mighty Heart.
Header image credit: UNHCR/K.McKinsey