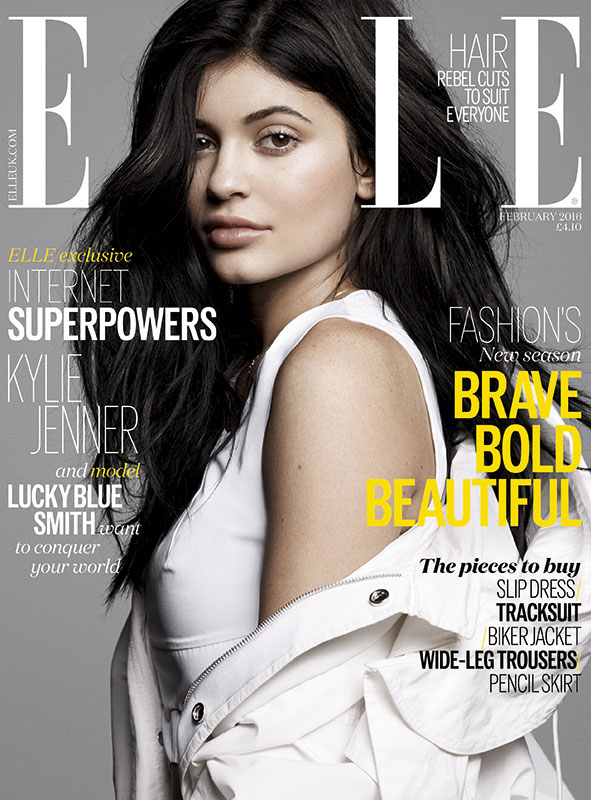 Kylie Jenner is the one being pushed these days, have you noticed that? She's the breakout Kardashian-Jenner of 2015. Kourtney tried, Khloe tried, and God knows, Kim always tries, but this was the year where Kylie became a major talking point/celebrity/whatever. To celebrate, Kylie got the cover of the February issue of Elle UK. I don't think much of the editorial, but at least it's worlds better than Kylie's recent Interview Magazine editorial. As for the interview, I've said it before and I'll say it again: Kylie is a vapid, superficial, barely literate 18-year-old with very little to say. Still, here are some highlights:
How she imagines herself at the age of 95: "I would love to have a family and build a home with a farm in Malibu Canyon and just have my kids and throw away my phone, and just really, like, live my life and not do this anymore.'

She'll give up Instagram for her children: "Once I have a kid I'm not going to be on Instagram. You know, I'll probably delete my Instagram and just… I don't know, live life."

Her favorite character on Friends: "What is that? I know what Friends is…I mean, I don't watch Friends, but I know what it is."

She was born in 1997: "What do the nineties mean to me? I was born in the nineties, and I'm barely a nineties baby."

What emoji is she? "If I was an emoji, I would probably be the smiley face turned upside down."

Her friendship with Justin Bieber: "I'm so close to him because I feel like he's been through exactly what I've been through in a completely different way but very similar. He gets me, and every time I see him he always sits me down and is like, 'Are you OK? You're amazing. You can get through this, just stay true to yourself.' He helps me a lot."

Why she's always covering her lips in selfies: "I was so insecure about my lips. Even now I always post photos where my finger is always in front of my mouth…it's a habit. I would always cover my lips…I couldn't even talk to people. Or guys. Like, [I'd be thinking]: 'I know you're looking at my lips, but you so don't want to kiss me right now.'"
Her lip problem bugs me. I understand that she felt awkward because of her naturally thin lips, and if getting lip enhancement helps with her self-esteem, then sure, go ahead. You do you. But it bugs me because she is so obviously overcompensating and her lips look like they're going to explode from all the junk she's injected. Plus, she basically went into a plastic surgeon's office when she was 17 years old (and not even finished growing) and had herself made into a younger version of Kim Kardashian. No bueno.
As for not knowing any characters on Friends… well, she was born in 1997. And she probably doesn't "get" a lot of things on TV. Or in newspapers. Or in books. She makes Kim seem like a brain surgeon.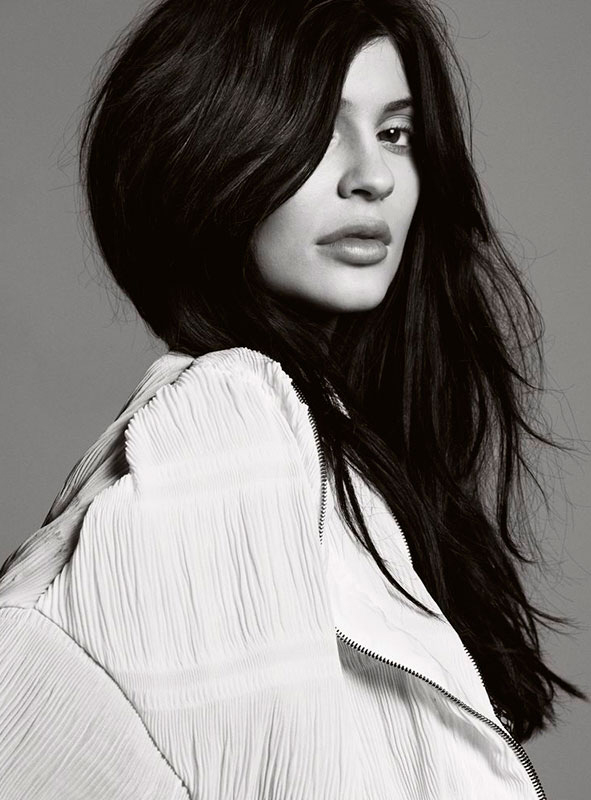 Photos courtesy of Jan Welters/ELLE UK.