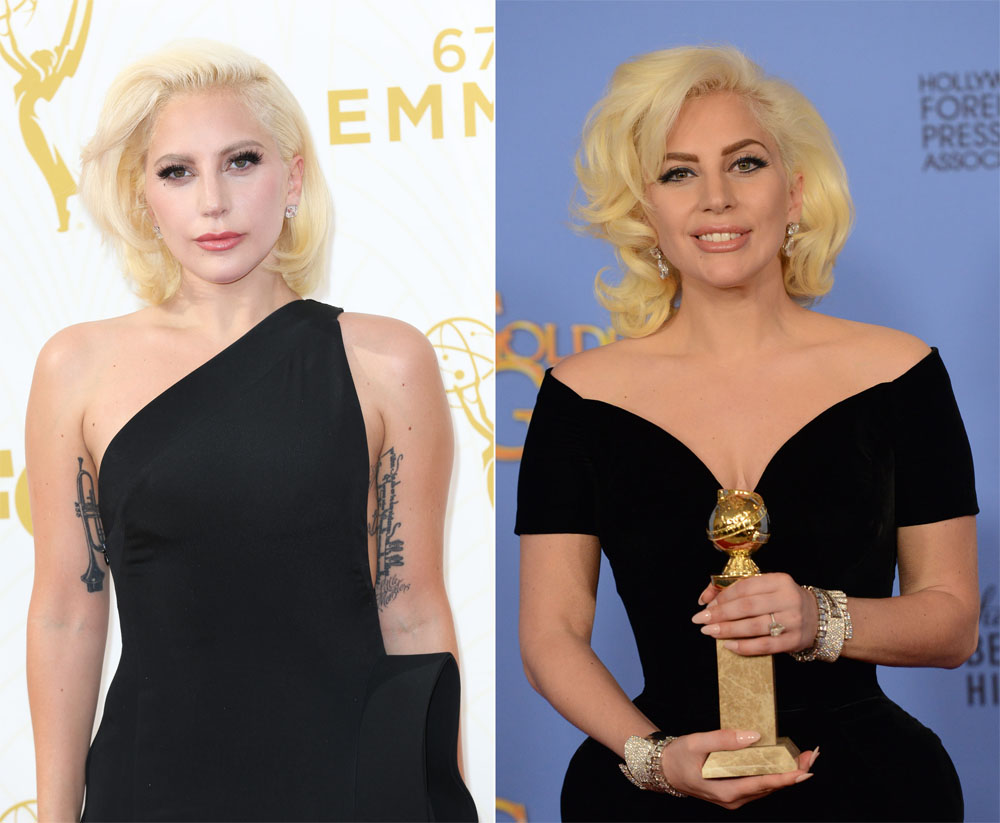 When Lady Gaga commits to a look, she goes all out. We've seen her as an alien, wearing raw meat, in various states of undress, and in some of the craziest outfits imaginable. However ever since she teamed up with Tony Bennett about a year and a half ago she's really toned it down. In fact she's tried to look demure (for her) and old Hollywood in an attempt to be taken seriously and it's worked somewhat. She earned a leading role on American Horror Story: Hotel for which she just won a Golden Globe. She still looked bizarre at the ceremony – like a fever dream of a trashy 60s housewife, but she tried. Part of that trying involved having all of her arm tattoos covered up by a makeup artist. The sleuths over at MTV noticed in some of the Globes photos that Gaga's tattoos weren't visible. In a few photos (it's harder to see here) you can actually see some of the makeup.
Gaga, who usually flaunts her almost-all-over body ink, covered everything up with makeup for the night of the Golden Globes. And she almost got away with it, but that press room lighting doesn't lie.

Gaga brought in makeup artist Mike Mekash, who's worked on films like "Mad Max: Fury Road" and "Iron Man 2," to do the job for her. How he was able to cover up everything though, I'll never understand. I'm assuming Gaga spent a fair amount of her day in the makeup chair. I hope it was worth it, girl.
Of course you can see the difference in her arms but more striking than that is the difference in her face in the few months since the Emmys. Gaga's face looked completely jacked at the Globes and when you compare how she looks now to how pretty she was in September, it's very noticeable. She's only 29 and she's wrecked her face with injectables. I hope it settles for her, that's all I'm going to say.
I don't think tattoos look trashy, with a few exceptions, and Gaga looked just as nice with her tattoos showing at the Emmys. This didn't seem necessary to me. I'm not sure how these were covered up but I've heard Dermablend works very well for covering tattoos and varicose veins.
Also, Gaga had a makeup artist on hand but she either had an incompetent colorist, no colorist was available, or that terrible yellow/white hybrid hair was deliberate. None of those explanations make any sense. I have a better guy in my small town.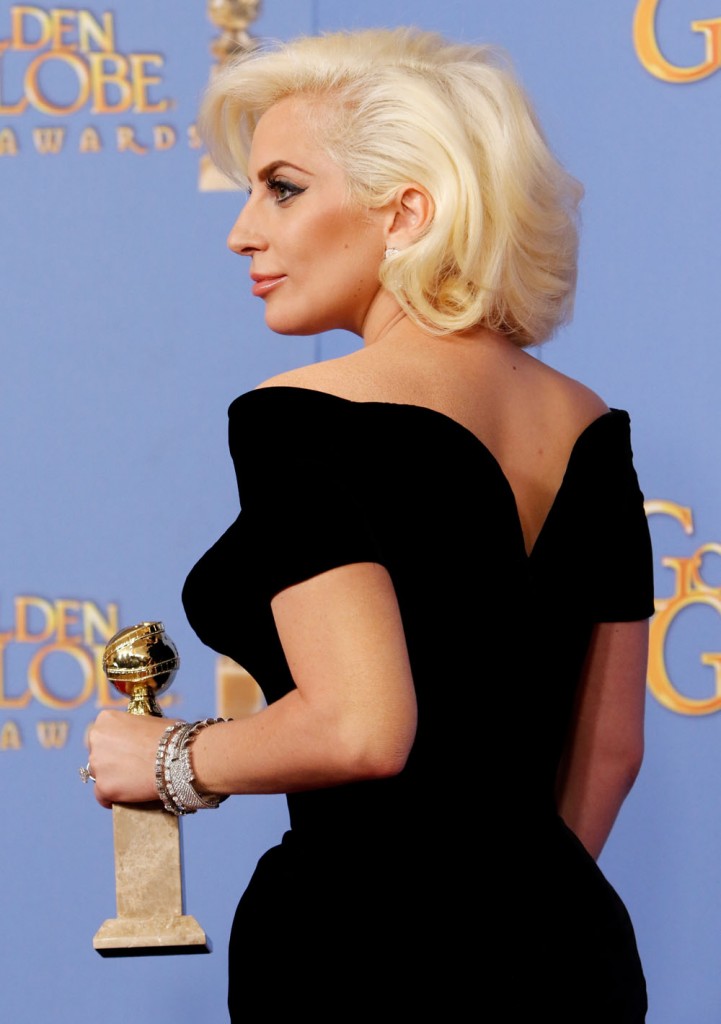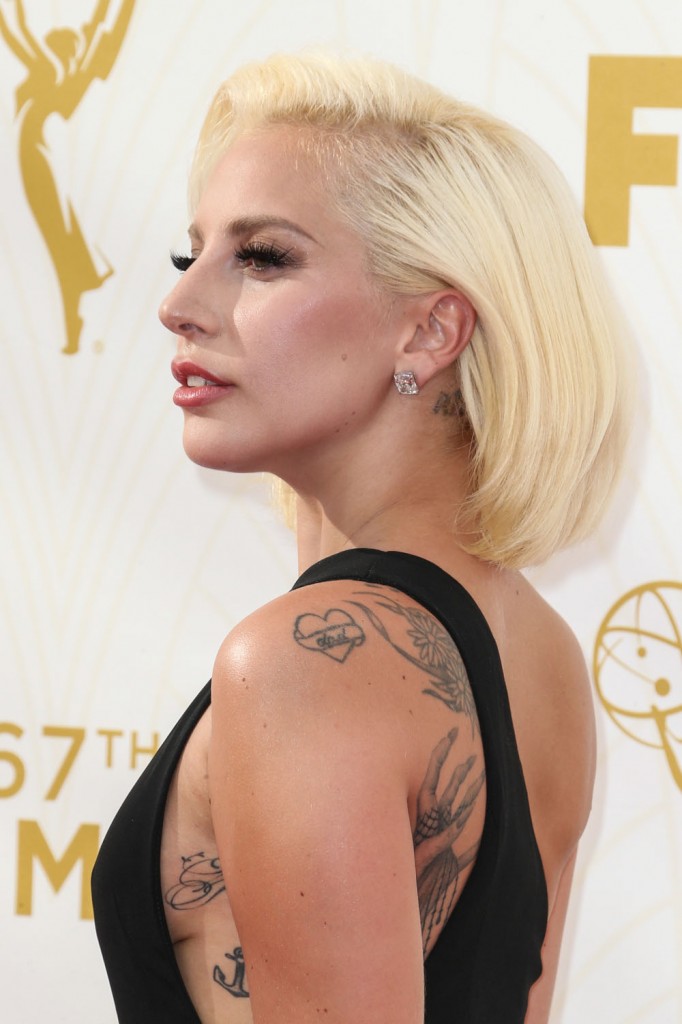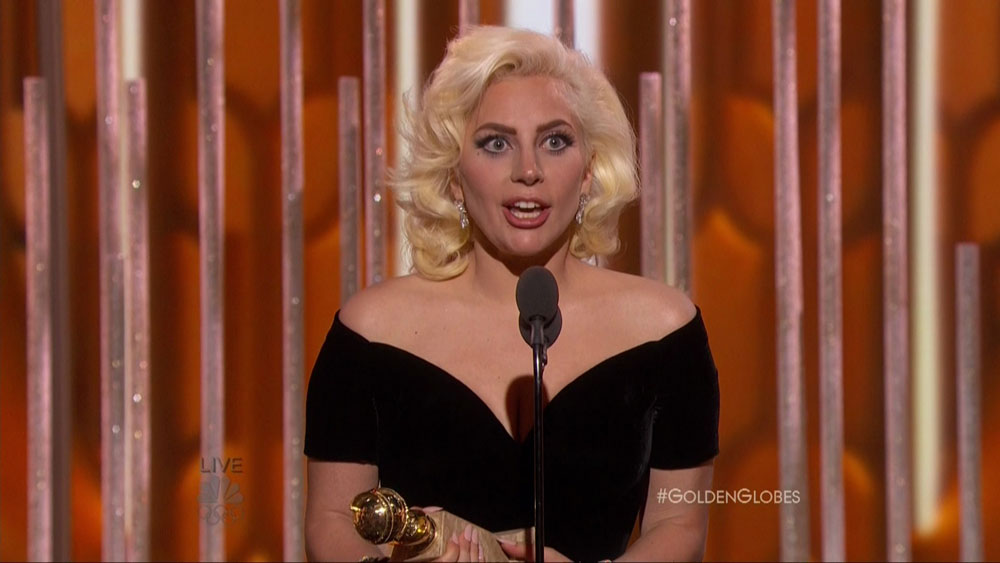 Photo credit: WENN and FameFlynet