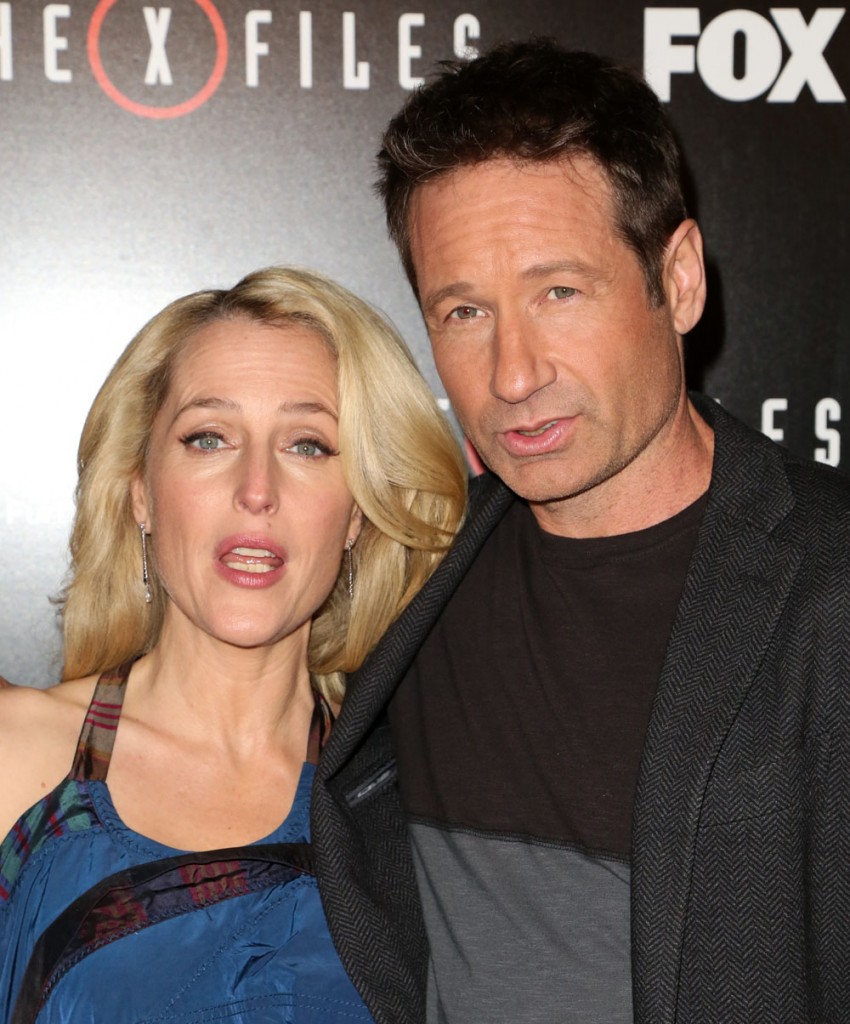 These are photos from the X Files premiere, and if Gillian Anderson and David Duchovny look really familiar with each other, that's because they're probably boning. That's my theory at least and while I realize it sounds like fan fiction I'm sticking with it. Anderson and Duchovny were on Jimmy Kimmel earlier this week, and I was surprised at how flirty and touchy-feely they were with each other. Part of that could have been nervousness – at one point Duchovny quipped "maybe we should have done the pre-interview." It seemed like they had no idea what the other one was about to say, which made Anderson get really giggly and embarrassed when she inadvertently dropped a suggestive line. Plus they did a bit ahead of time where they had to make out. I swear something is going on between them though. I also have to stay they both look incredible. Anderson is 47 and Duchovny is 55 and it's like they're hotter now than they were in the 90s. Anyway they had a lot of funny lines on Kimmel and here's the part where Anderson claimed they didn't get along because she needed to get her hair done between takes: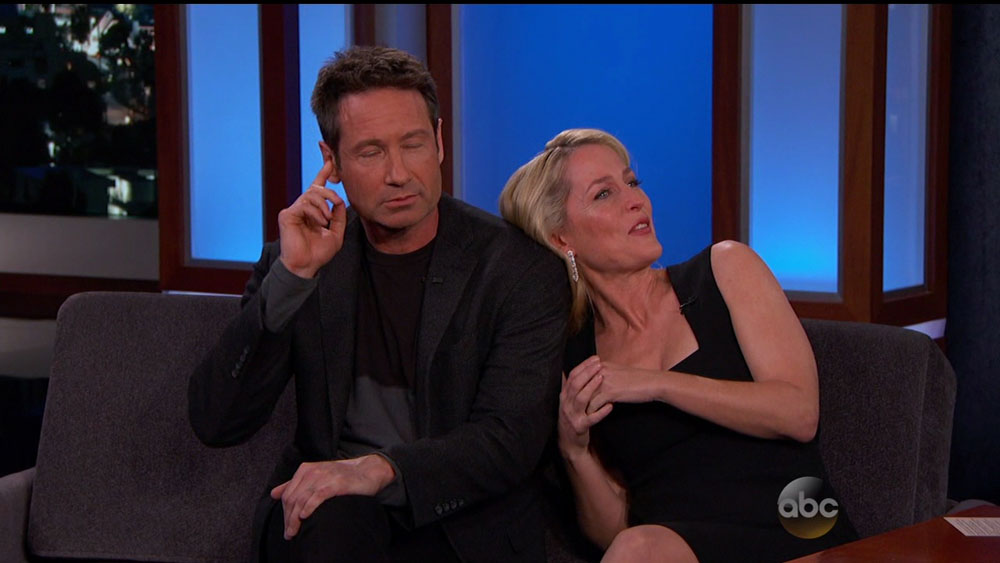 On why they didn't get along on set in the 90s
Anderson: "I wondered this for a long time… We shot in Vancouver and it's very moist in Vancouver." [laughs, grabs onto Duchovny]

Duchovny: "let me just say I have no idea where it's going… I would finish the story if I had any idea… I would like to know where the moistness…"

Anderson: "My hair gets very frizzy… It takes forever. Between every single take, they'd have to stand there and blow-dry my hair again and things take a long time."

Duchovny: "And I got pissed at that?" Duchovny asked.

Anderson: "Well, I think it added to the tension. The fact I took so long—is that anything to do with it?"

Duchovny: "Kind of makes me sound like an a–hole."
They are super flirty with each other and it's like the dam finally broke after decades of on and off-screen tension. You know that Duchovny would be into it especially. That's the fan girl in me talking, because it would make me so happy to see Scully and Mulder together in real life, even though it would be a mess.
X-Files is coming back on January 24th. Initial reviews are not positive, but f*k them. Here's the first minute of the show, which was just released.
Here are the videos! The first one is a skit they did as their X-Files characters with a new agent, played by Kimmel, showing them the technology they've missed since the 90s. At the end he tells them to have sex already. I thought their characters already got it on towards the end of the series, especially considering how they acted on the finale when Mulder was in jail or imprisoned, (I don't remember the circumstances exactly but they kissed and talked about the son they lost, which may or may not have been conceived naturally), but if they did hook up on X-Files it was never explicitly shown.
Here's the "moist" video. I don't want to oversell it but if you're a fan you should watch it.

This last one has a clip from the show: