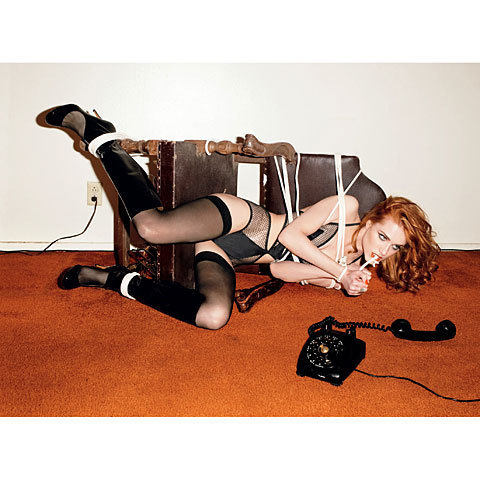 Evan Rachel Wood, 21, was first linked with shock rocker Marilyn Manson, 40, in January 2007. Their relationship is said to have hastened the end of Manson's marriage to Dita Von Teese. Many called Wood "Dita 2.0" as she adopted a Dita-like retro style during their relationship with red lips and thickly penciled eyebrows. The two broke up in November of last year with Wood confirming the news to the press but adding "I'm always going to love [Manson] and respect him… It's life – it happens."
Wood was promoting The Wrestler at the time, and denied rumors of a relationship with her on-screen father, Mickey Rourke. She was also linked to "3rd Rock From The Sun" cutie Joseph Gordon-Levitt, who seemed much more her speed. In the months following her split from Manson, Wood dyed her hair strawberry blonde and generally looked a lot happier.
Unfortunately Wood recently told GQ magazine that she's back with Manson again. Wood and Manson were seen in February leaving a hotel, but if they've been together since they've been keeping a low profile. He was briefly linked to another look-alike last year, but that must not have lasted:
Evan Rachel Wood is wild.

For one, she tells the May issue of GQ that she and Goth-rock shockmeister Marylin Manson, with whom she once shot a blood-spattered sex scene in a music video, are back on.

She also claims that reports that she and "The Wrestler" co-star Mickey Rourke, 56, had a thang are bunk.

"There was no truth to it, and it was so annoying," said Wood, 21. "The friendship was intimate and nice, and this makes it weird."

Next wild thing up for Wood? Her first Woody Allen flick, where she plays a runaway who marries … wait for it … Larry David.

Yes, the old bald guy from "Curb Your Enthusiasm."

Told ya she was wild.
[From Foxnews.com]
While Manson comes across as an intelligent, articulate, somewhat shy person in interviews I can't help but think he's a lousy boyfriend. He cheated on Dita with Wood and it seemed like he was seeking a young replacement that would emulate and look up to him as opposed to independent Dita. In a recent interview, Dita hinted that Manson tried to reconcile, saying "He's been in touch a little. The apologies come, and he was like, 'I made a big mistake'.'" Outlets interpreted this as an attempt to get back together, but maybe Manson was just trying to heal old wounds. Do you think he turned to Wood after Dita told him to get lost?
Photos are from GQ via Huffington Post.