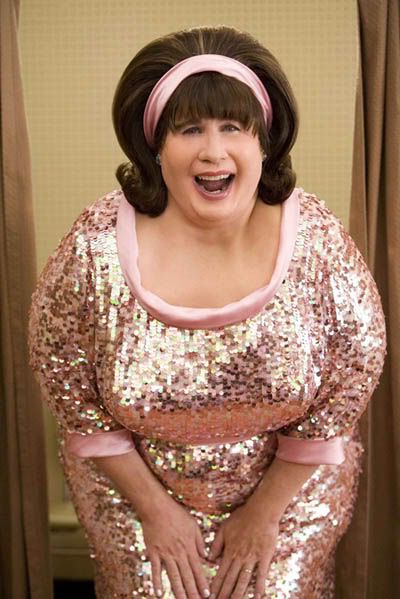 John Travolta is starring in the remake of "Hairspray," which opens this Friday. This is his first musical since "Grease" in 1978… and Travolta looks nearly the same. Except that he's thirty years older and one hundred pounds heavier. And has breasts. So he's a fat old woman. He plays agoraphobic mother Edna Turnblad, played by transvestite Divine in the original film and Harvey Fierstein in the Broadway version. Apparently Travolta had some serious complaints about the wardrobe… but the fat suit, breasts, and dresses were not the problem.
John Travolta knows a lot about women's footwear. In fact, when he talks about the shoes he wore in the new movie Hairspray, Travolta reveals more than knowledge – he betrays a sense of passion for the world of footwear fashion.

"It was tough dancing in high heels, but we did change the heels to more of a dance shoe – like a Capezio," said Travolta during a recent press engagement for the movie, which hits theatres Friday.

"You know, they kept giving me these skinny high heels and it's, like, 'OK, I understand those. My mother wore those.' However, when I was growing up and I saw girls in the chorus, they had a thicker heel and it was a dance shoe and I kept telling them to find these shoes. I knew they existed, and finally, they brought out a shoe and I said, 'That's the shoe! Now make it in many colors.'"
[From the Halifax Daily News]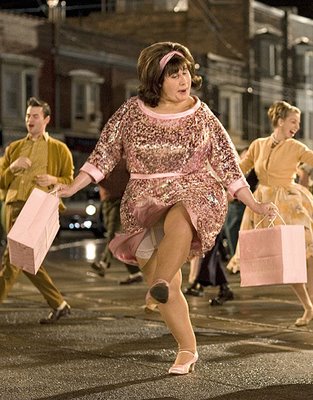 I can imagine it'd be pretty hard to dance well on a thin heel, especially wearing a lot of extra padding. Back in the day I used to tap dance, and it can be a challenge even on a sturdy Capezio shoe. That's right, I'm hardcore like that. So don't mess. It's kind of funny that John Travolta has such an interest in shoes. I'm just saying. Travolta also talked about what it was like to be a woman. "'I was so flirted with, so groped," he said. "I was convinced I'd have been a slut had I been born a woman. It was like, 'Go ahead, touch me. I don't care.'" He also told the New York Daily News "'I love big boobs on a woman… so I wanted Edna to have them. My boobs and butt got a lot of attention on the set. The whole crew kept coming over and groping me. The scary thing is, I liked it.'"
The gay rumors have followed John Travolta around throughout the last few years almost as diligently as they've followed Tom Cruise. Travolta just doesn't seem to sue over them as often. There were a few photos of him kissing a man on the mouth as he boarded a plane a few months ago… but who are we to judge? Women do that and it's considered fine, so I'm not going to use that as evidence. I'm just saying he's a friendly fellow. And he has his own plane, so I don't want to ruin my plan to become his best friend and steal his plane by saying anything defamatory. Anyhoo, I know they said Travolta wore a fat suit, but anyone who has seen him lately probably wonders just how much padding he was really wearing versus how much was natural. I'm sure he was just really getting into character. And there's no better way to do that than to eat a lot of bacon. Can you imagine if we all had to eat bacon for our jobs? That's a pretty sweet deal.
I am so excited for "Hairspray." I've been trying to bring musicals back since I first saw the "Sound of Music" as a kid. It seems like my efforts have finally been rewarded, and musicals are here to stay… for now. Ever since Moulin Rouge (I think that was the first recent one, correct me if I'm wrong) brought singing and dancing back into style, there's been no stopping those buffalo-flapping dancers from breaking out in the movies. I think that dance fashion should take off, just like aerobic fashion took off in the '80s. Who doesn't want to have shoes that click, bright lipstick, and sequined clothing?
Picture note by Celebitchy: Here are photos from the movie Hairspray, thanks to Allmoviephoto. John Travolta does make a fabulous woman. Also shown are Allison Janney, Nikki Blonsky, Amanda Bynes, Queen Latifah, Zac Efron, Michelle Pfeiffer, James Marsden, Christopher Walken, Brittany Snow, Elijah Kelley, Taylor Parks, Tabitha Lupien, Hayley Podschun, and Kelly Fletcher.