Eat bread. Lose weight. Whaaatttt? #ComeJoinMe https://t.co/jUgpk9ToXY https://t.co/xtnB53EwSf

— Oprah Winfrey (@Oprah) January 26, 2016

This is how powerful Oprah is. She can tweet a 30 second video getting excited about how she's lost weight and still eats bread and it makes her $15 million dollars. Oprah's tweet on her 26 lb weight loss, which she made Tuesday at noon, sent Weight Watchers stock from $11.35 to $13.29 at closing time. It went up again yesterday and as of press time it's currently at $13.73. (That's not counting after hours trading. It was up to $13.90 after hours.) Oprah owns 10% of Weight Watchers. She bought about 6.4 million shares in October of last year, so multiply 6.4 million by the difference from Oprah's tweet and she just made herself $15.2 million. Outlets reported earlier that the tweet earned Oprah $12.5 million. Yes it did on Tuesday, and then she earned almost $3 million more yesterday. Cha-ching.
The more I hear about Oprah's dollars (just listen to Bo$$ as you read this) from this Weight Watchers deal, the more I think that she bought stock in the company to motivate herself to lose weight. And why not? Everyone makes jokes about how hard it is to lose weight when even Oprah can't just hire someone to follow her around and smack food out of her hands. She can put tons of money at stake though, and she did just that. Plus she's jazzed about it, as she gets jazzed about everything. Seeing Oprah yell "bread!" and throw her hands out makes me miss her on TV so much. We need to see Oprah give sh*t away. She should throw a big Weight Watchers rally and throw bread at everyone in the audience.
For the record I do think Weight Watchers works as it worked for me years ago. Of all the paid weight loss programs it's the least scammy as it's based on simplifying calories. Maybe Oprah can breathe some new life into Weight Watchers. You know what else Oprah can do? She can eat bread and make bread. I love it. I don't even care that it took her this long.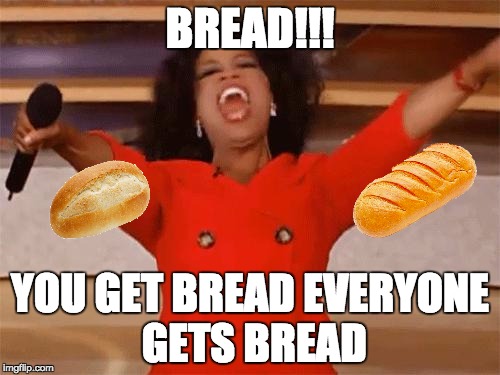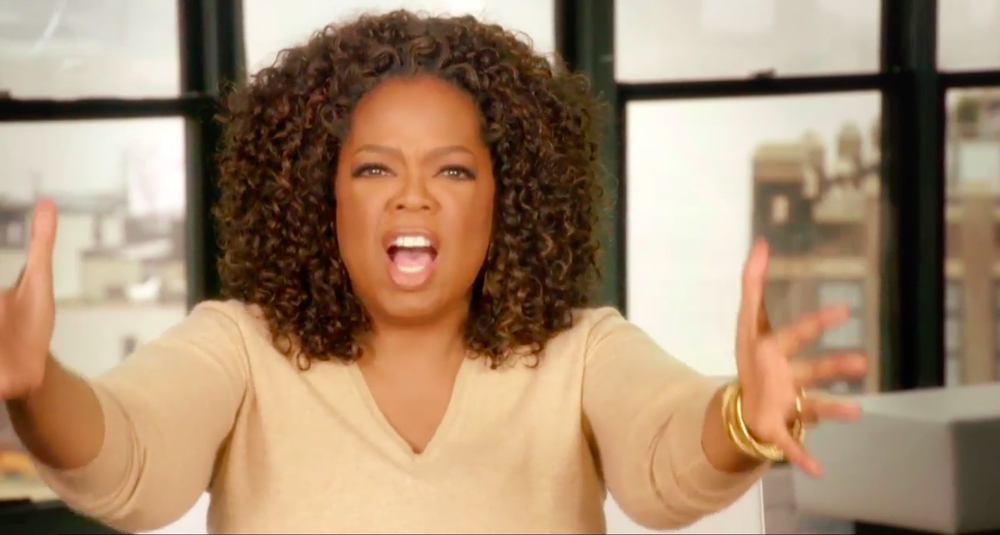 Oprah in October. You can see the difference in her face!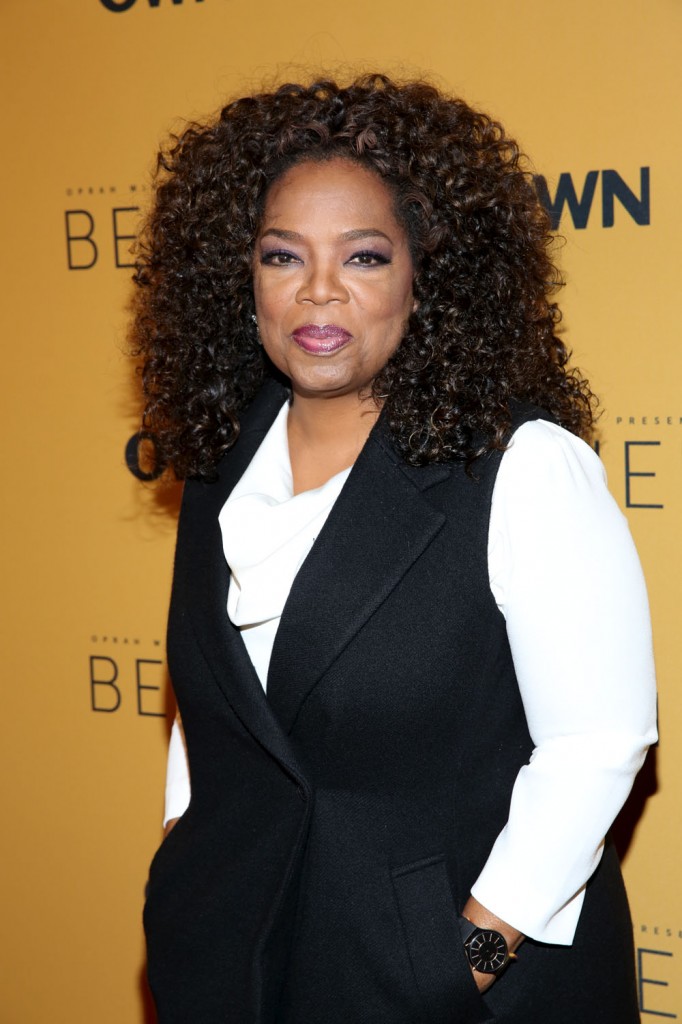 Photo credit: WENN, Oprah video. I made that meme on imgflip! Other people will think of it too, but I added the bread and stuff.