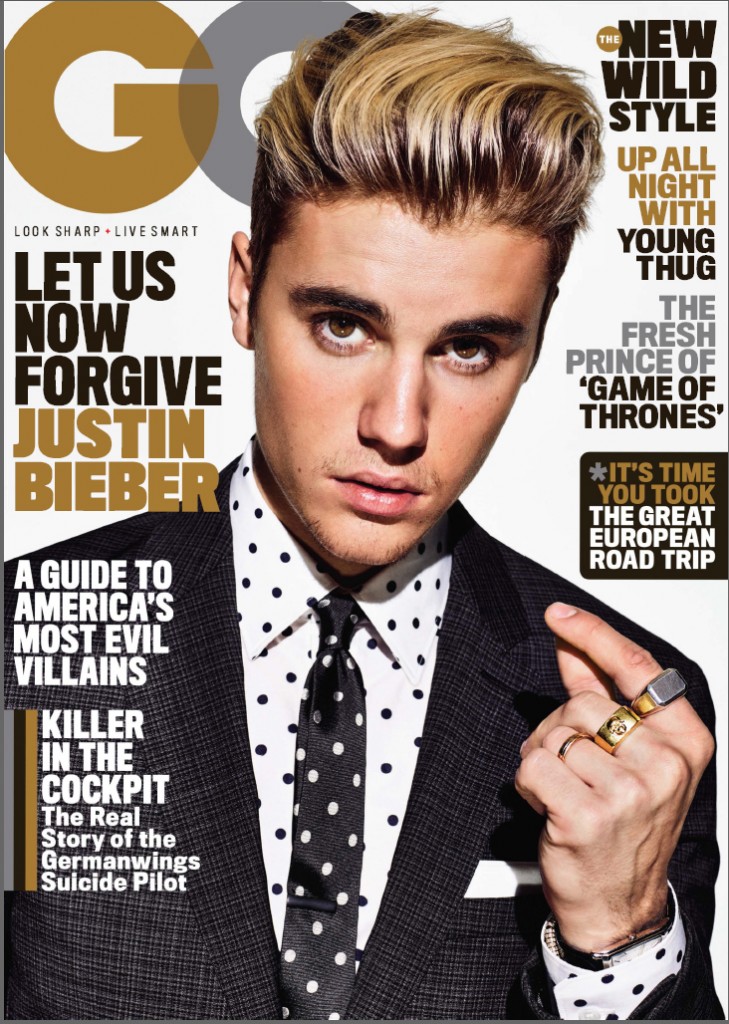 Justin Bieber covers GQ's March issue. I have a thing for men's suiting so I read GQ like pr0n. Without discussing Bieber as a model, the photo-shoot (shirtless pics aside) is great; I love the whole retro hip styling. I know sockless is a thing now but I dislike it so I am ignoring the naked ankles. The outfits are stylish and young and the tailoring is fantastic. The brushed jacket tuxedo is gorgeous but I think the dark-slacked skateboarding outfit is my favorite.
Bieber has been trying to clean up his tarnished reputation for a while now. While trying to seem more contrite he's had a few notable slipups. Predictable, he's given yet another candid interview about how much he has changed:
After a rowdy few years full of landmark missteps, mop buckets, and a misplaced monkey, Justin Bieber is ready to reintroduce himself. GQ writer Caity Weaver spent time with Bieber in New York City and at his Beverly Hills suite, where they candidly discussed a range of topics including his relationship with model Hailey Baldwin ("Someone I really love. We spend a lot of time together."), his faith, and finally growing up. The 21-year-old singer also cleared up any misconceptions about his hit single, "Sorry," an infectious banger many assumed was a personal apology for all his transgressions. "People ran with that," he says. "—that I was like, apologizing with that song and stuff. It really had nothing to do with that . . . It was about a girl."

In fact, Bieber's public-apology tour was less about forgiveness and more about acknowledging past mistakes. "Everyone when they start growing up realizes, 'Man, I did some dumb sh-t when I was younger,'" he says. "It's not just me . . . If I could go back I wouldn't really change much. I think it's all my journey. That stuff made me who I am."

"I just had to figure out what kind of man I wanted to be. I have awesome people in my corner," he said. "I'm human I'm still going to make mistakes. I think that's what's cool about this growth is people can see it. I've made a transition and been consistent."
I do love the part where he admits "Sorry" is about some girl; when Bieber is honest he is at his most interesting. I feel like he is splitting his narrative on his troubled youth. He is constantly reminding us that he was thrown into stardom at 12 and that being a child star is the worst thing ever. In the next breath, he speaks of how much he has learned/matured and how all his crazy youth has formed who he is. He admits he wouldn't change much about his past so am I supposed to feel sorry for him or not?
As for Beiber's relationship with Hailey, this interview obviously happened after they went public. Last week, she sent some tweets that suggested a breakup. Except that it looks that is not that case as she went to San Francisco with Bieber last Saturday but flew to New York to watch the Super Bowl with Selena Gomez. What is going on? I guess only time and Instagram will tell.
If you need a procrastination tool today, check out E!'s brief history of Bieber apologies.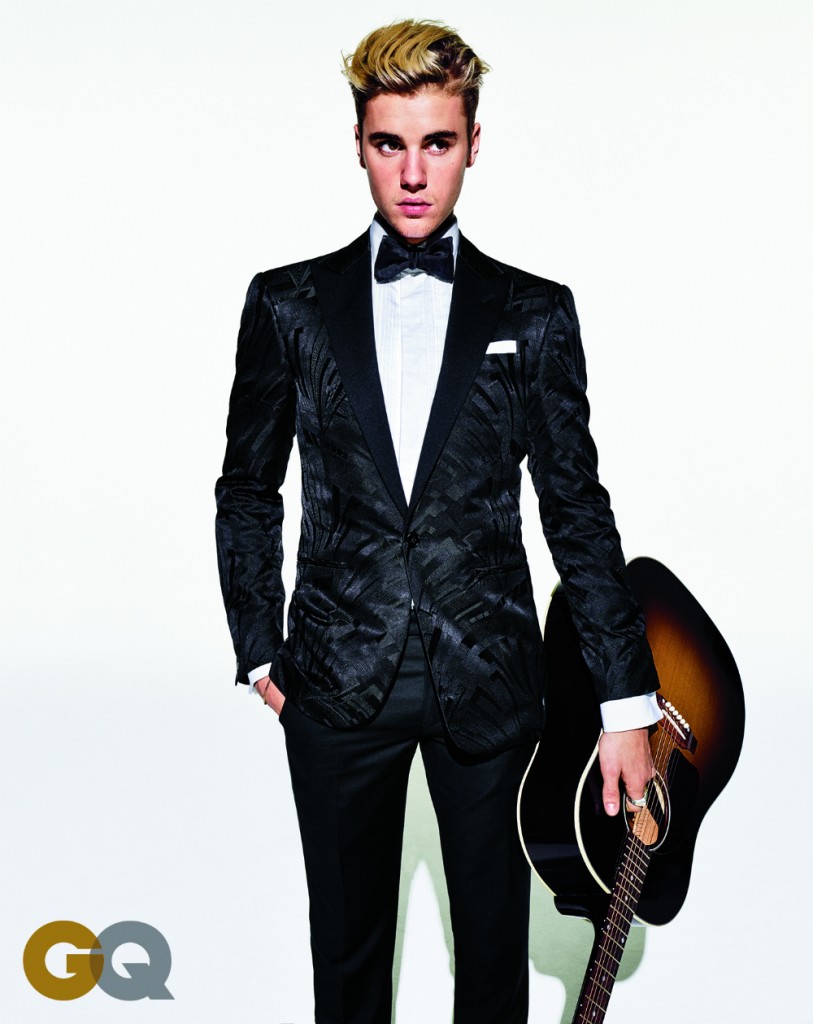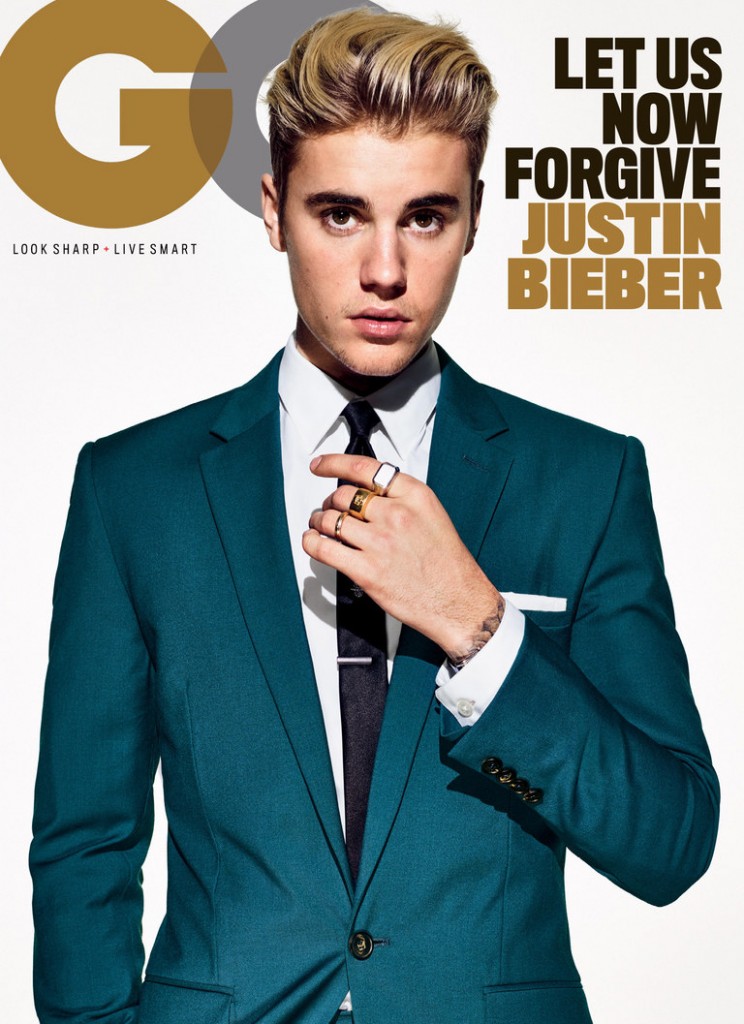 Photo credit: Eric Ray Davidson/GQ Magazine