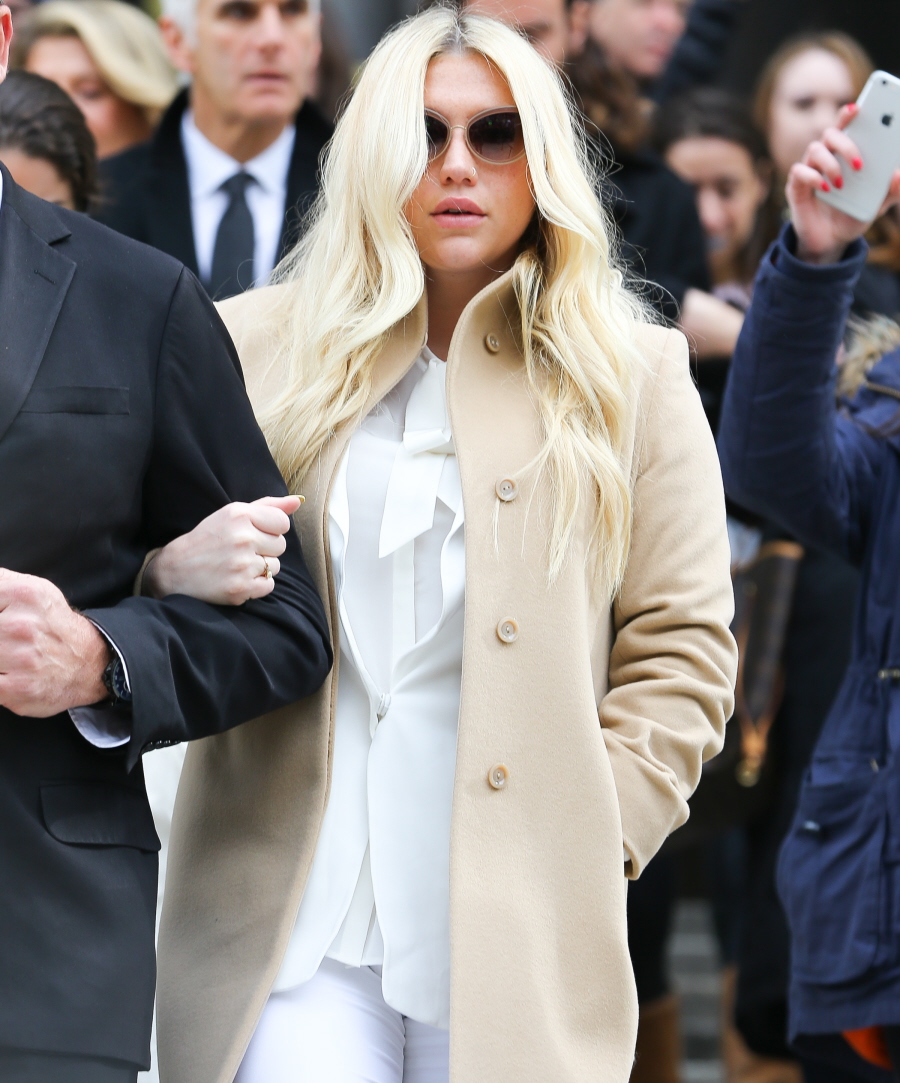 In 2014, Kesha went into a facility to get help for a bad personal situation. She was drinking too much and abusing drugs, plus she had mental health issues, an eating disorder and she was dealing with some intense issues from her relationship with producer Dr. Luke. Later that same year, Kesha filed a civil lawsuit against Dr. Luke claiming that he mentally and physically abused her, drugged her and sexually assaulted her. She wanted to be let out of her recording contract. Dr. Luke countersued and claimed Kesha had made the whole thing up and that he would not be letting her out of her contract. Well, Kesha went to New York Supreme Court on Friday to find out that the judge had thrown out Kesha's injunction. Basically, Dr. Luke won because this judge, Justice Shirley Kornreich, has a totally Pollyanna idea of how the music industry really works. Here's part of People Magazine's report:
Kesha's lawyers fought for a preliminary injunction that would allow her to record and release music without Dr. Luke, 42, whom she is also suing for allegedly drugging and raping her. The singer also alleges he has abused her verbally and emotionally for a decade. (Luke has vehemently denied the allegations through his lawyer, Christine Lepera, who has told PEOPLE: "Kesha and her mother are engaged in a campaign of publishing outrageous and untrue statements about Dr. Luke to third parties, including scurrilous and false statements of purported physical and mental abuse of Kesha.") However, Justice Shirley Kornreich recounted that both Sony and Luke provided affidavits that they would allow Kesha to record without the producer.

"Your major issue is your client is saying she cannot with Mr. Gottwald. Reading these papers, I notice that Sony and [Dr. Luke's record label] Kemosabe Records say they don't care if Gottwald has anything to do with anything with the recording," the judge said to Kesha's attorney, Mark Geragos. "They are willing to allow her to record without any involvement of Mr. Gottwald … and there are papers from Mr. Gottwald that say he will agree to allow her to record without his involvement … She doesn't have to work with him."

But, Geragos responded, arguing that it was an "illusory promise…If he's the one in charge of the company that does all the things to produce it … she can record right now, but no one is going to hear it," he said, reiterating his assertion that Kesha's future in music is in jeopardy because the typical lifespan of a pop artist's career is short and that he believes her album won't be promoted in an attempt to sabotage her career. Geragos added: "She has a window in which she can produce music, that it can get out there, that it can get promoted … His end game here is to destroy her… She is set up to fail."

The judge disagreed, citing the companies' competitive objective to make money and the clear terms of the contract, which require Kesha to record six more albums.

"You're asking the court … to decimate a contract which was heavily negotiated and signed by two parties in an industry where these kinds of contacts are typical; you're asking me to decimate all that law," said the judge. "Now the other side has come forward to say, 'We will let her record without Dr. Luke.' I don't understand your problem … It's not in [the company's] best interest to not make money and not promote a recording artist."

Upon the judge's dismissal of the request for the injunction, Kesha broke down in tears, holding her face in her hands while mom Pebe and boyfriend Brad Ashenfelter did their best to console her the bereaved pop star excused herself from the room for a spell with a bodyguard. Lawyers also argued over dueling counterclaims, but the judge has yet to make a ruling, reserving to decide on the matters at a later time, perhaps when more evidence has been presented.
"It's not in [the company's] best interest to not make money and not promote a recording artist." How naive. The judge assumes that every person in the music industry has simple, straight-forward capitalist motives and that there's not a history of music producers and labels actively thwarting a singer or songwriter's career over personal or professional drama, regardless if those un-capitalist motives end up losing money. Even if you're not familiar with the music industry in general, watch 20 Feet From Stardom and listen to Darlene Love's story about how her early career was ruined because of a sh-tty contract and a producer who was a petulant sadist. That sh-t STILL HAPPENS.
For a while on Friday, #FreeKesha was trending on Twitter, and many women in the music industry tweeted their support for Kesha – go here to see. Kelly Clarkson sounds like she has some stories about Dr. Luke that I would be interested in hearing. This feels like… the beginning of something. Like, Dr. Luke might be Cosby'd in public.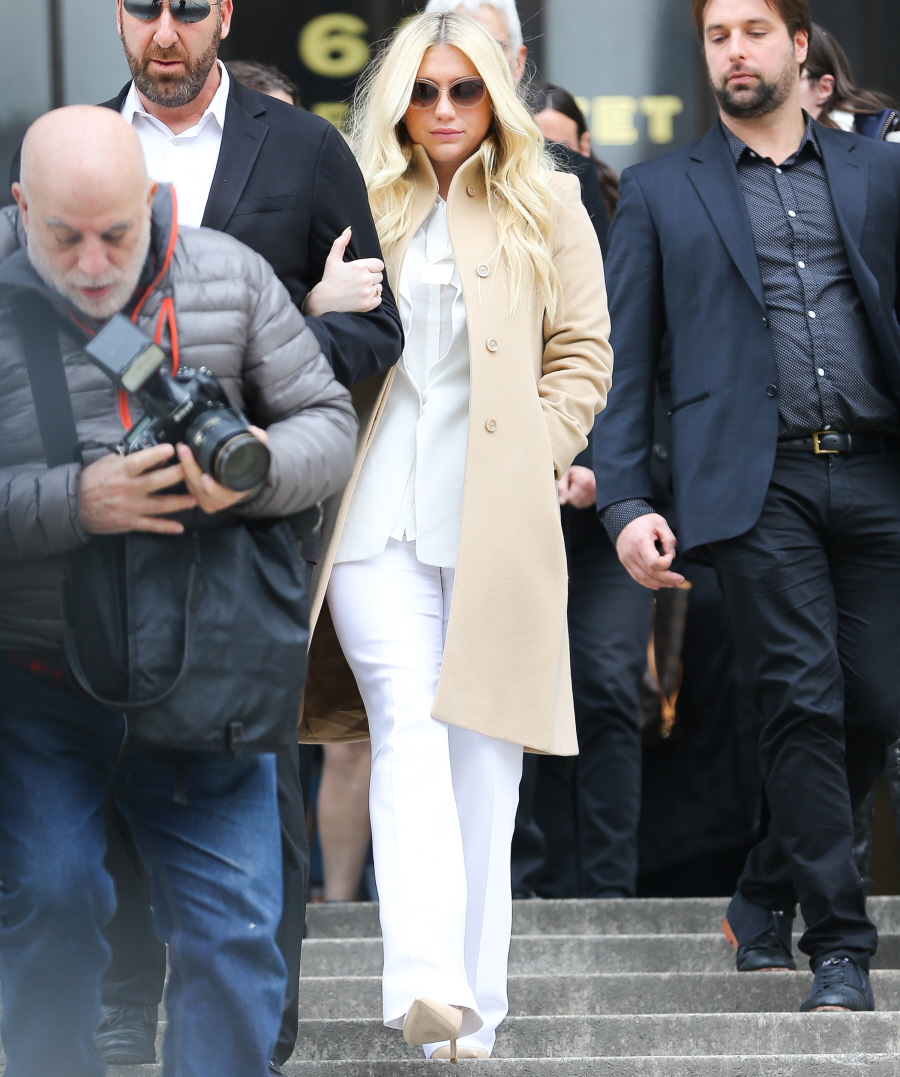 Photos courtesy of Fame/Flynet.