On the heels of Gwen Stefani's giggly interview with Ellen DeGeneres about her new boyfriend, Blake Shelton, reports have surfaced that the heady rush of teenaged love has hit Blake as well. The couple was inseparable at the Vanity Fair party Sunday night. An attendee told People Magazine that "They acted like giddy teenagers at a high school dance. They were holding hands the whole night and didn't leave each other's sides. I don't think either of them stopped smiling the entire time they were there." (By the way, thanks to all of the commenters who agreed that maybe Blake could have dressed up for the occasion.)
The couple was also spotted at a post-post-Oscars party at the home of high-powered talent manager Guy Oseary (who represents, among others, Madonna and U2), where "they were cute as a button in a corner together," as a guest noted, adding "[Gwen] was glowing and he was charming. There was clearly a lot of love and happiness there."
All of the Oscar festivities capped off a weekend where, on Friday, Gwen attended Blake's concert in Oklahoma (a/k/a the couple's new "home away from home") and, on Saturday, "Blen" (or is it "Gwake"?) attended the nuptials of former Voice contestant RaeLynn and financial advisor Josh Davis in Tennessee. Just typing all of this made me tired.
Oh, and on Tuesday, Blake finally 'fessed up about giving Gwen the "best present ever", her horse. He told Entertainment Tonight, "I got her a horse and I got myself a horse at the same time. Gwen, she loves riding and she loves horses. It's actually so funny that people are so shocked by that, but if you can name me one girl on the planet that doesn't love horses or just think that they are beautiful …" Well, duh, Blake. Every girl wants a pony. I'm still waiting for mine.
Okay, I get it. They're happy. I can see how making too much of a big deal of it can look like it's a publicity stunt of some sort, but if they're happy, good for them. I (obviously) am Team Gwen (I'm highly optimistic about her new line of eye wear under her LAMB brand), and, thanks to my new BF, have come to appreciate Blake as an artist. Maybe I'm a teeny bit biased, but I am going to root for them (for the moment…just in case this post comes back to bite me) and wish them continued happiness. And if Blake wants to gift someone else with a horse, I'm here.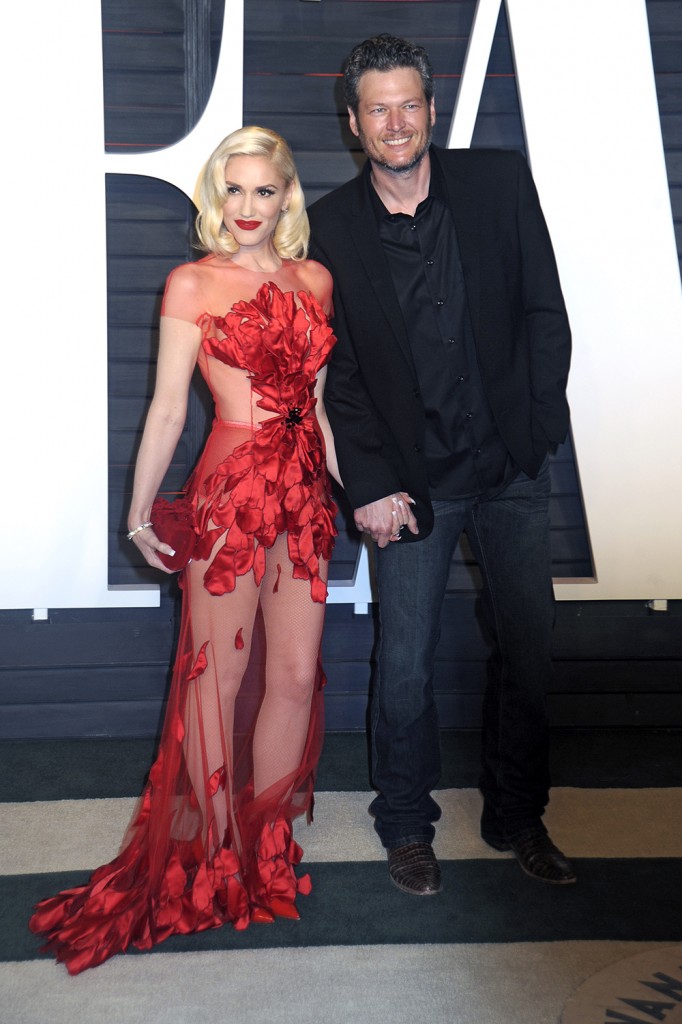 Photo credit: Getty Images, WENN.com