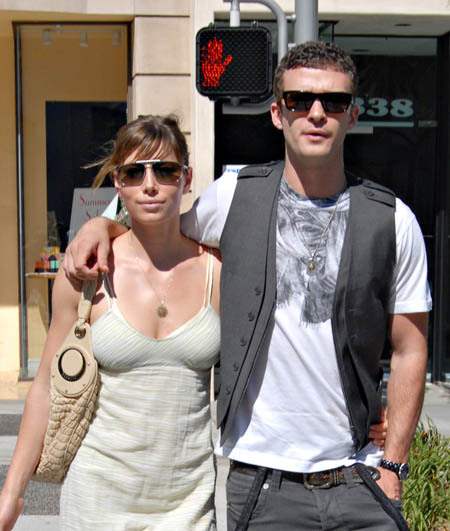 Despite the rumors to the contrary, Jessica Biel and Justin Timberlake are doing just fine. This is according to two sources talking to US Magazine. This comes after JT allegedly attended Kate Hudson's thirtieth birthday party alone, and was all over some ladies. Do you girls/guys remember the rumors about Kate Hudson and Justin Timberlake? First, it was right after JT and Cameron Diaz split, and JT was rumored to have hooked up with Scarlett Johansson, Kate Hudson and Jessica Biel, all within like a month of each other. Then JT and Jessica were allegedly having some issues early last year, and Kate Hudson might have swooped in for some booty calls.
One source basically claims that just because Jess and JT aren't joined at the hip, doesn't mean they're not serious. That's actually a good point. But if I still wouldn't want my boyfriend hanging out with Kate Hudson.
Jessica Biel and Justin Timberlake are still going strong, two sources tell Usmagazine.com.

"They have not split," the first pal tells Us of the couple, who went on a getaway to Vail, Colorado earlier this month.

Rumors spread they called it quits after it was reported Timberlake "was very much acting like a single guy" at Kate Hudson's birthday party over the weekend, which Biel did not attend.

"Things are very good with them," another source tells Us. "They do things separately sometimes."

The pair — who began dating after Timberlake split from Cameron Diaz in 2007 — recently bought an apartment in NYC.

"The apartment is great," the singer's mother, Lynn Harless, recently told Us. "He's loving it!"
[From US Magazine]
In other Jessica Biel-related news, some stills of her new film Powder Blue were released, and they are NSFW. In the film, Biel plays a stripper. Her stripping trainer is telling the world that Jessica is really good at the exotic dance moves, and if acting roles ever dry up (please, please), Jessica could have a second career already set. The Sun has more:
Jessica Biel has a back-up career if the movie roles dry up – stripping.

The actress wowed exotic dance trainer Cati Jean with her pulse-quickening moves on the set of Powder Blue. And Cati was so amazed at how talented Jessica was in the art of X-rated titillation, she's in no doubt JUSTIN TIMBERLAKE's sexy girlfriend could do it for a living.

She said: "Jessica is so good and so focused. She has the beauty element, she has the body – she has all the package that you want in a professional dancer."

"She could be a professional dancer if she wanted to. She is strong, she is flexible. She has everything."
[From The Sun]
At this point, I don't really know what to think about Jessica and JT. It seems like she really wants to marry him – and she may even be using her father to try to persuade JT. God knows, she's never really going to be an A-list actress, as the stripper pole portends. At first, I was thinking that Justin just wasn't into it all, but then he said some really nice things about Jessica and their life together. Maybe they're really happy together, and Jessica isn't trying to pressure him into anything, and she's happy playing strippers. Maybe, maybe.
Here are Justin Timberlake and Jessica Biel on 8/7/08. Images thanks to Fame Pictures .