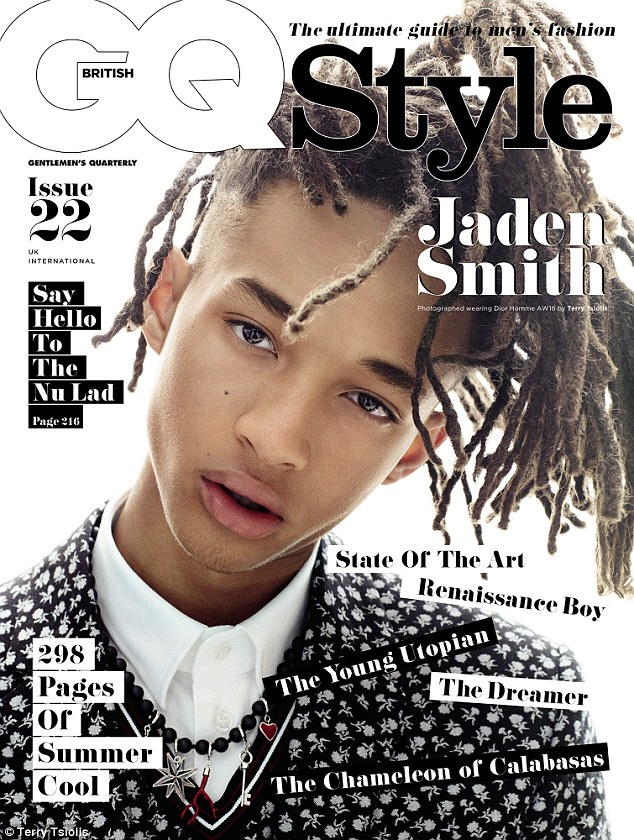 I have to admit, I find this close-up of Jaden Smith's face to be very striking. Jaden covers the new issue of British GQ Style, and never before have I really looked at this kid's face and noticed how pretty he is. Beautiful skin, lovely lips, gorgeous almond eyes. I can see why he turned to modeling and I can see why he's booking gigs too. Back in January, Louis Vuitton announced that Jaden, at the tender age of 17, was becoming the new face of LV womenswear. The announcement caused some consternation. Like, if Jaden has no problem wearing women's clothes, then fine, I don't care either. My problem was always with LV and what this said about the fashion industry: that their ideal body type for womenswear has always been that of a teenage boy. Like, grown-ass women should aspire to have Jaden's current body type. And that still bugs. But in this GQ Style piece, Jaden talks about how he's not into gender norms and how he wants to create a utopia on earth.
There is no menswear or womenswear: "I feel like people are kind of confused about gender norms. I feel like people don't really get it. I'm not saying that I get it, I'm just saying that I've never seen any distinction. I don't see man clothes and woman clothes, I just see scared people and comfortable people."

He feels a twin-like connection with Willow: "I'd say it's like full-on sibling brain connection. I'd say that she's definitely the female version of me, one hundred per cent, in every single way. And I'd say I'm the male version of her."

On his goal of building a utopia on Earth: "I'm really working towards just fixing the whole planet Earth. I really just want to create a utopia on this planet. I really want to make it so that people don't have to die to pay bills and just work to survive. So that they can work to actually live and do the things that they love to do."

On hanging out with the Kardashians: "I think I'm just a really big influence on anybody that I'm around, and I feel like that's why it's good for me to hang out with all types of different people."
I'm perfectly willing to go along with him on the gender norms thing. If men want to wear women's clothes, go ahead. I wear men's clothes sometimes and who cares? I'm also willing to go along with him on the brain connection with Willow. I actually think that's sort of sweet, that he feels like he's the male version of her and vice versa. As for the other two statements… I rolled my eyes. Only a rich kid who has had everything handed to him would dream of a utopia where there are no bills to pay. And the idea that Jaden has influenced the Kardashians and that's why he hangs out with them? It's cute that he thinks that.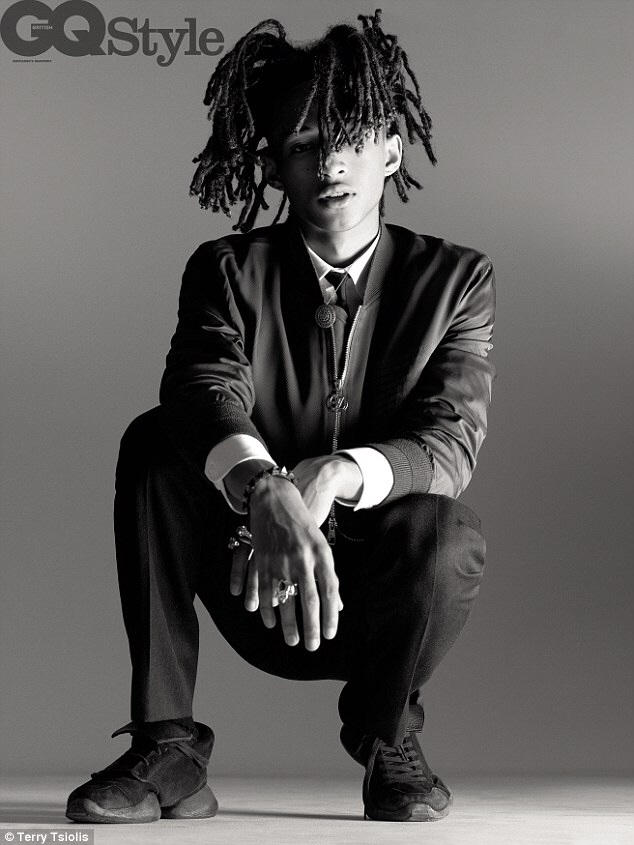 Photos courtesy of GQ Style.