There were always rumors about Elizabeth Olsen and Tom Hiddleston when they started working together on I Saw the Light. She had just ended things with her fiancé, and Tom was seemingly single then too. But the rumors were just that, until last summer when Olsen and Hiddles stepped out together in London. Ever since, the dragonflies and Hiddlestoners have been on HIGH ALERT for any story about impending Olsen-Hiddles babies. But then when Hiddleston and Olsen came out for TIFF last year to promote ISTL, Olsen flatly denied that Hiddleston was her boyfriend. Which no one believed. And then her denials seemed especially false when she was seen/photographed in Hawaii with Hiddleston while he was filming Kong: Skull Island. Personally, I think these two have been together this whole time. But I do enjoy Olsen's attempts to deny it and deflect.
Elizabeth Olsen and Tom Hiddleston have great chemistry in their new Hank Williams biopic I Saw the Light. However, that doesn't mean the two ever dated. Rumors of a budding romance started in May but cooled off in September when Olsen told Refinery 29 in September that they're just friends.

"I'm used it by now," Olsen told me last night at the I Saw the Light premiere. "I'm like, 'Wow, my life is real exciting.' I got three Avengers on my cue lined up." (Olsen has also been falsely linked to Chris Evans and Jeremy Renner.)

Olsen and Hiddleston first met four years ago when they auditioned for the same movie.

"None of us got the job but what we got out of it is, Oh, we work similarly…This could be fun," Olsen said. "We could have fun working together and then it ended up happening."

In the Marc Abraham-directed I Saw the Light, Hiddleston stars as Hank Williams, the late country-western singer who was only 29 when he died in 1953 after years of active alcoholism and prescription drug abuse. Olsen plays his first wife Audrey.

"Hank and Audrey clearly had such a passionate and volatile relationship," Hiddleston said. "They loved each other so much but they were unintentionally cruel to each other."

Hiddleston and Olsen were anything but cruel to each other. "She's such a great tennis partner," the Thor star said. "She's the kind of actress who's really in the moment with you. She's very present…We've been friends for awhile so it was nice to finally work with her."
See? She doesn't say outright, "I'm not dating Tom." She's all, "Oh, people say all kinds of things." Which isn't really a denial. But! When Olsen was asked about the rumors by Entertainment Tonight, she "dismissed" the stories as "a bunch of strangers saying a bunch of stuff that they don't know about." Yeah, a bunch of strangers with photo evidence and RECEIPTS!!!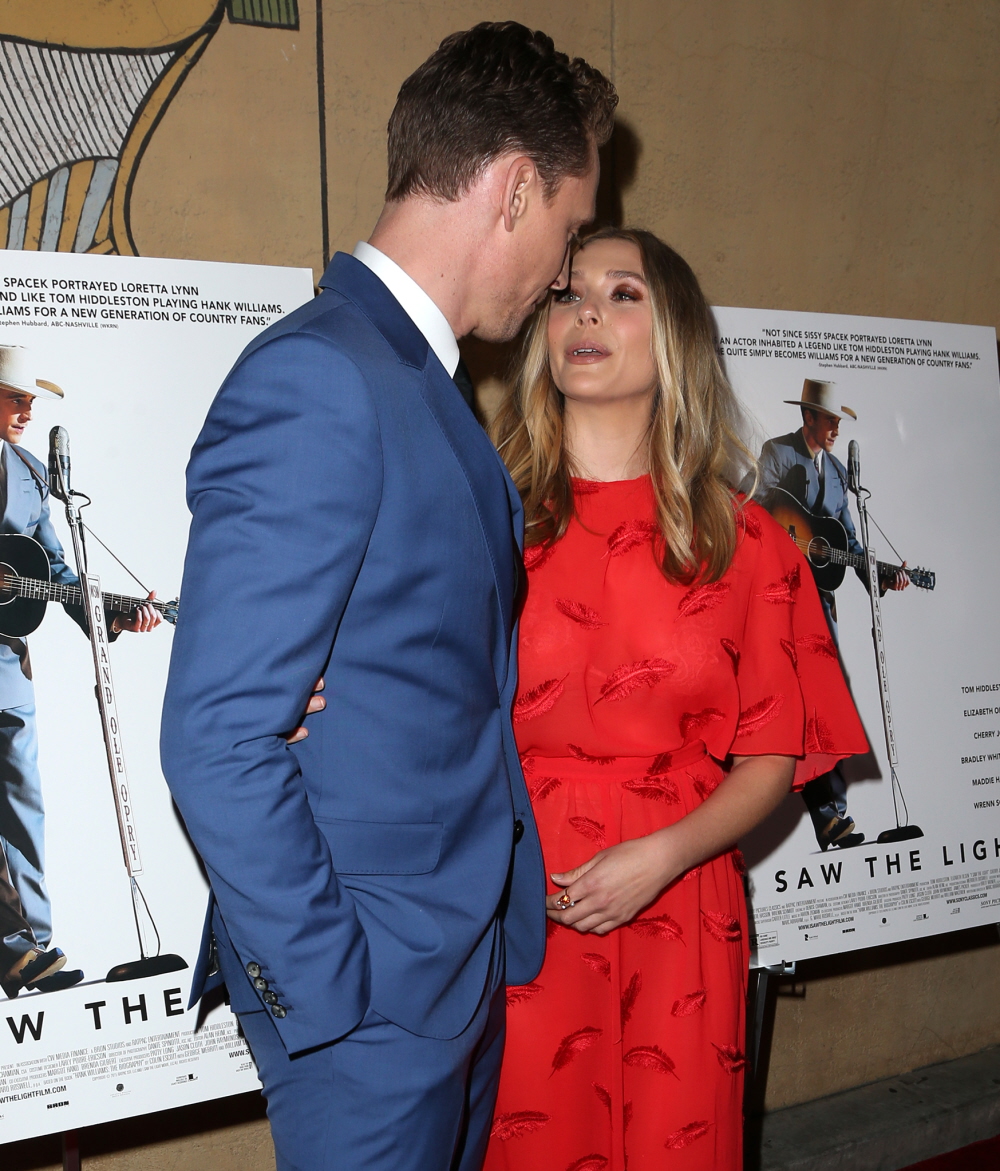 Photos courtesy of WENN.