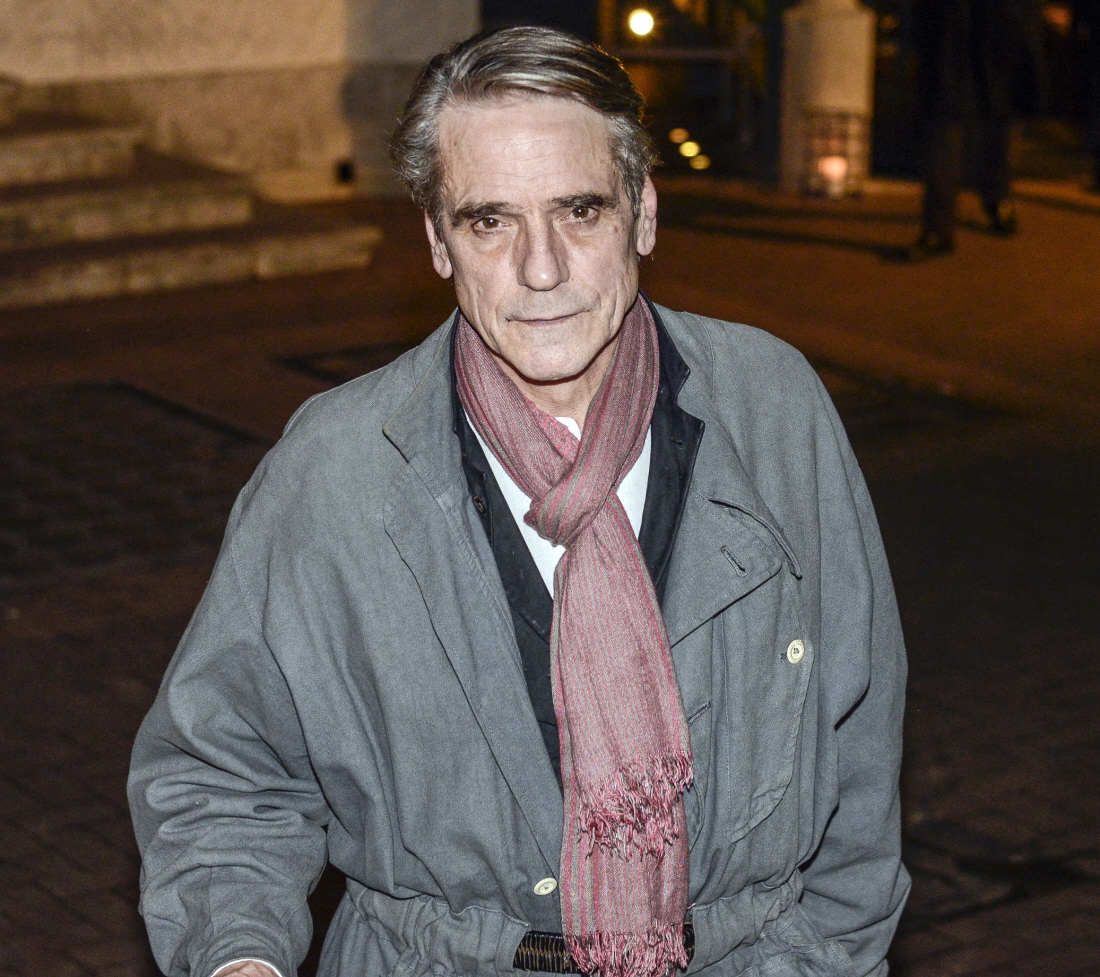 I went into Jeremy Irons' Guardian interview only having read one quote, the quote about abortion. I thought I would just read the piece and pull the abortion-quote-block for context. But I can't. Because this interview is BONKERS. While I definitely think Jeremy Irons is eccentric in a vastly terrible way – think of his comments on incest and gay marriage several years ago, or his thoughts on sexual harassment – I also sort of have to give him credit for putting it all out there. Most celebrities/actors would have some sense of self-awareness that their thoughts are terrible and should never be spoken out loud, especially to the Guardian. Irons does not have that sense of self-awareness, so at least we can openly discuss his on-the-record comments. You can read his full Guardian interview here. Some highlights:
On his six homes & a castle: "I have developed a life which seems to need a relatively high income."

Marriage & Christianity: "Our society is based on a Christian structure. If you take those religious tenets away, then anything goes and it will become terrible – and you usually get into trouble. Adultery might be very nice, but finally it f–ks us up. And it f–ks up the structure of society. We don't steal – well, some people do – because it makes life intolerable for everybody. Yes, you can be in love and raise a family wonderfully by not being married, but actually marriage does give us a strength, because it's quite hard to get out of, and so it makes us fight more to keep it together. If divorce becomes dead easy – which it sort of has – then we don't have that backup. Because, for everybody, relationships are hard."

Abortion harms women: "Take abortion. I believe women should be allowed to make the decision, but I also think the church is right to say it's a sin. Because sin is actions that harm us. Lying harms us. Abortion harms a woman – it's a tremendous mental attack, and physical, sometimes. But we seem to get that muddled. In a way, thank God the Catholic church does say we won't allow it, because otherwise nobody's saying that it's a sin."

On Labour leader Jeremy Corbyn: "I think he might be the death knell. I love his idealism, but he's not what I would call a politician. I think the Labour party is no longer fit for purpose. What we very, very, very strongly need is a not a party that represents the labour movement, but everyone who doesn't like that we are governed, in effect, by global economics. We have to find an intelligent alternative to the Conservative ethos."

He doesn't believe in interventionism. "It's like genetic engineering. Everything is held in balance, whether good or not, by diverse internal forces. Syria deals with the opposition with great cruelty, but there are cruel people, as one sees from Isis, and you're not going to remove that part of nature from those fanatics at that stage of their civilising development. Yet everybody – especially the Americans – seems to think the only way of life is theirs. Democracy? What the f–k does that mean? Freedom? What the f–k does that mean?"

The US election: "[It signals] maybe the end of democracy. If democracy has become a gameshow where you vote for the one who makes you laugh most, or whatever, then we're not worthy to have the vote".
There's a lot to unpack and I'm not going to go beat by beat with Jeremy Irons. Let me just say that while I appreciate that he identifies as pro-choice, I do not appreciate that he uses the language of anti-choice advocates. If a woman feels psychological or even physical pain because of her abortion, the decision is still HER CHOICE. If a woman wants to say abortion is a sin, that is her choice too. But no man or woman gets to decide for all women what is and is not a "sin." And let me tell you, the psychological and physical pain would be even more profound if the state forced women to carry unwanted pregnancies to term.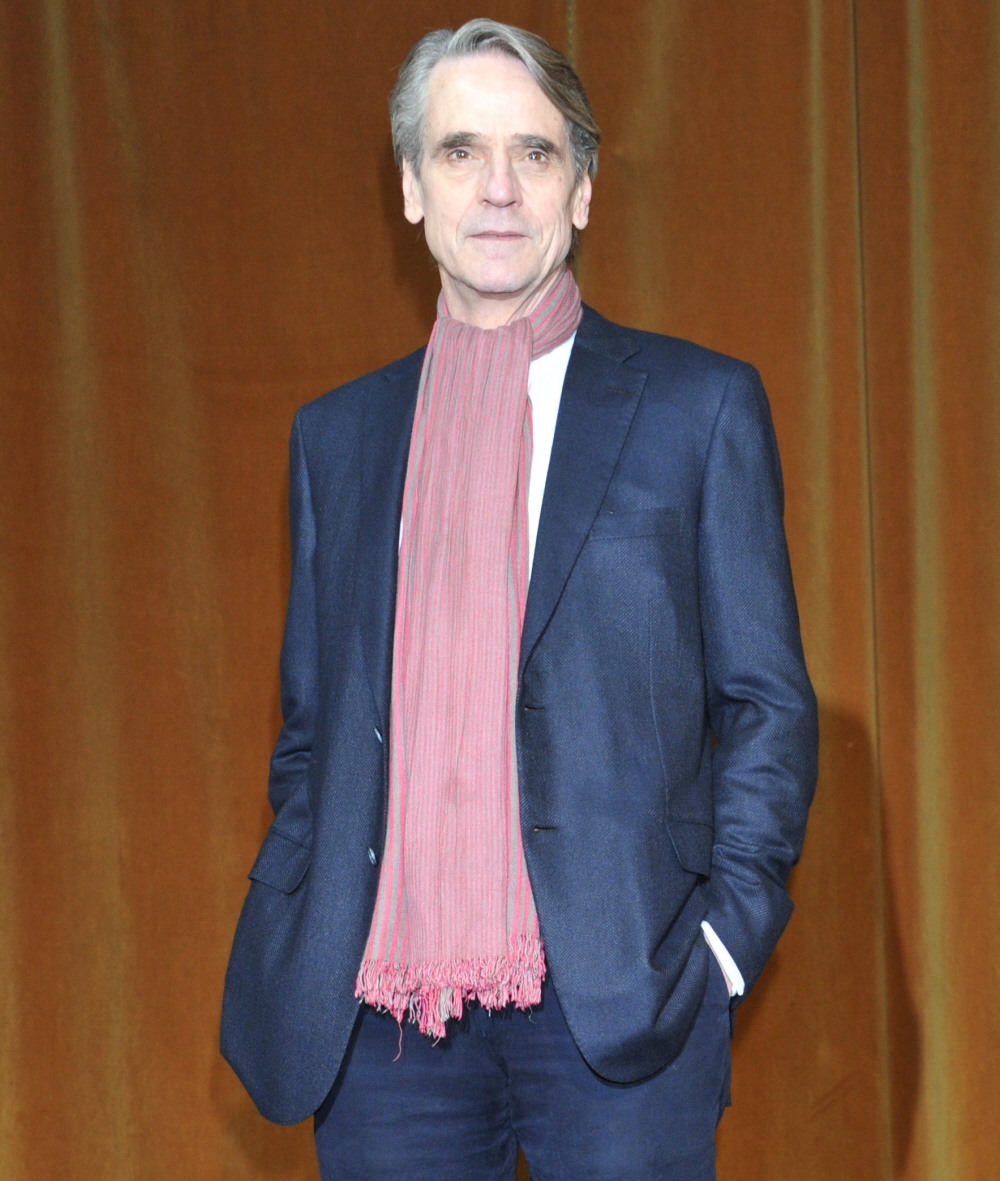 Photos courtesy of WENN.