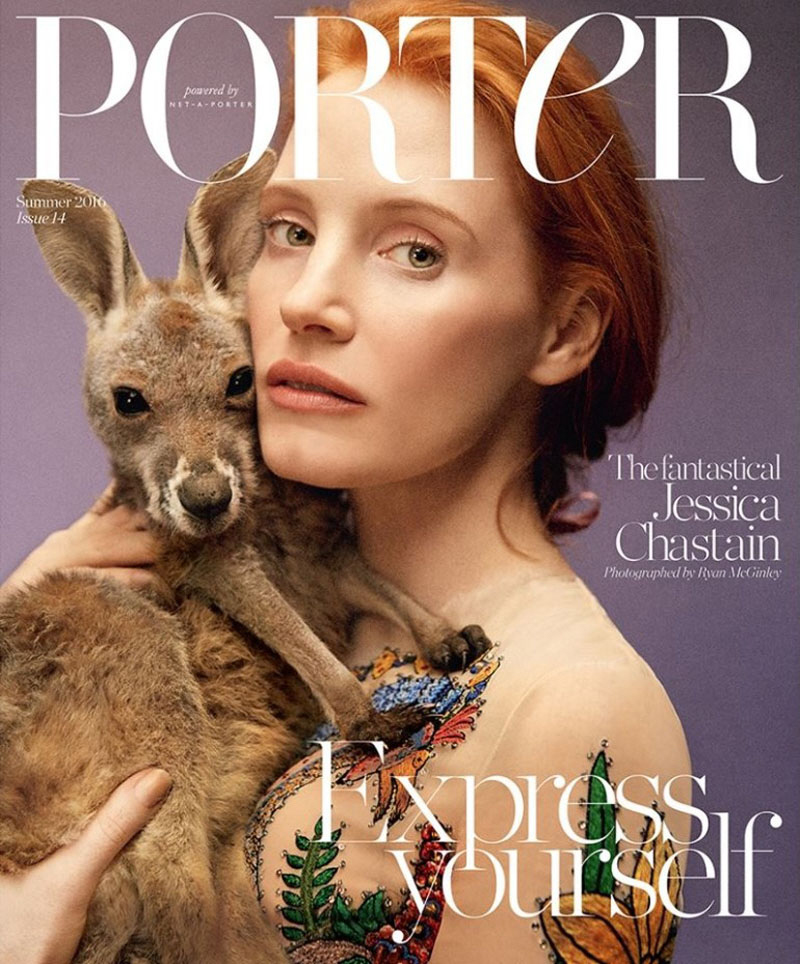 We're going to be seeing more of Charlize Theron, Emily Blunt and Jessica Chastain over the next few weeks, because they are promoting The Huntsman: Winter's War, the follow-up to Snow White & the Huntsman, also known as the film where Kristen Stewart ended up banging her married director. Rupert Sanders didn't direct the sequel, but Charlize and Chris Hemsworth have returned. Actually, I guess this is a prequel? It does take place chronologically before the events of SWATH. Anyway, that's my explanation for why Jessica Chastain covers the newest issues of Flaunt and Porter Magazine. In Porter, she poses with a baby kangaroo. In Flaunt, she covers her face with lace. Here are some highlights from Porter:
On gender equality: "When you have both genders represented, then you have a healthier point of view. You don't feel a hierarchy; you don't have anyone feeling like they are being left out or bullied or humiliated. Sometimes, being the only girl on a set, you can feel like a sexual object."

She doesn't want to lose her privacy: "I've never dated anyone famous. I had time before this happened to really watch the industry. I want to be able to have my family and have this normalcy and go see a play and not have the audience watching me watch the play."

She never had The Bridal Dream: "I never dreamed what my wedding dress would look like… but I always dreamed about my Oscars dress."
First, are we buying that Jessica Chastain has never dated a famous person? I think she's telling the truth in that she hasn't openly had a famous boyfriend, but I don't believe that she's never had any kind of sexual/romantic relations with a famous person. Even if you don't believe that Jessica might have fooled around with Tom Hiddleston, I've always thought she had something with Tom Hardy when they filmed Lawless. That's just a theory/rumor, I have no idea if it's true.
As for not dreaming about the white dress… I feel her. I do like looking at wedding gowns, but it's the same feeling I get when I'm looking at Oscar gowns: it's just dress p0rn. But I have to say… if she dreamt all her life about what her Oscar gowns would look like, why is she usually such a disaster at the big events?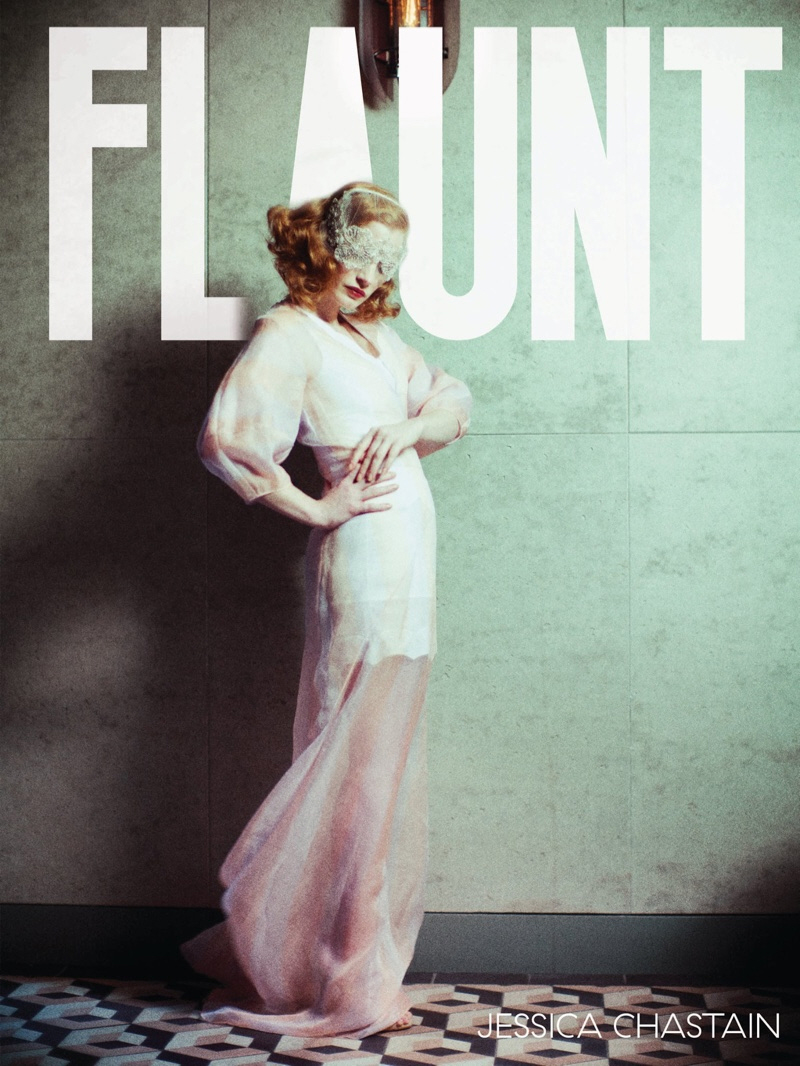 Photos courtesy of Flaunt & Porter.