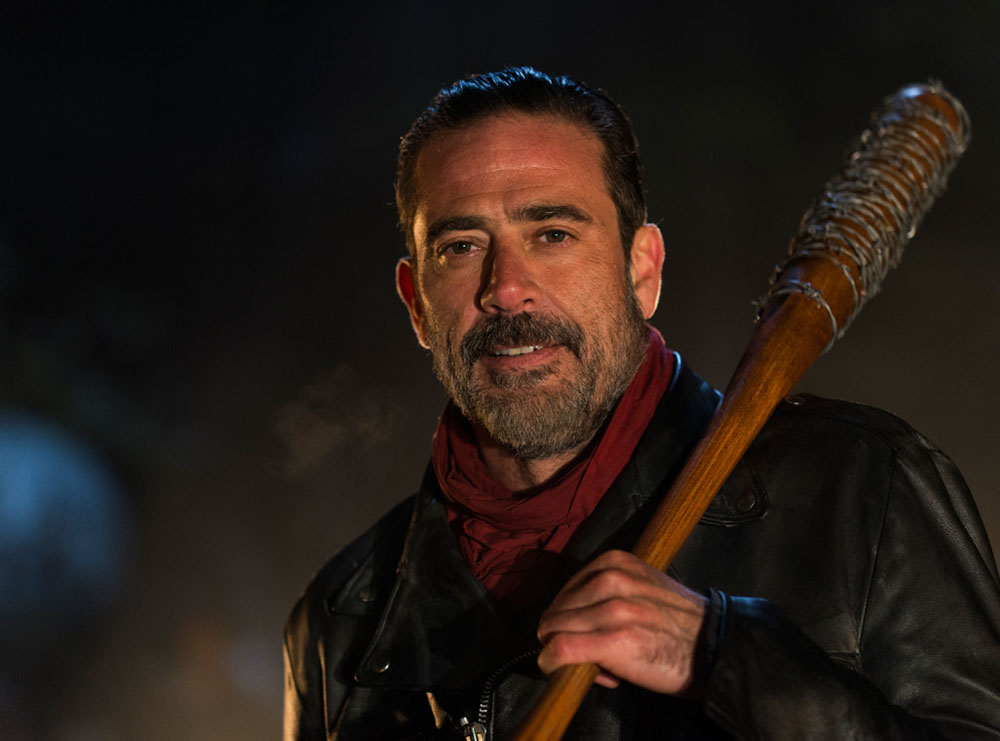 Spoilers for Sunday's season six finale of The Walking Dead
Sunday's episode of The Walking Dead was extremely frustrating for fans in that we knew that someone would die at the wrong end of Negan's barbwire bat, Lucille, and were waiting to see who it was. In the actual finale we got to see the other end of this scene, from the victim's perspective, and were given scant few clues as to whom this could be. We'll have to wait until TWD returns in October to see who died. Producers had teased enough of this episode that we knew that this roughly paralleled a a disturbing scene in issue 100 where Glen dies. I was so upset after reading this that I stopped buying the comics and don't know what happens after that point. So the rest of TWD is going to be a surprise to me (not that they always follow the comics), should I chose to continue watching it. I'm honestly torn. I'm still so pissed off at showrunners and writers for pulling this cheap trick.
Jeffery Dean Morgan, who plays big baddie Negan, feels our pain. In a conference call yesterday with reporters, he parroted some of the same talking points that showrunner Scott Gimple and Comic creator Robert Kirkman gave on Talking Dead Sunday night – that the story was about Rick's fall from power, not whomever got killed by Negan, and about Negan's ascendency to Rick's place. That point was so weak, they knew they were manipulating us. Morgan also explained that he understands the fans' frustration. It sounds like he's more concerned about touting the party line, which makes sense considering who's paying his salary. Here's more:
Taking part in a conference call with reporters the morning after his big debut, Morgan shared his thoughts on the episode's lack of resolution. "I didn't know it was going to be a cliffhanger until I watched the show. That's just how it's done in my world. I don't know if any of the cast knew exactly how it was going to end, which caused the uncertainty and emotion that was going on," he said. "That said, in talking with [executive producers] Scott [Gimple] and Robert [Kirkman], I think that they're explanation was that it was the end of the story for that season, and that is that Rick has kind of lost control. And then there's Negan. And Negan has all the control. I think that's where they wanted to end the story and it's not about the death of that person…I understand the fans frustration. I get that, that being said…I have to trust these writers and showrunners that they know what they're doing."

Morgan also shared that, while viewers were spared the gory details of Negan's skull-bashing last night in favor of the cliffhanger, he expects season seven to kick off in bloody fashion. "That would be the hope, yeah. That's the impression I have, that we will pick up directly from what we saw, that season six ended on that note and season seven is going to pick up right where we left off," he said. "So, yeah, you're going to see who's at the end of that bat, and what happened from there."

Might we learn a little of Negan's backstory while we're at it? Morgan certainly hopes so. "I talked to Robert Kirkman after we did Talking Dead and he is kind of doing the backstory of Negan now, so whether or not or when we see that—I hope we do, I can't answer that," he admitted. "But hopefully we'll find out more about Negan as we go. I mean, I think his backstory is going to be pretty fascinating."

When asked whether or not he's playing Negan as a bad guy, Morgan shied away from that comparison. "I never approach it like he's the bad guy. I approach it like he's a guy. Especially in a world like the zombie apocalypse," he said. "I feel like he's a guy who, I think the back story of Negan is that he used to be a used car salesman. That's what I know and there's not a whole lot beyond that."

"I think that there's a lot of similarities between him and Rick," Morgan added. "If we were following Negan's story from day one on The Walking Dead, the audience would be rooting for him."
That was a point that Morgan made during his appearance on Talking Dead too – that Rick and Negan really aren't that different. That's especially true after this season, when we've seen Rick brutally take down rival gangs. Imagine Rick in Negan's place. As Morgan said on TD, Rick's group had killed over 20 of Negan's people. If Rick had a group of Negan's size and a group of his size had already murdered his people in two separate incidents he would have likely ambushed the entire group without sparing anyone. I'm not familiar enough with Negan in the comics to know if ever becomes a sympathetic character, but on last night's Walking Dead he seemed rather reasonable compared to some of the things that Rick has done. He was a sadistic f*ck, but he only killed one person. That's just the nature of the world in WD, they have to do awful things to survive. I'm still not buying Carol's transformation though. What is that about? Was she playing at being Christian so much that she developed regret at killing people? It didn't seem genuine at all.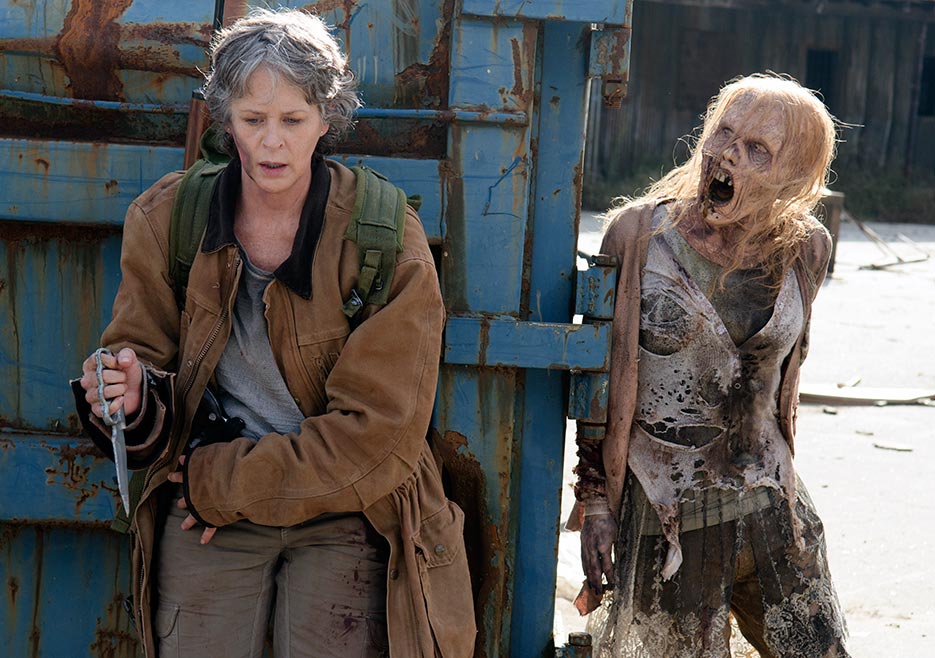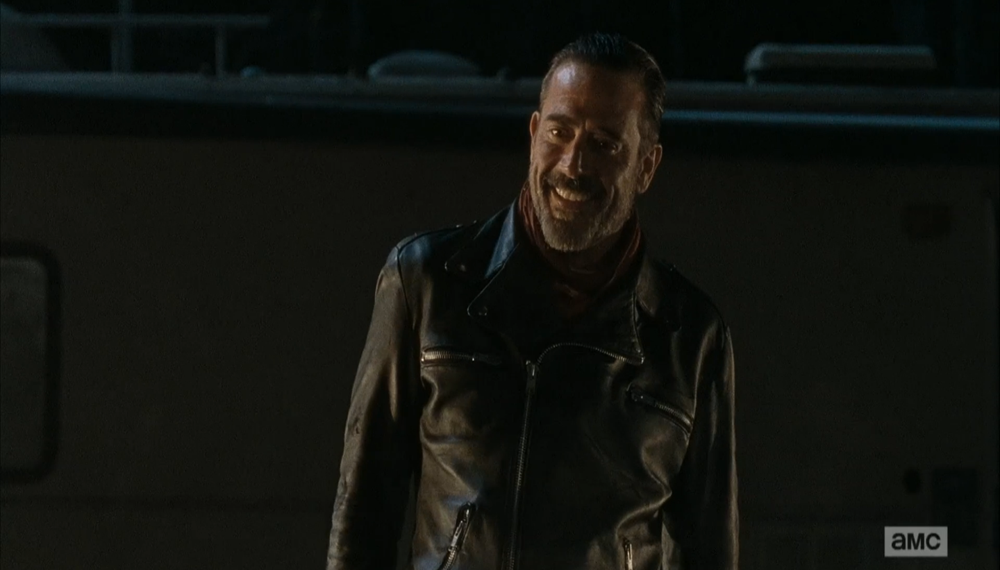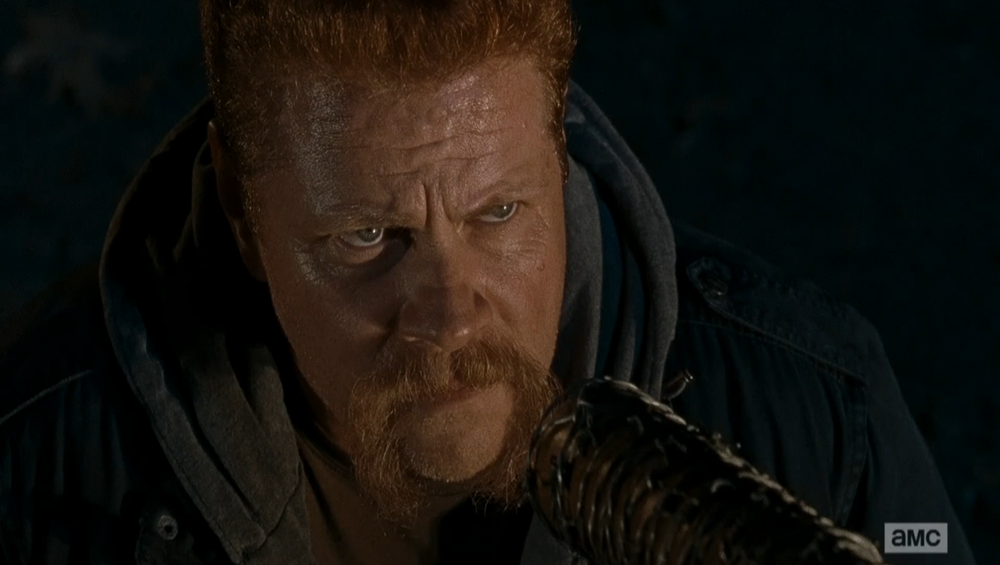 photos credit: AMC/Gene Page and screenshots and via E! Online