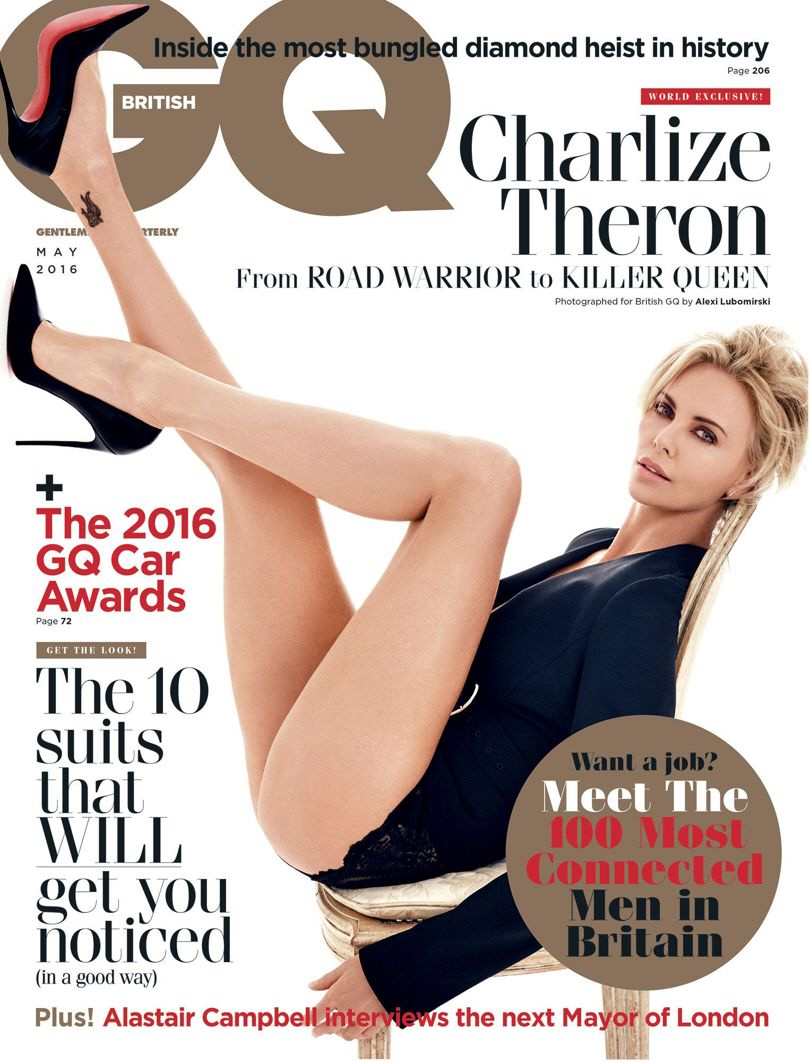 Charlize Theron covers the new issue of British GQ to promote her role in The Huntsman: Winter's War. I enjoy a good old-fashioned promotional tour, and Charlize has been shilling hard. I kind of wonder if the studio is going to lose money on this film though, just because no one really knows what it's about, nor do they care? Still, if it bombs, no one will be able to blame Charlize. She's shilling like a champ. GQ released some early quotes from the cover interview, and I have to say… I like Charlize's head space these days. She's 40 years old and I think she ran out of f—ks a while back. She's complaining about how hard it is to be a beautiful woman in Hollywood, but she manages to NOT sound like a Jessica Biel-esque try-hard.
On being typecast: "Jobs with real gravitas go to people that are physically right for them and that's the end of the story. How many roles are out there for the gorgeous, f***ing, gown-wearing eight-foot model? When meaty roles come through, I've been in the room and pretty people get turned away first."

On ageing: "We live in a society where women wilt and men age like fine wine. And, for a long time, women accepted it. We were waiting for society to change, but now we're taking leadership. It would be a lie to say there is less worry for women as they get older than there is for men… It feels there's this unrealistic standard of what a woman is supposed to look like when she's over 40."

On South Africa: "I love my country. And it's very hard for South Africans to believe that, because I left and speak in an American accent. I have a very, very strong connection to my country and to its people. It's the mother that might have abandoned me, in a weird way, but not all the way. I'm not having a pity party, but I'm constantly trying to win its love back."
Part of me loves that she describes herself as "the gorgeous, f***ing, gown-wearing eight-foot model." Never let it be said that Charlize isn't a confident woman. Never let it be said that she doesn't have bigger stones than most of the men in Hollywood. But! I do take issue with the idea that "pretty people get turned away first." I'm sorry, that's bulls—t and not only that, it's insulting to the actresses who do get those parts. I understand that Charlize is against typecasting and that sure, she's probably been told many times that she's "too pretty" to play a certain role. But historically, who has she lost roles to? Angelina Jolie? Julianne Moore? Nicole Kidman? Because they're all so hideous and Charlize is just too pretty?
Photos courtesy of British GQ.