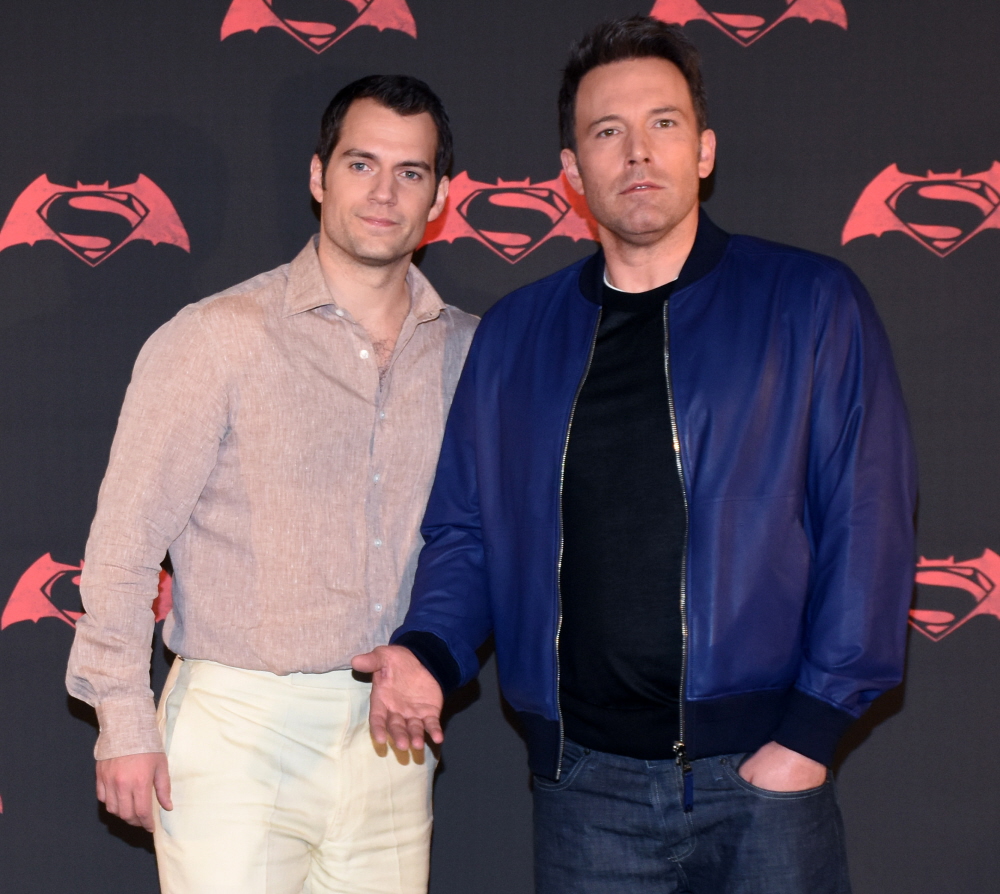 Would it surprise anyone to hear a rumor about Ben Affleck and Henry Cavill maybe hating each other? No, it would not. We all saw the premiere photos and we followed the awkward dual interviews. If Sad Batfleck and Cavill don't hate each other, then we can absolutely say that they are not close in any way. Their body language with each other is sort of ridiculous, and they both seem to give off waves of discomfort around each other. So, In Touch Weekly claims that Ben and Henry never got along, and the Batfleck would actually EYEROLL whenever Henry spoke while filming. Because Sad Batfleck is Regina George.
A source tells In Touch that off-camera, Ben Affleck and Henry Cavill can't stand each other.

"Ben hates Henry, he calls him a 'stuffy Brit,'" says an insider, adding that Henry's know-it-all attitude during the filming of BvS: DoJ irked Ben to no end.

"Henry would try to make suggestions to the director, Zack Snyder, and Ben would just roll his eyes. It also drove Ben absolutely nuts that Henry kept referring to the film as the 'Superman sequel', because Ben didn't think the first film was all that special."

The feeling is mutual.

"Henry wasn't impressed with Ben's nonchalant behavior on set, and he made that clear," says the insider, adding they were forced to put on a happy face while promoting the film. "They pretended to be friends – and that's where the real acting took place."
[From In Touch Weekly, print edition]
For what it's worth, I don't think Cavill is the bad guy here. Cavill might like to date college freshmen and he might be a frat-bro douche, but by all accounts, he's a total professional and he cares deeply about playing Superman. And BvS WAS the Man of Steel sequel!! And most actors talk to their directors about what changes could be made, etc. By this account, Cavill was acting like a normal person and Ben got on his high horse and was all "OMG, I HATE THAT GUY." Ten bucks said that Ben was making even more "suggestions" to Zack Snyder than Cavill ever made. Ten bucks says that Ben was the backseat driver for BvS, which is probably why he took the sh-tty reviews so hard.
Photos courtesy of Getty, WENN, Fame/Flynet.