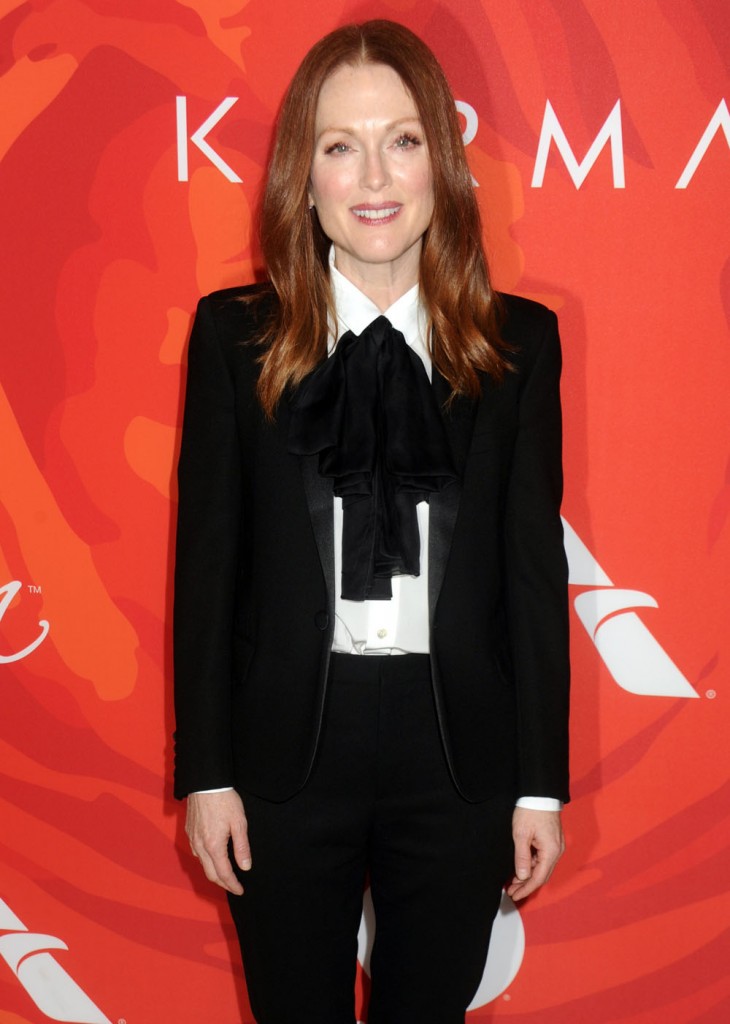 Last fall, Julianne Moore announced that she was partnering with Everytown for Gun Safety, a gun safety nonprofit, to help advocate for stricter background checks for gun ownership, similar to car licensing. It's a practical solution to a problem which just keeps growing, and it can be implemented with some changes to the laws across the country. Moore continues to be committed to this cause. She penned a new essay for the Lenny newsletter citing the statistics of gun violence, particularly mass shootings and domestic murders, which are more likely to occur in states in which there are loopholes on background checks for ownership. Moore explained that she was so upset by the Newtown shootings that she was inspired to take action. She also emphasized that women are far more likely to be victims.
Our weak gun-safety laws allow guns to end up in the hands of dangerous people. Roughly 40 percent of firearms in the United States are acquired without a background check, so criminals can obtain weapons they shouldn't have. For example, there is a huge loophole in the federal background-check law that allows abusive boyfriends and stalkers to buy a gun. Studies show that when there's a gun in a home where domestic violence has occurred, the chance that one partner will be killed increases by 20 times.

It doesn't have to be this way. I believe that gun-safety laws can reduce gun violence, even if they don't eradicate it, because of the example set by the automobile industry. A car is also a machine. In order to drive it, we require licenses and training. We have added safety features like seatbelts, airbags, collapsible steering columns, and safety glass. We have made car manufacturers beholden to these measures. We have enacted speed limits and criminalized drunk driving. In the process we have reduced the auto fatality rate by nearly 40 percent in just the past 20 years.

Congress is currently deadlocked on the issue of gun-safety rules. So much so that President Obama recently enacted an executive action to reduce gun violence. But where gun-safety laws have really made a difference has been at the state level. Currently, 18 states and the District of Columbia have closed the background-check loophole and require a background check on every gun sold.

In those 18 states, there are half the number of mass shootings, 46 percent fewer intimate-partner gun homicides, 48 percent fewer police gun homicides, and 48 percent fewer firearm suicides. That leaves 32 states that have NOT closed the loophole, and the next logical step is to go to work on changing that. In November, both Nevada and Maine have ballot initiatives where voters will be able to expand background checks and help save lives.
[From Lenny newsletter]
Those statistics are powerful and telling. States with stricter gun ownership laws have significantly less gun violence. Moore is advocating for the closure of the "private sale" loophole in the federal firearms law, which allows for citizens to sell guns without background checks online and at gun shows. Obama tried to close this loophole by issuing an executive order earlier this year stating that all gun sellers must require background checks for customers, regardless of where they sell guns. Obama also compared gun licensing to car licenses, which I think is apt. Whether his orders will have teeth or not remains to be seen, even as the numbers of mass shootings rise.
These are practical solutions which most people agree with. They preserve gun ownership rights while making our country safer, they just need to become law. Moore urged Lenny readers to become involved by joining Everytown.org. I like that Moore is involved with this issue and that she's taken the time and effort to do it in a thoughtful way.
As a sad sidenote, New Orleans Saints coach Sean Payton has spoken following the murder of former player Will Smith in a road rage incident. A man named Cardell Hayes rear-ended Smith and then shot him to death and wounded his wife. Payton explained "I'm not an extreme liberal. I find myself leaning to the right on some issues. But on this issue, I can't wrap my brain around it."
Moore is shown at the Variety Power of Women event in a black suit on 4-9. I love her but that big tie is a no. Photos credit: FameFlynet