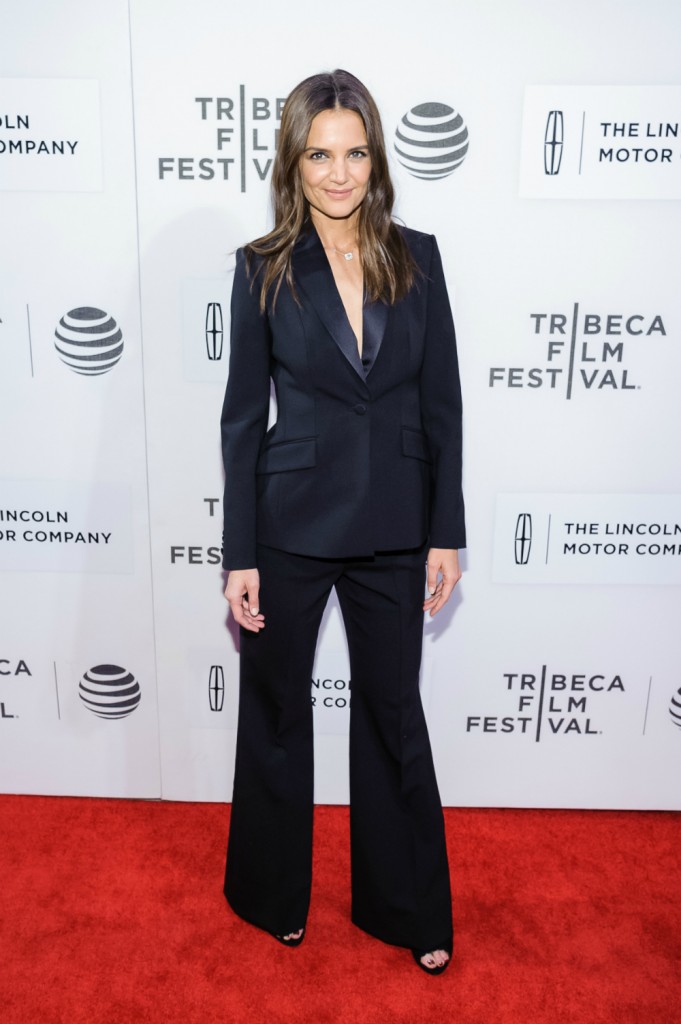 This is Katie Holmes on the red carpet for her directorial debut All We Had at the Tribeca Film Festival last Friday. All We Had is based on Annie Weatherwax's book about a single, homeless mom trying to raise her teenage daughter. Katie stars as Rita, the mom, in addition to directing. Reviews are just starting to come in but they are saying the film is a decent effort for a first time director. Katie is actually getting more play for her performance in the film. Before the screening, Katie sat down with The Hollywood Reporter to talk about what it was like to take the reigns as a director.
Are you nervous to be entering the filmmaking world?
I'm incredibly intimidated because I'm doing something I haven't done before. As an artist, I hope people connect to this story. But as a woman in Hollywood, I hope to do it more, so I hope it has some success because I want to be part of creating stories and choosing the stories that are put out there.

Who are some other female directors you admire?
I look up to Jodie Foster. Also, Sarah Polley – we did Go together so many years ago. And Reed Morano, she's an amazing DP and has something new coming [Lionness starring Ellen Page]. I'm excited, there's a lot of great stuff happening. Even at this festival – it's great that one-third of the Tribeca films are directed by women. I'm looking forward to seeing some.

What do you say to those who are wary of working with a female filmmaker?
Then don't! [laughs] But you need to concentrate on the work of the person rather than the gender. If you're nervous about it, then figure out what you're nervous about exactly and fix that.
At the Women's Filmmaker Luncheon, Katie told Refinery29 that the mother-daughter dynamic, even though not the same as her, made her feel more comfortable for her first time at the helm. In addition, Katie and Tribeca co-founder, Jane Rosenthal, who produced All We Had, spoke more in depth about the need for women to support each other in Hollywood. During her remarks, Jane said, "You should know who your sister is next to you. That's how we're going to keep the numbers growing in terms of women who are in front of and behind the camera and are creating the stories that are so important in our world." To her point, Katie said that Jane agreed to produce her film without even having read the book. Judy Greer, who is also Katie's good friend and appears in the film, said yes over the phone and offered to fly herself in. In speaking to this, Katie said, "So there was such positivity, and then you do that for other women and you keep paying it forward." Keeping true to her word, Katie will appear in Judy's directorial debut, A Happening of Monumental Proportions.
Katie's next directorial effort will be an episode of the miniseries The Kennedys – After Camelot, in which she will reprise her role as Jacqueline Kennedy Onassis.
Photo credit WENN Photos and Getty Images