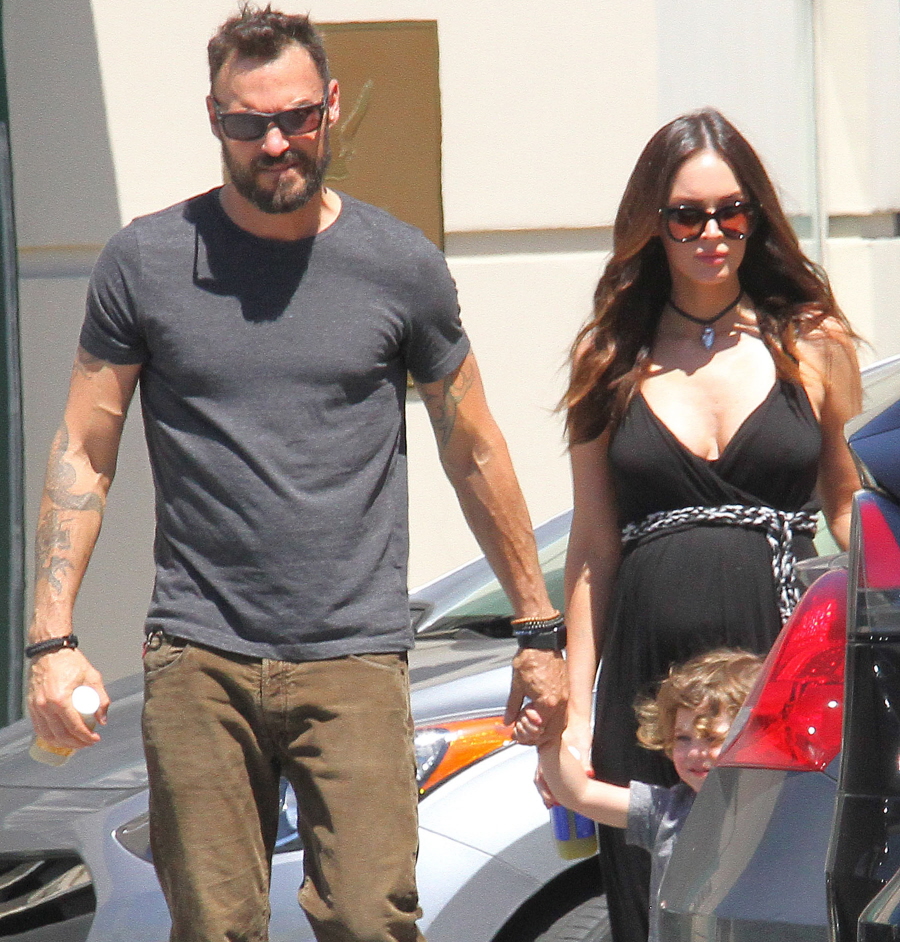 Here are some photos of Megan Fox and Brian Austin Green at the pap-friendly Farmers Market over the weekend. After years of purposefully being quiet and un-scandalous, Megan is certainly bringing some drama these days, isn't she? She debuted her surprise baby bump last week, and we've since learned that the baby-daddy is Megan's estranged husband Brian Austin Green, and that the pregnancy was unplanned. We also learned that Megan and BAG are still living together, sleeping together and she's still financially supporting him… but the divorce was, allegedly, still on. But now E! claims that Megan has hit pause on the divorce. Just like BAG planned, right?
Megan Fox and Brian Austin Green aren't getting divorced "anytime soon," a source tells E! News exclusively. Megan, who is pregnant with their third child, and Brian have taken time since announcing their split last year to try to improve their relationship.

"Brian and Megan been working on themselves as individuals and things have gotten better between them as a couple," the insider tells us. "They have been getting along great. They are best friends and know each other very well."

In addition to their love, the source tells us that the couple has "a huge physical attraction that never went away…They admire each other on how they are as parents and are looking forward to bringing their third child into this world," the source adds. "Megan's favorite thing is being a mom and spending time with her family. They are living together not separately. Megan is feeling happy and healthy and is working out and taking it easy."
That's definitely the happy-family narrative that they want people to believe. But surprisingly, People Magazine did an exclusive story about what drove them apart and why Megan filed for divorce last year. A family source claims that BAG was fed up with Megan's career and he didn't want to play the stay-at-home dad forever. The source says:
"They had several conflicts that led to the divorce. Megan worked a lot last year, and she continues to work a lot. When she is away, Brian stays with the kids. Before they filed for divorce, they had disagreements about this situation…Megan is a great mom, but also wants to keep her great career. Brian ended up being a stay-at-home dad. He is happy to be with the kids, but also wants another life than just being a dad…Maybe a third baby will bring them closer. It seems they both think it's worth trying a bit harder to keep their family together as it is."
Which is just a further extension of my theory that Brian Austin Green had a diabolical plot to get Megan pregnant so she would stay home and not work for a while. But I always feel like BAG doesn't think things through – I mean, Megan is the breadwinner. BAG hasn't worked that much over the past five years, and while their divorce was "on," he claimed that he had vertigo and couldn't work. So, someone needs to make the money. Of course, it could be that the vertigo claim was all a sham, because BAG was racing cars last weekend too.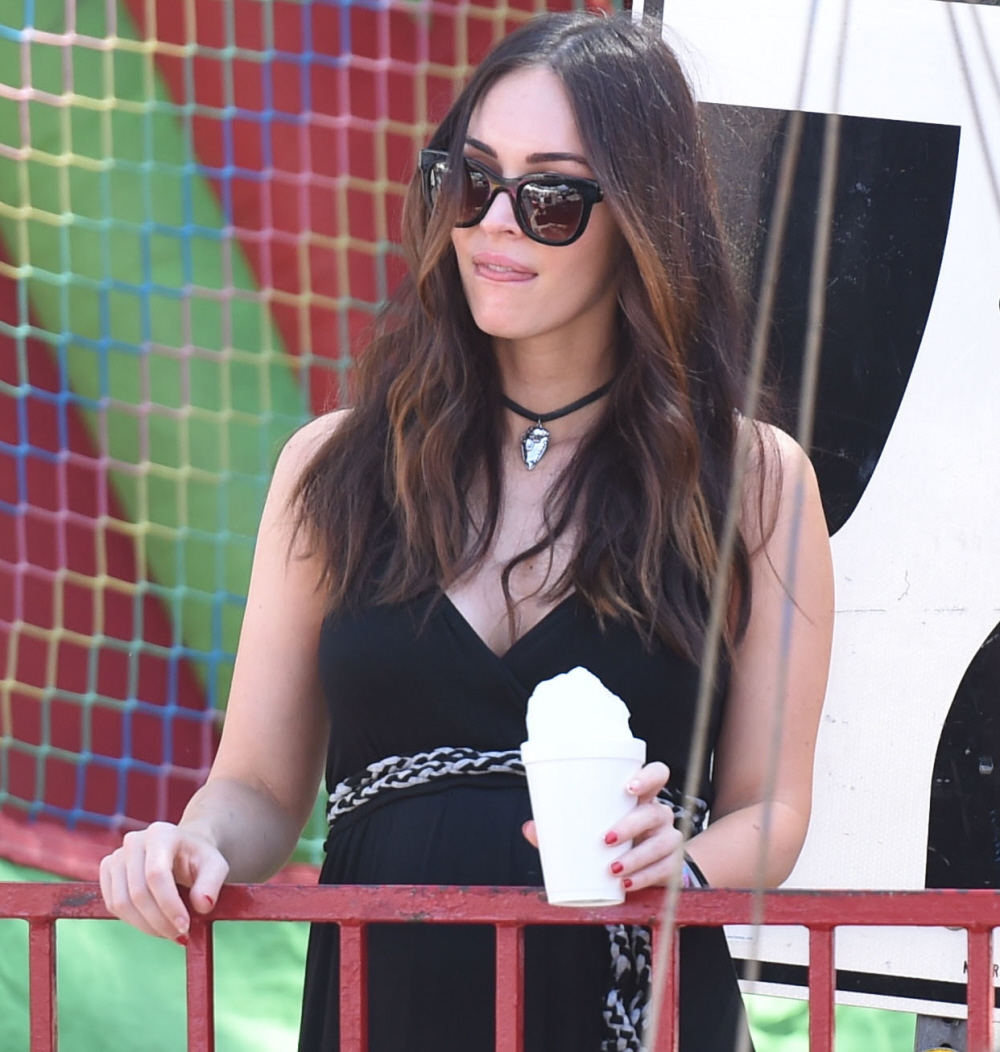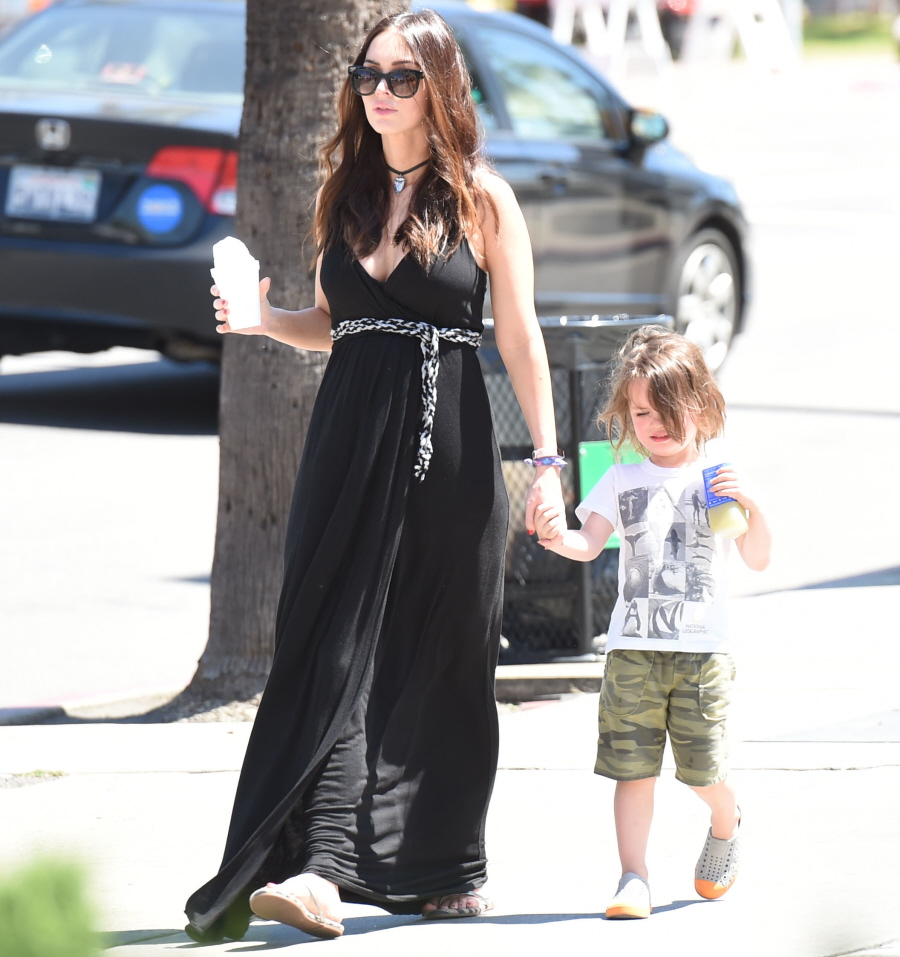 Photos courtesy of Fame/Flynet, WENN.