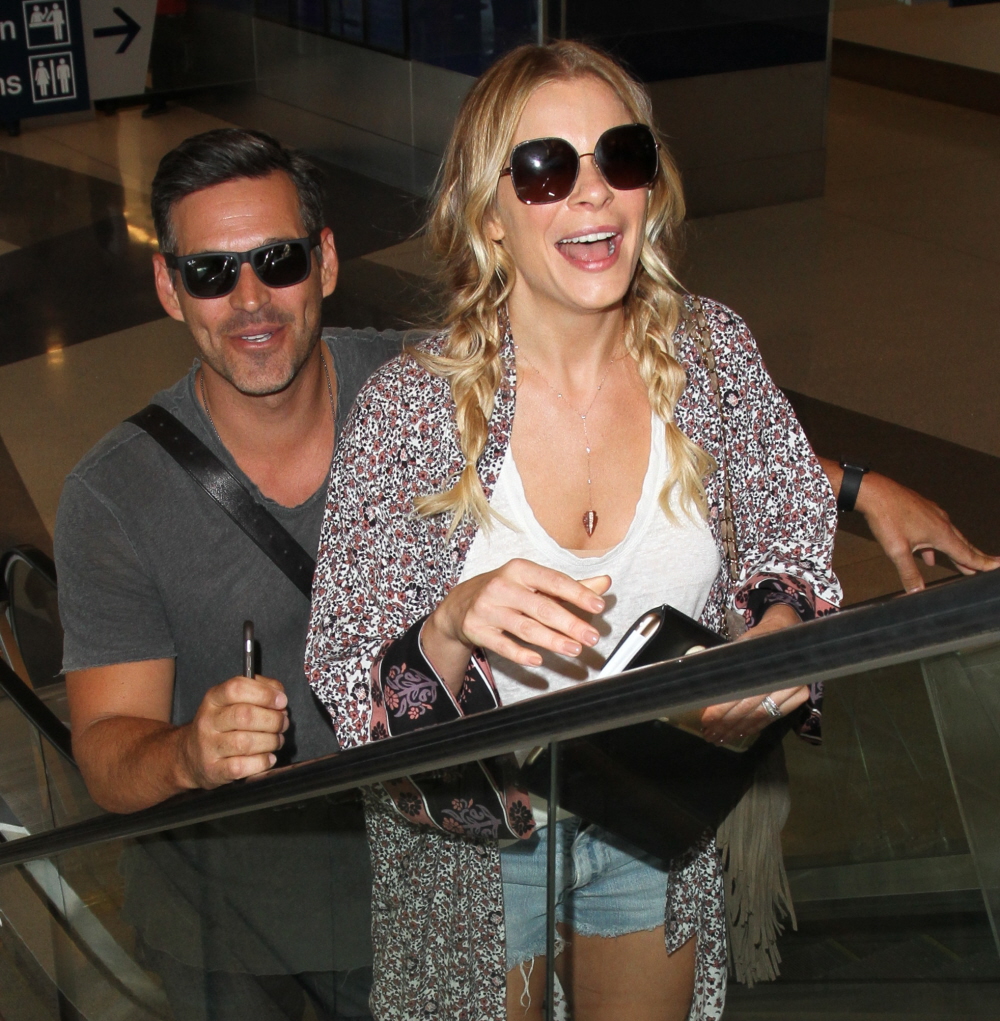 For many, many years now, the tabloids have been obsessed with the idea that LeAnn Rimes is running out of money, or that she's bad with money, or that she spends too much money supporting her perpetually underemployed husband, Eddie Cibrian. I honestly believe a lot of those stories. While LeAnn was at one time pretty well off, she doesn't have a lot of income coming in, and she has likely spent a good chunk of her savings since marrying Eddie. But still, we wait for the money to really dry up, and it hasn't… yet. Which is my way of saying that this Star story could have been published at any point in the past six years:
Turns out you can't live a jet-set lifestyle on zero dollars a year – just ask LeAnn Rimes, who's hoping a comeback tour will get her finances back in the black. And if it doesn't, insiders believe it won't just break the bank, but also her marriage to actor Eddie Cibrian!

"LeAnn knows she's neglected her career for too long," admits a friend. "At this point she's known more for her affair with Eddie than for being a singer."

LeAnn's last album, 2013's Spitfire, was a flop, and Eddie's last major job was a three-episode stint on Baby Daddy. "They've coasted off LeAnn's savings since they got together five years ago, but they live large with a huge mansion and lots of trips," adds the insider. "Plus, she helps support his two sons."

Now LeAnn is ready to hit the road for a big concert tour… just with only two small shows scheduled this year, friends wonder if her dire financial straits will shatter her marriage to the 42-year-old Cibrian, who has grown accustomed to the A-list lifestyle, fueled by his wife's nest egg.

"Eddie married a rich girl on purpose," says the pal. "So what happens when that's no longer the case?"
[From Star Magazine, print edition]
The problem isn't just that LeAnn is more known for the affair, it's that she's known for being a crazy Single White Female and a Twitter-stalker and all of that. And that means no one is really interested in hearing her sing. It's a weird, LeAnn-specific conundrum, really. There are plenty of C-listers able to find revenue streams through social media, club appearances, random promotional work and guest appearances. But I get the feeling that A) LeAnn thinks a lot of that stuff is beneath her and B) no one is offering those deals to LeAnn anyway.
What makes this story extra-funny is that Eddie's rep went to Gossip Cop to deny it! Did you know Eddie still has a rep? He hasn't worked in a year, and even then (as Star points out), it was just a minor guest spot on basic-cable. How does he still afford to have a publicist, hm? Well, Eddie DOES have a rep and the rep says: "Their marriage is fine… their finances are fine." CASE CLOSED!
Also, LeAnn posted this on her Instagram. I have no words.
Photos courtesy of WENN, Fame/Flynet, Instagram.