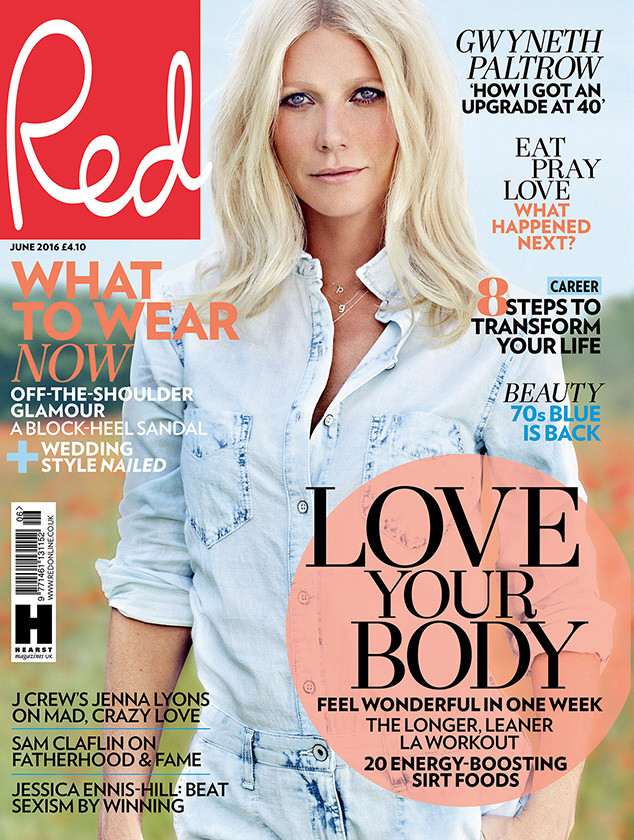 First of all, the Red Mag styling team and Photoshop team deserves a slow clap for their editorial of Gwyneth Paltrow. This is the best Gwyneth has looked on a magazine cover in a while. It helps that they fluffed up her hair. It also helped that they Photoshopped the crap out of her skin to the point where she looks like a dewy 20-year-old Princess Diana. Anyway, Gwyneth is promoting her latest cookbook, but you wouldn't exactly know that from her Red interview. She spends most of the interview talking about Chris Martin and how he's like a brother to her, which is something she's said before and I always find it creepy. Chris is the father of her children, her ex-husband, her best friend… all of that is fine. But don't say he's like a brother! Here are some highlights from the interview:
On Chris Martin: "I think that I'm very lucky in that I have such a willing partner in agreeing with, and teaching me, as much as I taught him. And bringing to me, as much as I brought to him, ideas about how to do it in a really gentle way, so it would be really gentle for Chris and myself. We loved each other very much, and we still do love each other, and we have these two beautiful children together. I thought, 'I wonder if there's a way where we don't have to do that to our kids and we can just carry on having family dinners.'"

Goop plays with the timeline of her split: "We had broken up a year before we announced it, so we would have this time to work through everything. It's also almost about having to press the 'override' button whenever you feel angry or jealous or whatever, broken-hearted. You have to press the button: I'm going back to the baseline of 'I love this person, he's the father of my children, he's a wonderful man. I'm just going to put my s–t aside for right now.' It really has not been easy for me at times; I'm sure it's not been easy for him."

Putting the kids first: "When we said we're going to put the children first, we meant [it]. If you want to put your children first then why are you slagging your husband off in front of them? So we really tried, [and] that meant, 'I'm gonna check my s–t at the door, and I'm going to focus on all the reasons that I love you, that you're like my brother and my family forever and we'll deal with that stuff another time.' It's not always easy, but it's just the way we wanted to try to do it. I have to say it wasn't the outcome we were hoping for, but it was our outcome and we've really done the best that we can."

What it's like to be 43 years old: "At 40, my life changed so much. I think every woman around that time gets this massive software upgrade. You're just different. You're upgraded. For me, there were just a bunch of changes I had to make to really be true to myself and really live my happiness. And you have to be brave and make the choice to do that, to truly accept yourself and love yourself and really forgive yourself for your missteps. So, it's been a long interesting road to get to the place where I feel really content and that I really know myself and like myself. I wish they could teach girls to do this when they are 16 instead of 40, but that's part of life."
While I roll my eyes at a lot of what the Lifestyle Blondes have to say about health, beauty and aging, I do appreciate the fact that they are increasing the positivity around the 40-year marker. Even now, there are so many people in Hollywood and beyond who believe that a woman is completely useless/unmarketable/not-sexy after the age of 40. While I can't speak to the "massive software upgrade" one gets at 40 (40 is still several years away for me), I can tell you that I don't feel upgraded. Yet. Maybe it will come.
As for Gwyneth playing with the timeline of her split… eh, it's convenient to say that now. It's a way to explain her affair with Brad Falchuk and it's a way to explain Chris's wandering eye and rumored affairs.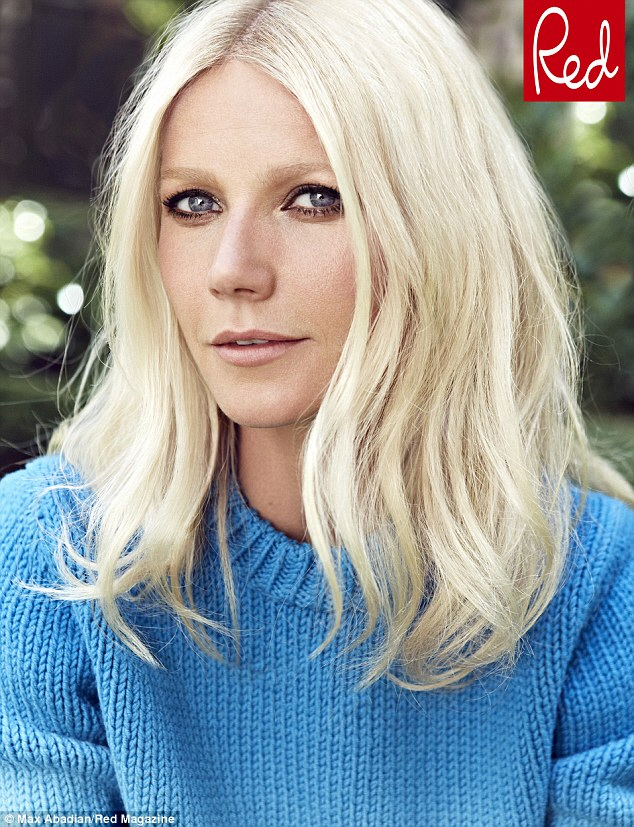 Photos courtesy of Red.