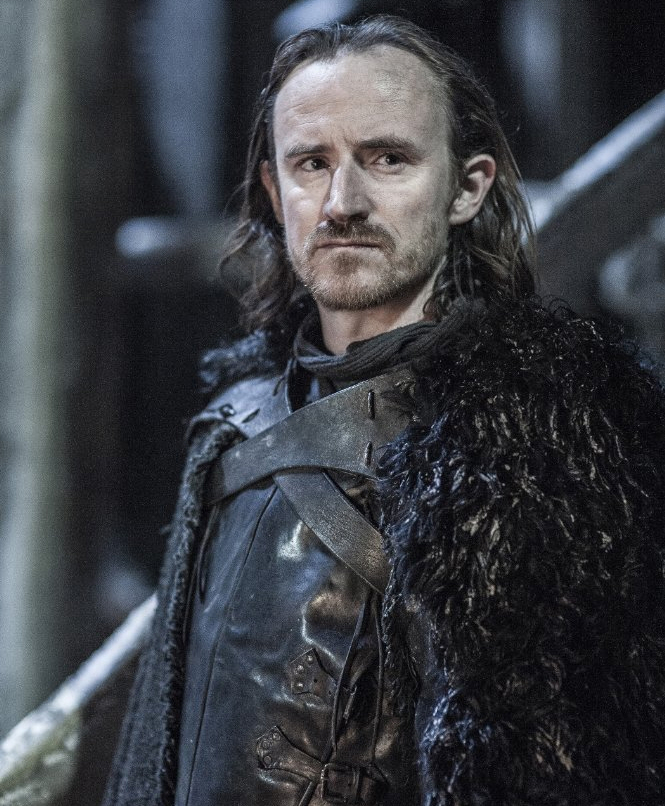 MAJOR SPOILERS for Game of Thrones Episode 6.2, "Home."
Everyone had been saying that Game of Thrones Season 6 picked up the pace quickly, that the writers really felt the need to start moving around plotlines in a hurry, but I was not honestly thinking that so many major moments would go down in the second episode. I mean, just think about: we got some major foreshadowing about Bran seeing Ned Stark's major moments, we got HODOR, we got the death of two major "bad guys," we got a resurrection, we got the Wildlings coming to kick ass at Castle Black and we got Tyrion with the dragons. I mean… I would say that the writers are going a little bit heavy on the fan-service, but they're hitting all of my sweet spots, so how can I complain? Here are some major moments:
Bran, Hodor & the Three-Eyed Raven. HODOR!!! HODORRRRRR!!!!!!!!!! Our first Hodor sighting in so long! Never change, Hodor. And while Bran was all, "Hodor, when did you become Hodor?" I get the feeling that the story behind Hodor is going to be sad as hell. But I really enjoyed Bran going back and seeing his dad, his uncle Benjen Stark and his aunt Lyanna. Foreshadowing!! Because I think the Tower of Joy vision is coming, people!
Jamie, Cersei & the High Sparrow. Even though I'm totally over the King's Landing part of the story, some interesting stuff is happening. I really did think for a moment that the Kingslayer was about to become the Sparrowslayer, and the High Sparrow sort of thought so too. Cersei is obviously terrible and now Ser Robert Strong/the reanimated corpse of Gregor Clegane has her back. I didn't get Tommen's reasoning for being such a p-ssy either. Boring.
Arya is still blind. I hoped her storyline wouldn't just be static, living on the streets and getting her ass handed to her by The Waif. Thankfully, we got our first sighting of Jaqen H'ghar for this season and I guess he's bringing The Girl back to the House of Black and White to continue her training. Right? Sure.
Ramsay Bolton is Forever Psycho. This was foreshadowed throughout Season 5, and as soon as Roose Bolton said in episode 6.1 that he hopes the maester is right and Lady Walda was carrying a boy, you knew that Ramsay was going to wipe out his father's family. I had a moment – a genuine moment – where I thought Roose had knifed Ramsay. But of course it was the other way around. Ramsay committed patricide, then in one of the most awful scenes, he ordered his dogs to kill Walda and his newborn baby brother. Sick, twisted, psycho killer.
Sansa & Theon. Sansa and Brienne caught up about how Brienne saw Arya for a moment, and it was just a reiteration: Brienne will be taking Sansa to Castle Black to reunite her with Jon Snow. Foreshadowing! But then Theon and Sansa have a moment where he again reminded her of all of the sh-tty stuff he's done to her family. He didn't want to take her to Castle Black only to have Jon Snow cut off his head, deservedly so. So Theon is heading back to the Iron Islands.
Tyrion meets the Rhaegal & Viserion. After being witty and drunk, Tyrion and Varys pay a visit to Dany's other dragons, Rhaegal and Viserion. Dany chained them up in the tomb after they started killing people and not just goats and animals. Apparently, dragons can sense when their mom is gone and they've been refusing to eat. So Tyrion came to visit them… and unchain them. I'll admit it, I laughed when Tyrion told them he was a friend of their mom's. I liked the way he talked to them and I liked that the CGI dragons seemed to be listening to what he said. Of course, all of this "Tyrion is good with dragons" thing has led to more speculation about Tyrion being a secret Targaryen. Especially given that Tywin's last words were "You're no son of mine." And it would explain why the dragons were like, "He feels familiar!"
Terrible Greyjoys are terrible. It feels like it's been years since we've seen terrible Balon Greyjoy, lord of the Iron Islands. He's still terrible and he still has weird fantasies about ruling Westeros or something. I guess he just wanted to conquer more land. And Yara is all, "Dude, we're breathing on fumes," and he's all, "Shut up, I'm going for a walk on a narrow bridge." And that's when we meet Euron Greyjoy, Balon's younger brother. Euron flat-out kills his brother on the bridge. Not to alienate those of you who enjoy Greyjoy crap, but is that all there was? Do I have to care about a Greyjob power struggle between Euron and Yara?
All of the Castle Black awesomeness. All of the great stuff was happening at Castle Black, I'm sorry. I loved that the Wildlings came to rescue Davos and the pro-Jon faction of the Night's Watch. I loved Wun Wun getting into the game. I loved everything with Tormund – especially since it seems like he's going to have some kind of alliance with Davos!! I loved that the treasonous bastard Alliser Thorne was tossed into a jail cell. And Olly too, right? But most of all, I loved that Davos talked Melisandre into just trying to resurrect Jon Snow. And I love that Ghost was sleeping and then he wasn't and JON SNOW IS ALIVE!!!!!!!!!!! Sadface Kit Harington has already issued a formal apology to the fans for all of his many lies over the past year. He told EW: "I'd like to say sorry for lying to everyone. I'm glad that people were upset that he died. I think my biggest fear was that people were not going to care. Or it would just be, 'Fine, Jon Snow's dead.' But it seems like people had a, similar to the Red Wedding episode, kind of grief about it. Which means something I'm doing — or the show is doing — is right." Whatever, Sadface. I'm just glad he's back! Melisandre still has some juice, people!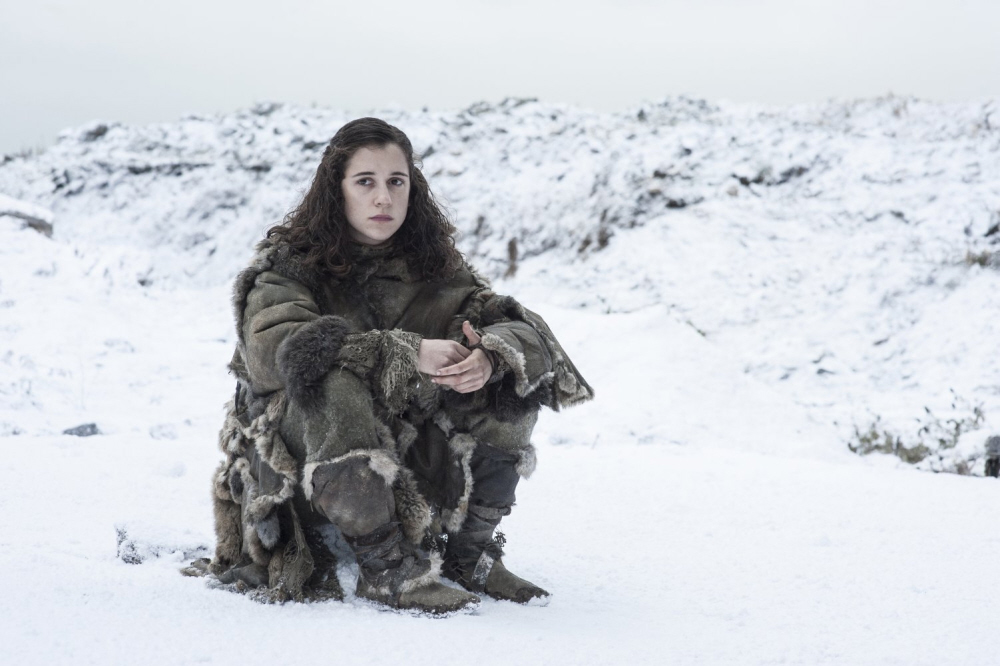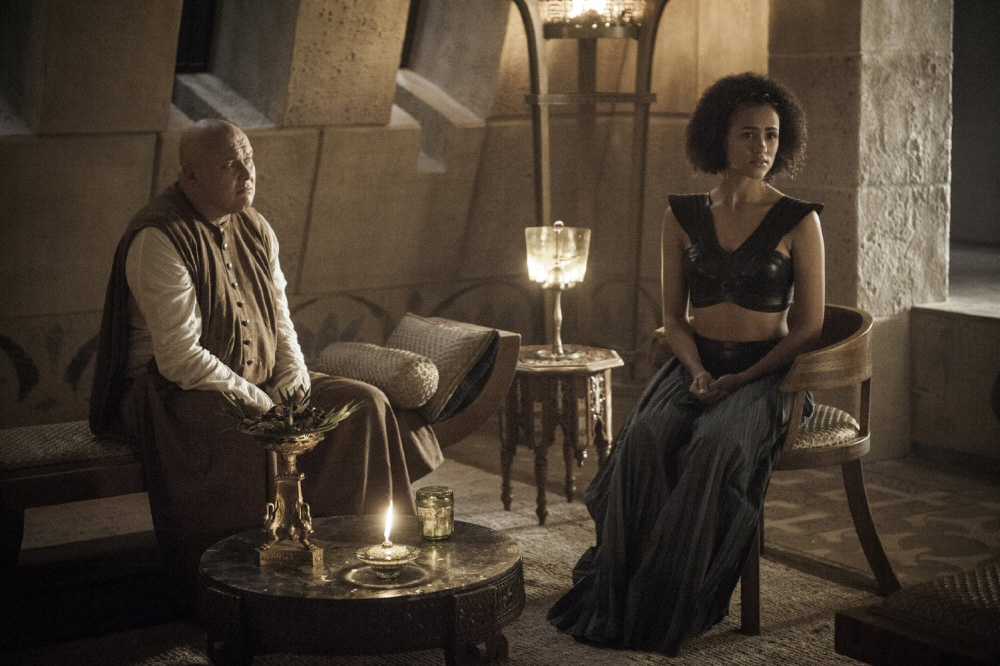 Photos courtesy of HBO/Game of Thrones.