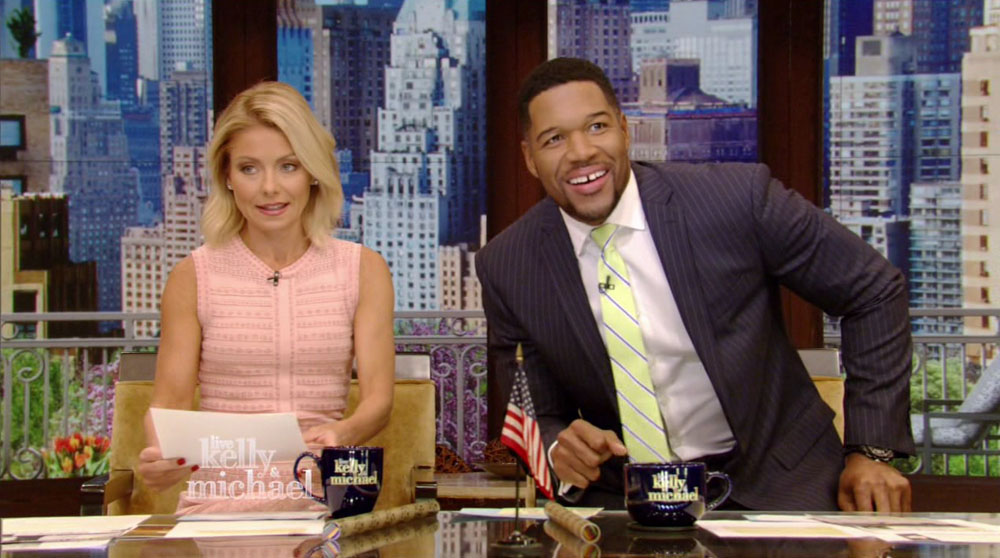 I've been taping Live with Michael and Kelly and while I haven't watched every episode since Kelly came back, from what I've seen they seem completely normal to me. Apart from Kelly bringing up the fact that Michael is divorced it's not like they're sitting there glaring at each other. They come out holding hands, they have a friendly rapport, and if it wasn't for the constant news about it you wouldn't know anything was wrong. On yesterday's show they talked a little about the Met Gala. Michael went but Kelly didn't and he showed off selfies of all the people he was hanging out with, like Trevor Noah and Alex Rodriguez. They also finally announced that Michael was leaving to head to GMA on May 13th, which producers actually confirmed to the press last week. After the crowd booed, and a woman yelled "we love you, Kelly," Kelly chimed in "I'm still here!" Us and other outlets are trying to make a thing out of it:
Just a friendly reminder! Kelly Ripa made yet another pointed statement on Live with Kelly and Michael on Tuesday, May 3, while she and Michael Strahan discussed his upcoming departure from the show.

Ripa, 45, shared with viewers what they have in store for Strahan's last day, May 13. "A week from this Friday is Michael's final show here at Live," the bubbly TV personality told the audience, who started booing in response to the news.

"Oh, thanks!" she replied with a laugh. "I'm still here!"

She then went on to tease the upcoming goodbye party. "We'll remember, we'll reminisce, we're gonna look back at the fun times we had together," Ripa said to her cohost of four years. "Wait 'til you see all the stuff that we've done. You're not gonna believe it … So, join us for Michael's 'Flashback Friday Farewell' on Friday the 13th!"

Ripa started laughing and quipped: "You can't plan this! You literally cannot plan it."
You can see the video on Us's site. I don't have a problem with this. She was responding to someone yelling from the audience and it's true, she's still going to be there. She didn't say anything rude, it was just a fact. She's not my favorite person but she's not being unprofessional on the show.
Strahan is similarly remaining classy about his exit. He gave really nice quotes to both Entertainment Tonight and Extra during the Met Gala, telling ET that people got the "wrong impression" of the behind the scenes drama at the show and that "it's a great show, great people, and I'm very fortunate to be a part of it." To Extra he said "I'm still part of the Live! family, and I'm always around when they need me." Plus Kelly and Michael won a joint daytime Emmy over the weekend for "Outstanding Entertainment Talk Show Host." They showed off their statues on Monday and were joking that they weren't even at the ceremony this year, as opposed to all the other years they've lost.
There's news about Kelly's upcoming guest hosts. Apparently Jimmy Kimmel is going to be the first guest. He's way too busy with his own nightly talkshow to add in mornings, I don't know when he would even sleep, but he'll be fun as a guest. I do think this whole controversy was the best thing to happen to this show in years. I know it's making me watch and appreciate it.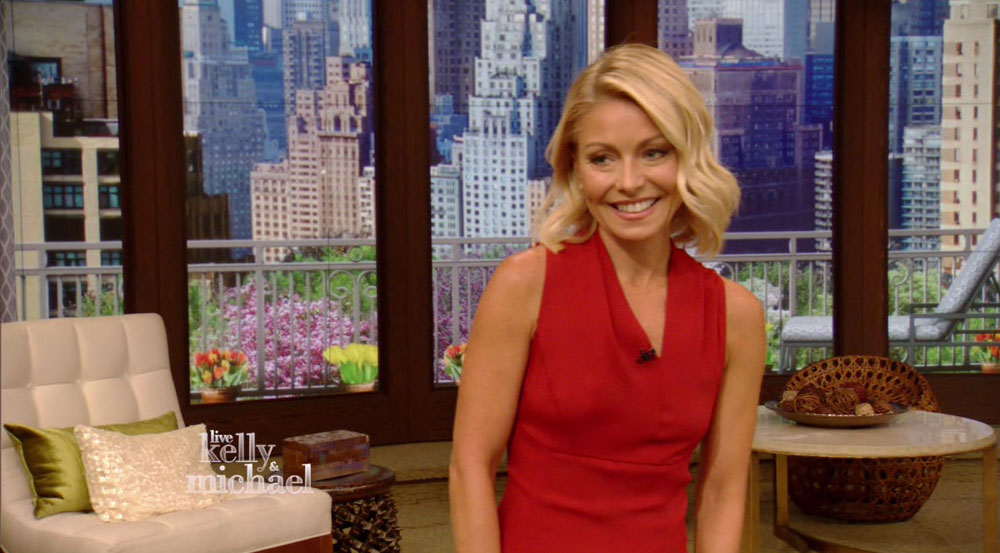 photos credit: WENN.com and Getty Images