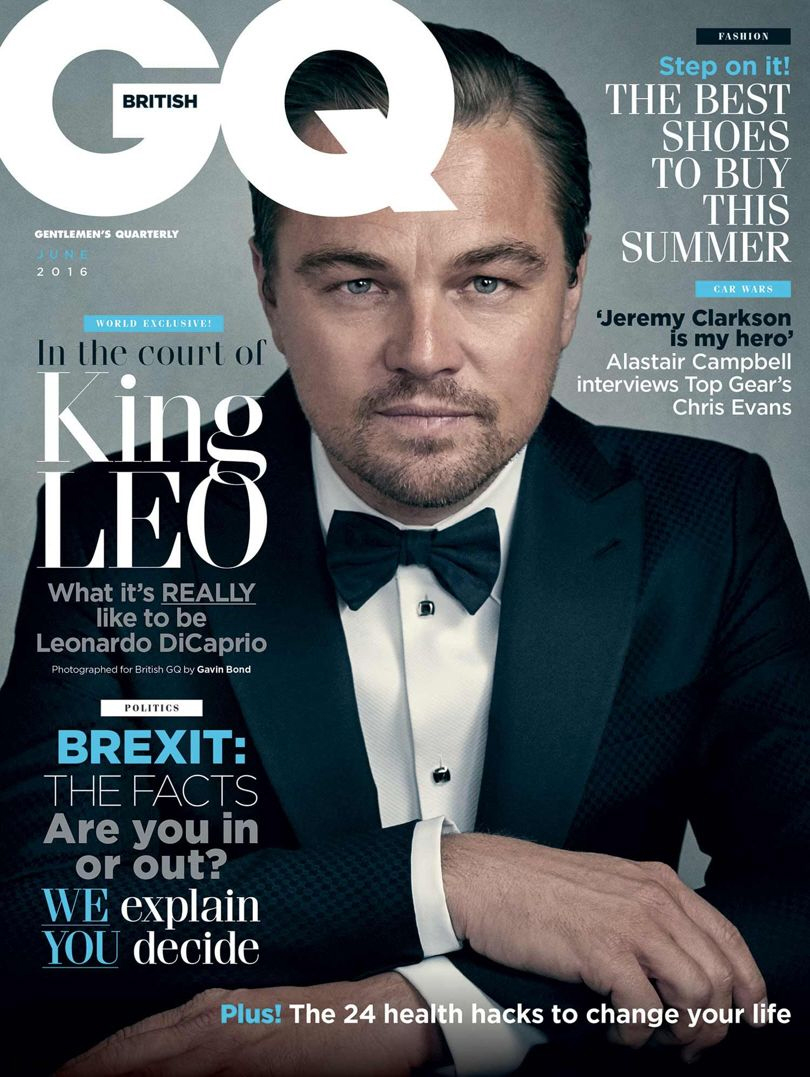 Leonardo DiCaprio covers the June issue of British GQ… for no real reason. He doesn't have a movie coming out this year. He's been doing work with environmental causes for several months, but he doesn't talk about that in this piece. The only explanation I can come up with is that this Leo interview is sort of his victory lap, post-Oscars. The interview apparently took place in February, pre-Oscars though. It happened the weekend Leo was in London for the BAFTAs and he spent the weekend hanging out with his bros. The GQ writer notes: "Tobey Maguire, Alejandro Gonzalez Iñárritu and Rick Yorn were the only men in his orbit. Supermodels come and go, but friendship offers what fame dissolves: friendship." Interesting, I guess. I take issue with the idea of "King Leo" though – he's the alpha wolf in his wolf pack, not the King Wolf. Some highlights from Leo's interview:
Leo on Tobey Maguire: "I just made him my pal. When I want someone to be my friend, I just make them my friend."

Leo on drug addicts: "I would walk outside my house and it was everywhere – crackheads everywhere. It made me think twice. It was a great lesson, and I'm not saying that's what kids need to see, in order to run away from it. But it was just never going to be an option for me."

Leo on his dad: "My dad has been incredibly influential. I give him credit for so many of my choices as an actor, especially early on, steering me towards non-obvious sorts of characters and to take risks. My father says basically this: "No matter what you do, two things matter. Try to lead an interesting life and no matter what your life is like, try to find a way to wake up every morning and just be happy you can put your pants on."'
The fatherly advice sounds straight out of George Clooney's playbook. Don't get me wrong, I think George Clooney adores and respects his father, just as Leo adores and respects his father too. But putting the fatherly advice out there for public consumption? It's a Clooney move. And I have no idea what this means: "When I want someone to be my friend, I just make them my friend." Does Leo make them an offer they can't refuse? Is he so Alpha Wolf that dudes are just willing to drop everything to be his friend if Leo gives the nod?
Also: Entertainment Tonight claims that Rihanna and Leo were spending time together this weekend in Las Vegas. They were both attending the opening of Intrigue Nightclub and ET's source insists that they were "whispering into each other's ears." They left the club around the same time but made a point of NOT walking out together. I don't know you guys… have Leo and Rihanna been quietly hooking up this whole g—damn time?
Photos courtesy of Getty, Fame/Flynet, cover courtesy of British GQ.