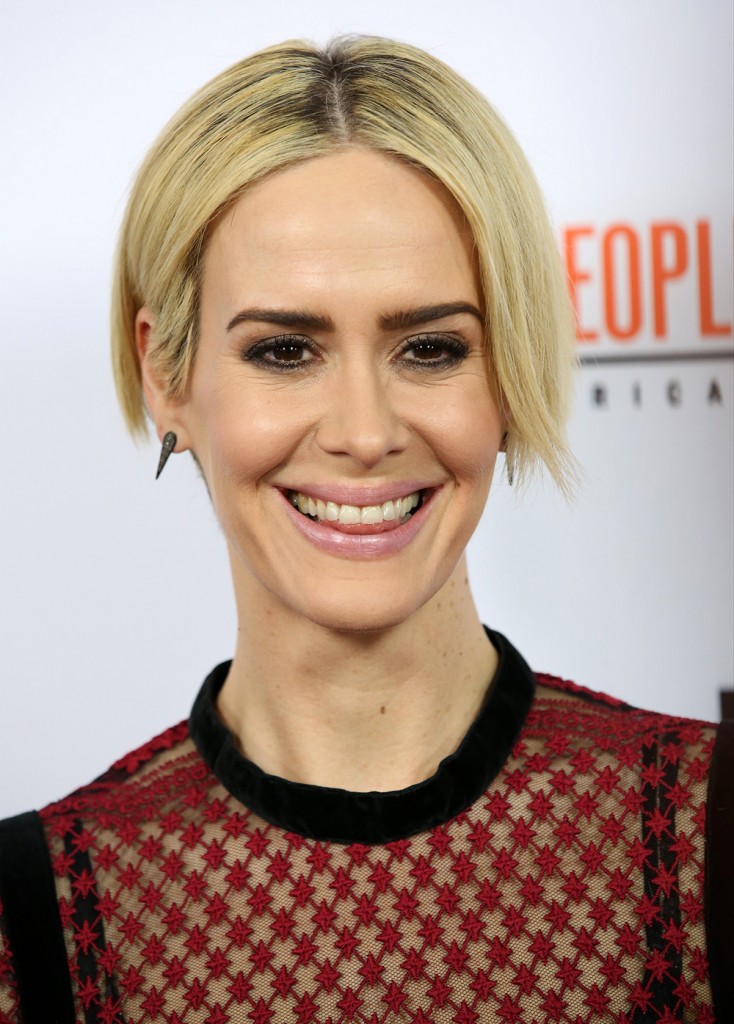 Sarah Paulson, who is pretty much a shoo-in for an Emmy for her portrayal of Marcia Clark on FX's The People vs. O.J. Simpson: American Crime Story, recently sat down with avant garde magazine NOTOFU. Paulson discussed her May-December romance with actress Holland Taylor, her critically acclaimed role on American Crime Story and her experiences being a woman in Hollywood. The article is accompanied by stunning photos of the actress clad in fashions from Valentino, Givenchy, and Jill Sander. Here are some highlights:
Her take on relationships: I believe that everyone should be allowed to speak their truth and just say what they want to say and show the world who they are. You should be able to love whomever you f—ing well please.

On the "outing" of her relationship: [Holland] won a Tony Award, I kissed her, and all of a sudden I was outed. I didn't really think about it in that way at the time — I was just doing what one would do when a person they love has just won a big fat acting prize. What am I gonna do, pat her on the back and say 'good job, dude?' It didn't occur to me to do anything but what I did.

On taking on the role of Marcia Clark: I remember thinking when I first read the script: I don't know how I'm going to do this. I don't know how she did this. I was trying to imagine what it would be like for someone to go through this — her divorce and her home life completely falling apart under such intense scrutiny — and I just thought: if she could do it, I've just got to honor her as best I can and hope that some respect gets thrown at her. I've just got to do it.

On finding common ground with the prosecutor: I couldn't help but feel a kind of kinship in terms of being looked at. But there was so much celebration about my relationship. So much so that I thought: Jesus, did everyone just assume I was going to be alone forever with 500 cats?

On sexism in Hollywood: The only thing I've experienced that is not only sexist, but offensive to me on a human level is that any time I've ever been asked to portray the leading lady, I've auditioned as a brunette and have always been asked to make my hair blonde. Somehow my brown hair didn't have the same allure, the same sex appeal, the same power, that a blonde would have. It wasn't even a subterranean message: it was overt. What a way to communicate to somebody that how they come into the world is not enough.
[From NOTOFU via Daily Mail and E! Online]
I have always liked Sarah's candor and love the fact that she's not afraid to take on unconventional roles (see: American Horror Story, you pick a season). And, as someone who has dated younger men – not quite the age difference between 41-year-old Sarah and 73-year-old Holland – I don't see anything wrong with their relationship. Besides, Holland is a national treasure. She has won an Emmy and a Tony, she wrote and starred in a play about former Texas governor Ann Richards – and she was one of my all-time favorite TV bosses, Ruth Dunbar on Bosom Buddies, where she showed off her knack for physical comedy. If they're happy, good for them.