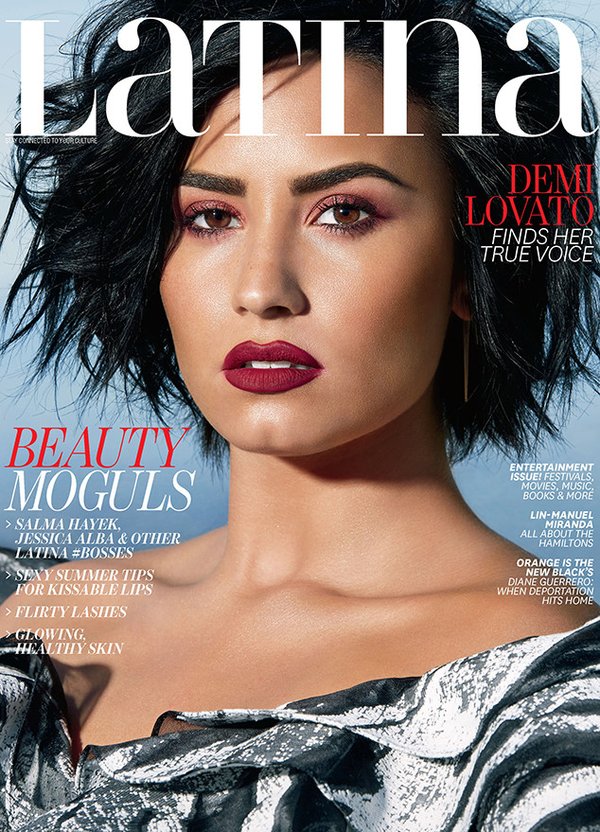 Demi Lovato covers Latina magazine. I really like how they styled her, with a bold dark red lip and rosy eye shadow. Plus Demi has killer brows, she should do brow tutorials. (I've been trying to watch those but I don't have the skill yet to elevate mine to this level. #browgoals.) In the editorial, they put Demi in two different couture gowns with metallic features, either of which would have suited the Met Gala better than the weird Moschino she was wearing. Unlike the photos, the interview is a mixed bag. She does lend her support to Kesha in her fight against Dr. Luke, which she's done consistently since Kesha went to court. As much of a no brainer that may be to those of us looking in, it's got to be hard to speak out when you work in that industry. Plus she talks about her support of Hillary Clinton, particularly as it relates to immigration issues. However Demi says some things about Latinos that seem… overly general to put it gently. It's like she's trying to relate to the audience but it comes across as a misstep.
On her music career, she "hasn't peaked yet"
I don't care about radio hits. When you try hard for that, it doesn't happen…. I have yet to reach my peak, and also, my voice is better now than it was a year ago. Now I can show people what I can do.

On Kesha's battle against Dr. Luke
I thought it was extremely brave of a pop star in the industry to come out and talk about that. I do believe it's very f-ed up that he's not letting her go, aside from all of the other stuff. I think women artists shouldn't compete—we have to support each other.

On her relationship with Wilmer Valderrama
When I dated white guys, it wasn't as passionate as my relationship with Wilmer. Maybe that's just Wilmer. But I do believe that Latin people are just more expressive, more passionate with their emotions. He's very manly, and he can be stubborn like Latino men can, but he's protective and he cares so much and loves so hard. I've been blessed enough to have him in my life, and not just as my man, but also my best friend.

Her diet plan
I've actually been on a meal plan for almost two years now, because in my recovery I have to surrender control over food to somebody else so I can just focus on my mental state. I've been my heaviest in my relationship with Wilmer and also been my thinnest. He's seen it all and loves me equally, and it gives me confidence to know that.

She supports Hillary
The reason 'I'm with her' is because out of everybody running, she is the most qualified and she will get shit done. I can hopefully help open people's eyes to how much racism is affecting our country and now infiltrating it in a sense where we might have an incredibly racist Republican candidate. It's terrifying to think that families can be, and sometimes are, separated on a daily basis.
Demi said a lot of great things here, and she even talked about her advocacy for access to mental health care, and removing the stigma surrounding that. My initial response to hearing her deep thoughts on Latino men is to think she's stupid and making dumb generalizations, but she's not dumb. As Kaiser put it to me, Demi is "stupid like a parched fox." So maybe Demi knows how controversial it is to say that Latin people are more passionate. She knows what will get headlines.
Also, Demi and Wilmer have been together for at least three and a half years this go-around, but they first dated when she was 17 and he was 29. He had a bad reputation back then and it was well deserved. Maybe he's calmed down.