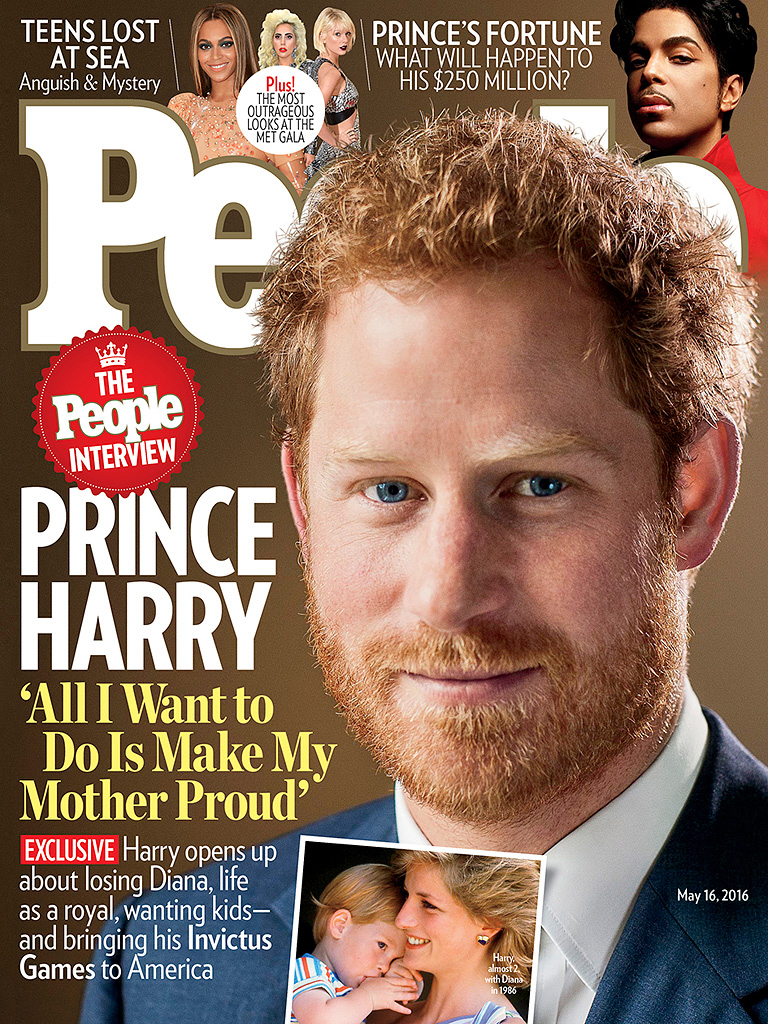 While I always enjoy it when other media outlets join the #HonksForHarry revolution, I don't think People Magazine did Harry's hot/dirty ginger-snap sexiness justice with this cover. It's too much of a close-up! Of course, maybe Harry didn't want to look like a roguish ginger snap. After all, he's talking to People about his mother and the Invictus Games. It's serious! Do not think about dirty ginger snaps while reading this. Some highlights from what appears to be a far-ranging and substantive interview:
His mother's influence: "All I want to do is make my mother incredibly proud. That's all I've ever wanted to do. When she died, there was a gaping hole, not just for us but also for a huge amount of people across the world. If I can try and fill a very small part of that, then job done. I will have to, in a good way, spend the rest of my life trying to fill that void as much as possible. And so will William."

But he's not his mother: "I enjoy what I do. But I don't do things because I feel as though my mother would want me to do them. I know I've got a lot of my mother in me. I am doing a lot of things that she would probably do."

Creating the Invictus Games: "You turn up and you think you're invincible in a super-duper aircraft, but you're helpless. Then I come back and I say, 'How can I use my name and that spotlight to the best effect?' " Creating the Games, he notes, was "almost like a cure for that pain I had back then."

American kids never believe he's a prince: "Every time I get to meet kids and they have been told a real-life prince is coming, the disappointment on their faces when they see me without a crown or a cape…I'm worried because the American kids, especially next to Disney World, are going to be thinking, 'You ain't no prince, you ain't dressed like a prince, you're having a laugh!' So I am going to pack a crown and a cape this time and some funny pointy-toed shoes. I'm going to sign the crown out!"

Doing the second Invictus Games in America: "It's like trying to drop a second album. The second one is always harder! This is what America feels like for a lot of us who planned London. This is the big one."
Sweet ginger prince. I find it interesting that he acknowledges that "I know I've got a lot of my mother in me." It's true. Journalists talk about it all the time. Harry-fans talk about it all the time. People who knew Diana talk about it all the time. He's the one – not William – who is most like his mother. And I will never stop being fascinated with how differently the brothers access their memories of Diana. Harry speaks about Diana when he's working, when he's helping people, when he's reaching out in empathy. William uses memories of his mother as a cautionary tale, and as cudgel against the press and critics.
People also asked Harry if he wants to be settled down with kids and he said yes, he does want that but there's "no rush." Sigh…
Also: Harry met Canadian Prime Minister Justin Trudeau earlier this week as Harry did advance work for the Invictus Games. Trudeau really looks like a fairy-tale prince to me.
Prince Harry meets Canadian PM @JustinTrudeau to discuss plans for @InvictusToronto in September 2017. pic.twitter.com/OUwBPt7d2T

— Kensington Palace (@KensingtonRoyal) May 2, 2016
Photos courtesy of WENN, cover courtesy of People.