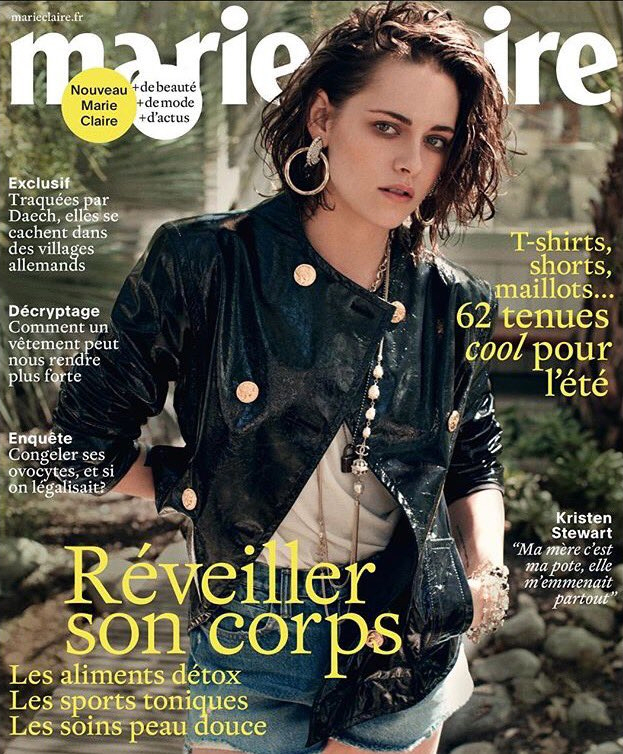 Kristen Stewart is about to head to Cannes to premiere Café Society (the Woody Allen film) and Personal Shopper, her second film with Olivier Assayas after her award-winning turn in Clouds of Sils Maria. As advanced promotion, Kristen covers the June issue of Marie Claire France and Le Monde's weekend magazine. I'm also including photos of Kristen this week at Jodie Foster's Walk of Fame ceremony – I sort of love that Jodie and Kristen consistently show up for one another. They really bonded in Panic Room. Anyway, I finally found a decent translation of Kristen's Marie Claire interview, and there's some interesting stuff in there. Some highlights:
Working with Woody Allen: "The idea of filming with Woody Allen was intimidating. During the auditions, I really doubted my legitimacy. By the end of it, I was really happy, I felt anchored, rooted. He's profoundly smart, his different way of grasping things… He manages to add depth to moments of pure comedy; this strange lightness is very impressive. I was lucky."

What she hates most about fame: "To waste my time talking about it (laughing). It's always…just like now. We've been on the phone for 8 minutes, and we've only talked about it. There's not much to say about it, and no one wants to hear you whine about your job, especially when so many people aspire to become actors."

She was a boyish child: "Honestly, dude, when I was little…. I know there's nothing more annoying that when actresses or people that are considered attractive say stupid stuff like: "I was so ugly" but let me tell you – I was just like my brother until I turned 14. Terribly worried because of it, really weird, totally lanky, clumsy, people used to confuse me for a boy constantly. The first time someone had to put a mic on me, the sound engineer put some tape on my chest – now don't make a big deal about it – I was 10 years old. He was pressing hard and he said: "Hey you're a strong kid, what's up boy?" And I sat there and replied in a small voice: "Hmmm, no. Stop." And it was like that every single time. At some point, I liked being treated the way that I was. But do I love myself? That's a funny question. I'm happy, I have a lot of luck, I'm healthy and I'm aware of it all.

Cutting off her long hair: "I love having long hair, but I feel good with short hair, as if I wasn't hiding behind a veil anymore. It's a new version of me….Everyone loves long hair. As a result: everyone looks the same. Our generation is creating a new way of being ourselves, detached from those outdated norms that dictate what is rewarding and what everyone should look like. So many girls would be devastated, horrified if they had their hair cut: "Oh my God, I'm not pretty anymore!" But yes! You are! It's really changing quickly, by the way, the acceptation of this ambiguous nature. More and more, people are seen as individuals. It's great and it's pretty easy when you think about it. People that aren't allowing themselves to look like who they'd really want to be, because they're afraid of what people might thing – they make me sad. It's sh-tty, just horrible.

What she thinks about the men making the decisions in Hollywood: "Nothing, except: "Keep making good films, we're trying to do the same thing!" I'm really aware of how lucky I am, of the number of opportunities in the palm of my hands. For me, being a woman in the film industry isn't very stressful, even if, it's true; roles for us are not as big in numbers. I can't ignore that there's a real fight on this issue but, to be honest, I don't really have that in mind at the moment, I'm working a lot, it's working well and I'm really happy about it."

Whether she would fight for wage equality like Jennifer Lawrence: "No. Right now, I'm working on small indie films, and it's like a small family, we're all on the same level."
[From Marie Claire France via Tumblr]
I feel her on the long hair thing – I love having long hair, just because it's how I feel most comfortable. Looking back on my college years, when I had shorter hair (shoulder length or shorter), I enjoyed that feeling of freedom, even if that particular style wasn't particularly flattering. Kristen should (and does) rock whatever feels comfortable for her. As for Kristen not engaging in the social or sexual politics of Hollywood… not everyone has to. I respect Jennifer Lawrence and other women for what they're doing and saying about those subjects, but it shouldn't be expected of every actress to fight the fight. That being said, I do think Kristen is glossing over some difficulties she's had, like when she had an affair with a married director and then didn't work for the better part of two years.
PS… Us Weekly is now confirming that Kristen and Soko are over. Oh, Soko. I'm sorry, but it was never going to work long-term. You were just too demonstrative.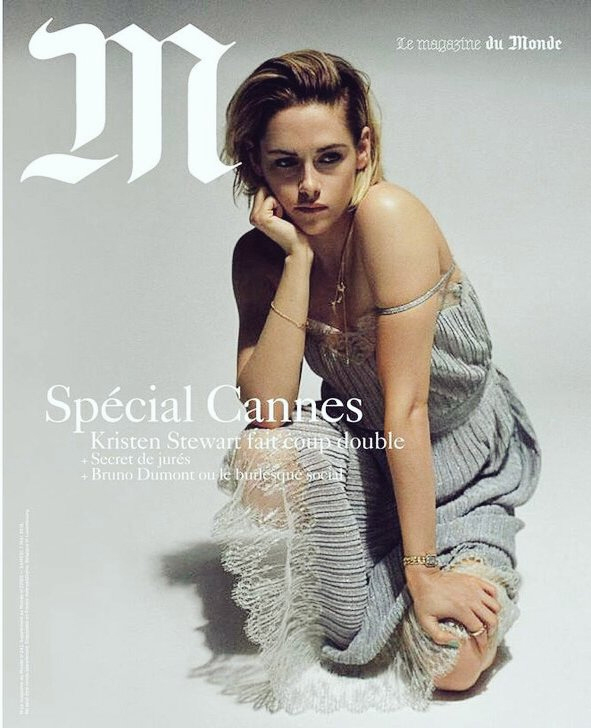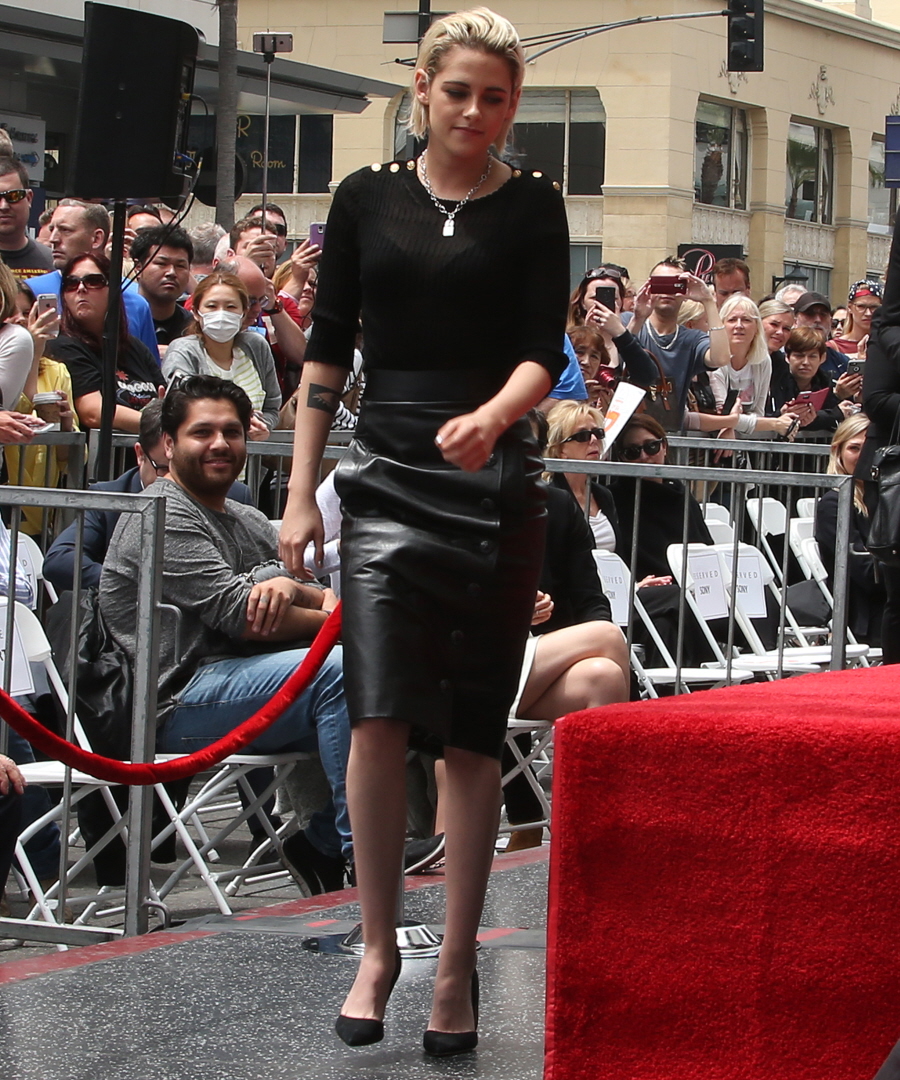 Photos courtesy of WENN.