Michael Phelps' fiancée Nicole Johnson celebrated her first Mother's Day yesterday. Last Thursday, Nicole and Phelps welcomed their son, Boomer Robert Phelps. In November, Phelps, who is training for his last Olympic Games, told the world they were expecting a son. In April, friends and family celebrated with a cowboy themed baby shower. Finally, on Saturday, Phelps introduced us to his son via the Instagram post above. Everyone is healthy and wrapped up in newborn bliss.
Their little champion's here! Michael Phelps and his fiancée, Nicole Johnson, welcomed their first child together, a baby boy, on Thursday, May 5.

The Olympic gold medalist shared a precious black-and-white photo of his family on Instagram a few days later, on Saturday, May 7.

"Welcome Boomer Robert Phelps into the world!!!!Born 5-5-2016 at 7:21 pm!!!! Healthy and happy!!!! Best feeling I have ever felt in my life!!!" the athlete captioned the snapshot. "@nicole.m.johnson and Boomer both healthy!!! #boomerphelps."

In the image, the towering 6-foot-4 athlete cradles the sleepy newborn in his arms while proud mama Johnson looks on from a hospital bed in the background.

The pair first announced their exciting pregnancy news via Instagram on Wednesday, November 18, and Phelps, 30, has been candid about looking forward to fatherhood ever since.

"One of the coolest things about being a father going into Rio is that our firstborn has the chance to see my last race ever," the 22-time medalist told Us Weekly in March. "I think that's something that'll be really special that we'll be able to share stories with him, you know, from the time he gets old enough to realize, and I'm excited to have a lot of photos and just to share the moments and memories with him growing up as a kid."
So Boomer… I don't know. It's a cute nickname. I admit bias because I am a football fan so the first thing I think of is Boomer Esiason and although Boomer is fine as a person, rivalry requires I cringe at his name. The only clue Phelps gave about his son's name prior to his birth is that both he and Nicole agreed on the name and that it was different. The name means "loud and notable." If I know anything about kids, you don't need to suggest the concept of being loud; they figure it out too soon on their own. As a Dutch surname, "Boomer" means one who operates a sluice gate so there is a water connection, intentional or not. His middle name Robert is in honor of Phelps coach, Bob Bowman, which is truly lovely given his influence in Michael's life. Can you just imagine how ecstatic grandma Debbie is right now?
Phelps backed out of the Atlanta trials this week for the birth of his son but he is training in Arizona and according to Bob, he's in the best shape of his life. And now he has a new supporter to cheer him on when he gets to Rio. Congratulations Michael and Nicole!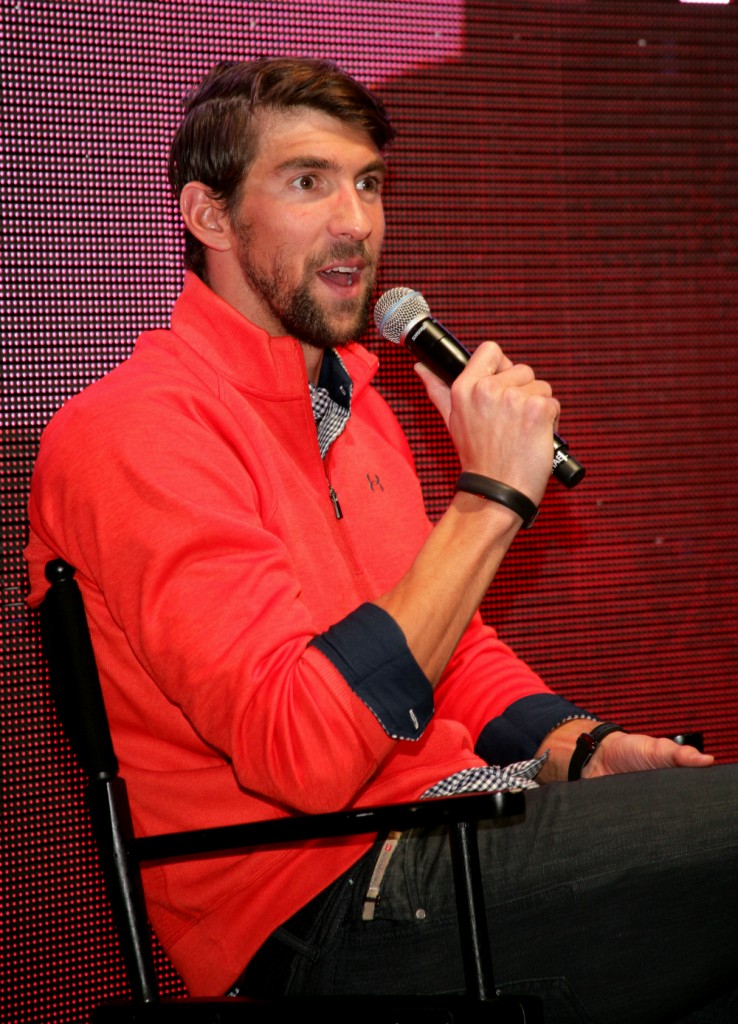 Photo credit: Getty Images and WENN Photos