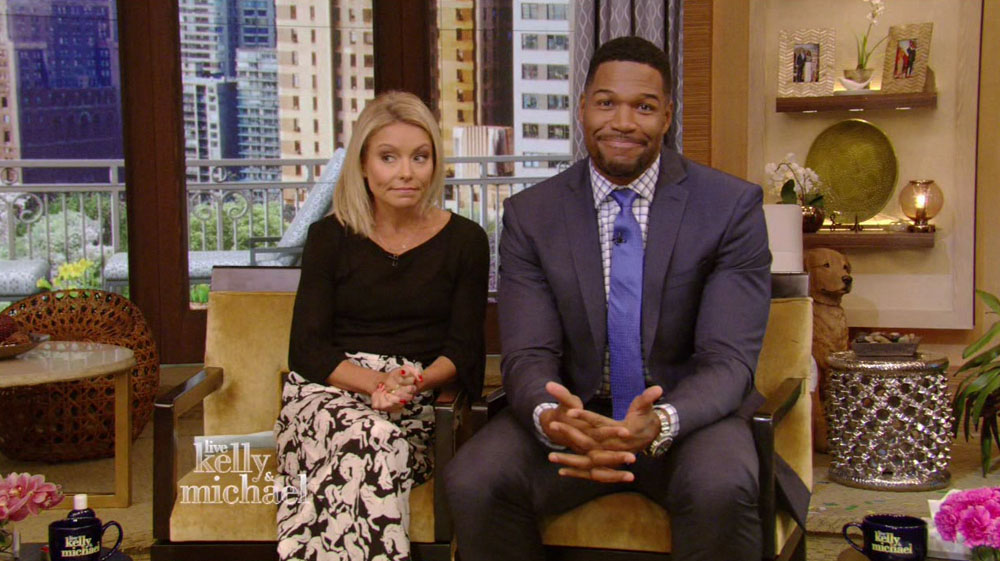 ET has a new exclusive about the hunt for a co-host to replace Michael Strahan on Live. We've heard that Kelly Ripa, still smarting from the abrupt way she was informed about Strahan's exit, has been insisting that one of her friends in the media replace him. Kelly has reportedly been advocating for either Andy Cohen or Anderson Cooper, both longterm friends, to join her on the show. Cooper has said that would be pleased to take the position, although it's early yet and multiple co-hosts need to be tested. According to ET's sources, producers are telling Kelly that they want to bring a more diverse co-host to the show, and that's supported by the list of temporary hosts, which include Daniel Dae Kim, Cedric The Entertainer and Jussie Smollett.
While Kelly Ripa's good friend Anderson Cooper and Neil Patrick Harris are among those who have been mentioned as possible contenders to fill Strahan's spot, a source connected to the search for her new co-host tells ET they are looking for someone more ethnically diverse.

That is certainly keeping in line with the guest hosts scheduled to appear on the show the week following Strahan's exit. The program recently announced that Jimmy Kimmel, Jussie Smollett, Cedric the Entertainer, David Muir and Daniel Dae Kim will be Ripa's right-hand men during this intervening period.

Additionally, ET has learned that Ripa recently began pre-taping solo celebrity interviews to air after Strahan leaves.
I don't understand why Kelly needs to pre-tape celebrity interviews if she has guest hosts on with her every day. Isn't that part of testing out new people, seeing how they conduct interviews, not just the pre-interview banter? Maybe it takes so much time to get people on board that they're getting some of the tough stuff out of the way ahead of time. Plus the show really is broadcast live, when they try out new people it's got to be stressful.
Kelly doesn't tweet or Instagram much, she posts about 2-4 times a week, and she's been very quiet since we heard that Michael was leaving the show. It seems like she concentrated all her insider information on the celebrity press and went silent on social media. Anyway, does it sound to anyone else like they're trying to convince Kelly that they should hire whomever they want? It's true that Strahan has been there for years and while it seems admirable that they want to promote diversity on the network, when it comes to TV producers doing the right thing for its own sake I have very little faith.