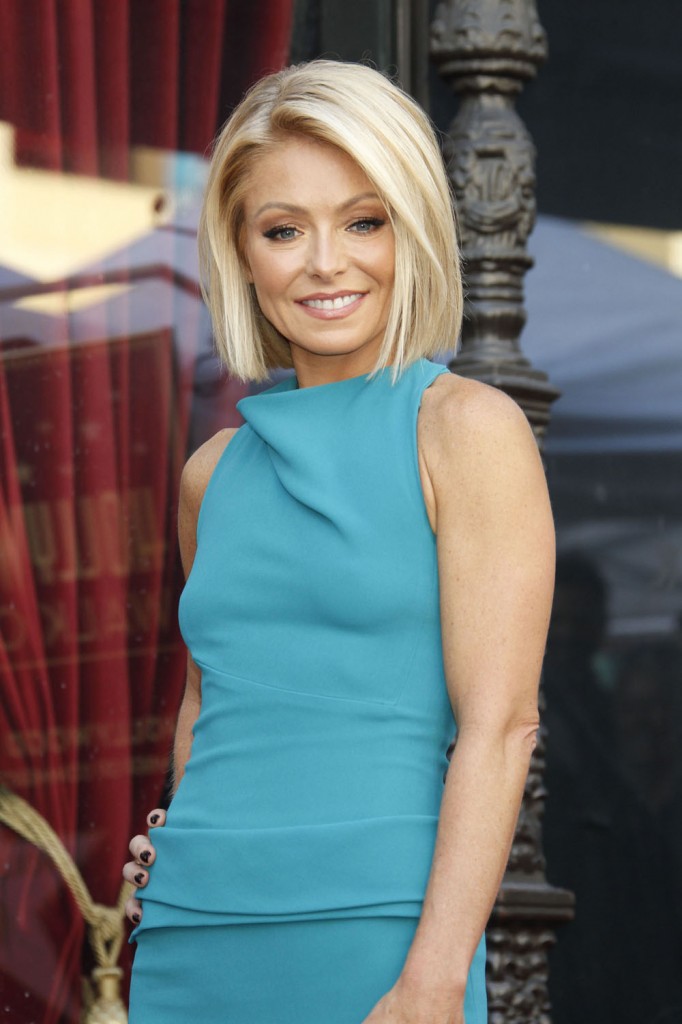 Michael Strahan's last day on Live is today. We'll have to see how he and Kelly handle it, although from what I've seen of the show they still seem to get along well on camera. They're probably going to give him a nice send off. She had some complimentary things to say about Michael in her People interview, and she saved the bulk of her criticism for her bosses at ABC. While she didn't name names, she made it clear that she thought that it was unfair that she, and by extension many of their coworkers, had been left out of discussions about Michael's exit. She was surprisingly candid and chatty to People, and admitted that she and the rest of the staff had made the decision to ask Michael to leave May 13th instead of September because they needed more time to search for his replacement. Here are some of the quotes she gave about her bosses which I left out of the earlier story for space.
I think that all people are deserving of fair treatment in the work place. People deserve respect. People should be treated equally and with dignity.

I think that requires a certain amount of empathy on a level. When you're dealing with big business, it's easy to forget that you're dealing with people and that people have feelings. It's easy to just look at it like a business unit, a unit, a unit."

There's a part of me that can say, 'Okay, I understand. This may have been an oversight." and again, after 26 years, at this point we are like a family. And sometimes when you are so comfortable with somebody, you may not given them the same consideration as somebody you're not as comfortable with – a certain formality falls away. I'm not dealing with monsters. I don't think of anybody as a monster or out to get me. But sometimes stability and dependability can be misinterpreted as passive. Like, 'Oh, we don't have to worry about her, she's fine. She's fine.' And I am fine, but I need assurances that we're all going to be fine.

People make mistakes and we're all human They're human and I'm human. We all have these moments and it's about how you move forward and how you begin again.
[From People, online and print edition]
Coupled with the rest of what she said, it wasn't bad overall, and she basically confirmed all the stories that she'd leaked during her exit. She put her foot down and some people think that's admirable while others find it unprofessional.
Radar Online is reporting that Kelly did that interview with People without informing her bosses at all. I don't think she owed it to them, but it may have been smart to give them a heads up, even if they didn't show her the same courtesy. Their source says "They had no idea she was telling her story to the cover of People until after it went to print on Monday. She has gone rogue. She doesn't trust her bosses anymore and is taking her career into her own hands." Kelly just told the press what happened and gave her side of the story. It probably doesn't please the higher ups at ABC but they know she means business.
TMZ is reporting that Kelly is ignoring Michael off camera and that she's been closing the door to her dressing room in the mornings. He used to stop by and say hi to her every morning as she was prepped for the show but she put a stop to that. They also report that Michael was offered the cover of People but turned it down, and they imply that she isn't a champion for her co-workers as she's claimed. "The day she came back she hardly said a word to anyone on the staff or to Michael." The staff supports Michael, according to TMZ and you know who their source is. The truth is probably somewhere in between, with Kelly being somewhat petty and self-centered. Also petty: Kelly wore a jacket with the word "Freedom" on the back of it yesterday. Remember how she carried a copy of David and Goliath when she first got papped after the news broke? She's obvious.