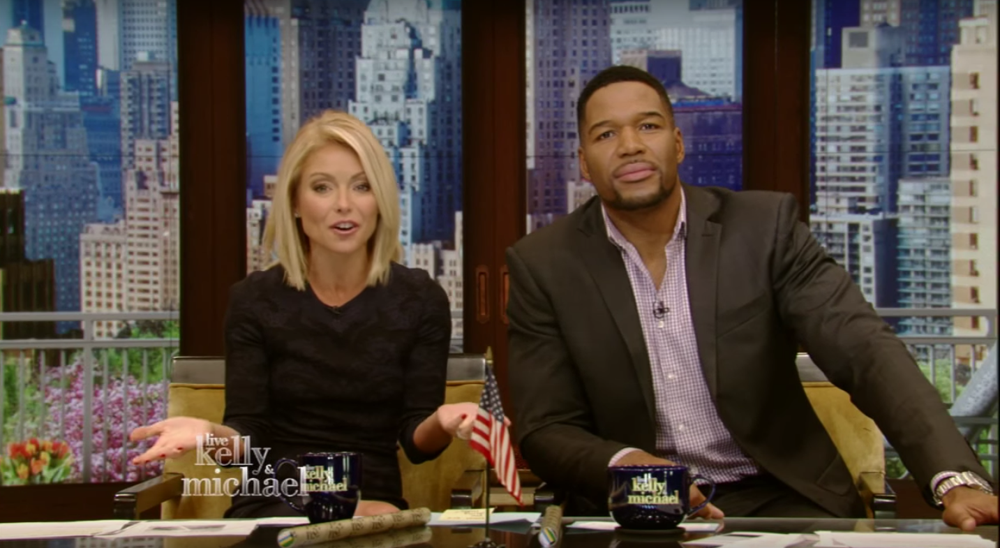 For all you can say about Kelly Ripa's behavior in the press the last few weeks, Michael Strahan's sendoff on Live was pretty warm and celebratory. She acted fine, as she's done all along, and there weren't any cracks that you could see. They had a nice flashback montage which you can watch here, Kelly gave Michael some going away presents, and at the end she toasted to Michael's future and said she was looking forward to following his career. It was really touching and it didn't seem like there were hard feelings at all. In fact Michael told Kelly he loved her and that she was the best and they kissed on the cheek multiple times. According to Page Six these two made up behind the scenes too and all is well. So why is it that all photos featuring Michael will be removed from the set?
A source said that Strahan was seen after the telecast stopping by Ripa's dressing room for a ­final farewell. "They had a really nice talk," said a source. "It was all very positive."

Ripa, along with the show's executive producer Michael Gelman and other staffers, were kept in the dark last month by ABC brass until the last minute over Strahan's departure, resulting in bitter behind-the-scenes drama.

And sources told us that any traces of Strahan will be gone when "Live" resumes Monday.

"There are pictures of [Michael and Kelly] in the hallway that greet all the guests," said an ­insider. "And there are pictures of them in the green room. That will all be cleared out and removed. I wouldn't call it redecorating, but it will be 'refreshed.' All that stuff will be boxed up." ­Another source added, "That's consistent with what ABC has done in the past — it's in line with how they have made other changes."

But a rep for the show said of the Strahan image exorcism, "That is not true." The rep declined to comment Michael's meeting with Ripa.

Strahan insisted on camera during his last broadcast with the show: "I'm not dying! I'm still in the family, and I'm still available to come back if I'm ever called to co-host."
I guess that makes sense because he's moving on to another show, but you would think they could leave a couple of photos of him around as mementos, particularly on set. They're moving on though, and ABC has already rebranded their YouTube channel to "Live With Kelly" as they search for another co-host for her. As we wonder who that will be, it seems a foregone conclusion that it will be a man, as that's the show's format. EW had an interesting editorial a couple weeks ago asking why Kelly's cohost couldn't be a woman. Author Melissa Maerz writes that Live is testament to the industry's "myth of scarcity" which is "a system that pits women against one another, fighting for that one last space. So why not make room for one more?" Given all we've learned about Kelly, do you think she'd be ok sharing co-hosting duties with another woman? I'm honestly asking!
Here's the last part of Michael's final episode: