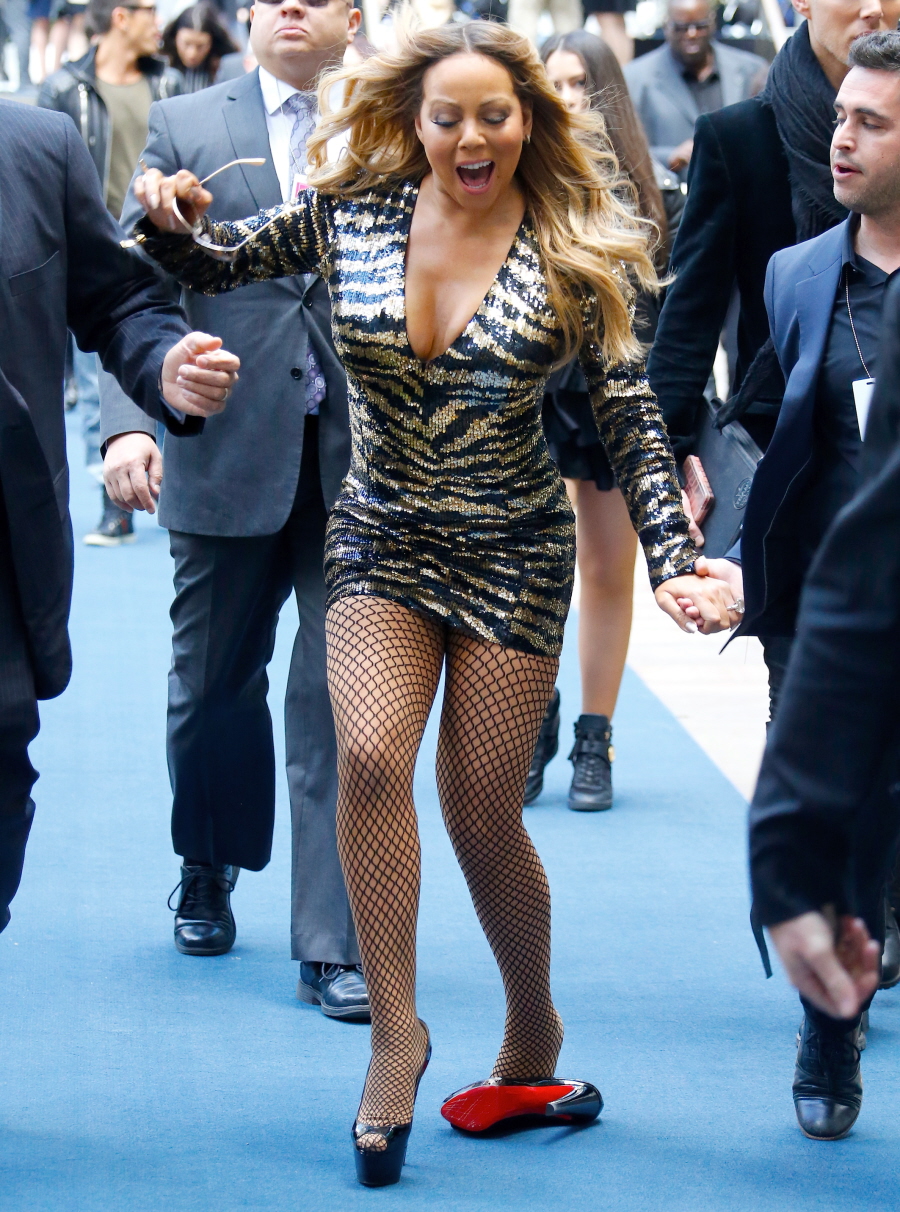 Here are some photos of Mariah Carey on Monday in New York. She was posing for paparazzi on the sidewalk, then she attended the NBC Universal Upfronts. On the carpet for the upfronts, Mariah tried to walk. By herself. Unaided. And of course she lost a shoe and stumbled. Because MARIAH CANNOT WALK BY HERSELF. When are her people going to learn that? She must have people propping her up at all times, if not carrying her. Thankfully, her people learned the lesson pretty quickly.
Mariah Carey was the centerpiece of ­NBCUniversal's upfront presentation on Monday, and was carried onstage on a chaise by two men after she'd tripped on the red carpet earlier. At about 10:30 a.m. Carey showed up to Radio City Music Hall in a skintight sequin Balmain minidress, sunglasses, fishnets and sky-high platform heels that caused her to trip and lose a shoe on the red carpet. The diva — at the event to promote her E! show, "Mariah's World" — was one of the last to arrive to the NBCU event, with a huge entourage that included her own hairstylist and makeup artist.

While she did manage to remain upright during the treacherous carpet walk, spies said Carey's glam squad touched her up no less than "six times." "She was in the middle of an interview speaking, and her makeup artist applied lip gloss as her lips were moving," a spy said. "Her other stylist fixed her hair as she made her way down the carpet."

Once inside, the "Vision of Love" singer changed into a blinged-out bathing suit and had two shirtless men carry her out on a chaise.

"It was like they were carrying Cleopatra," said a source. In a past concert rider, the singer famously insisted that she "doesn't do stairs."

Meanwhile, fellow diva and reported longtime Carey nemesis Jennifer Lopez presented and was more low-key, arriving nearly an hour earlier than Carey, but without an entourage or the bling. We're told the two never made contact at the ­presentation.
I laughed out loud at the part with her entourage touching her up as she was on the carpet. They were fixing her lipstick as she exerted the energy to speak! Thankfully, her reward for all of this WALKING was being carried on a chaise lounge. And I would love to know how those two shirtless men got that job. Those poor bastards.
E! also released the promo for Mariah's World, her eight-part reality show in which Mariah can be seen bitching about the lighting on-camera, walking down stairs by herself, and then bitching some more.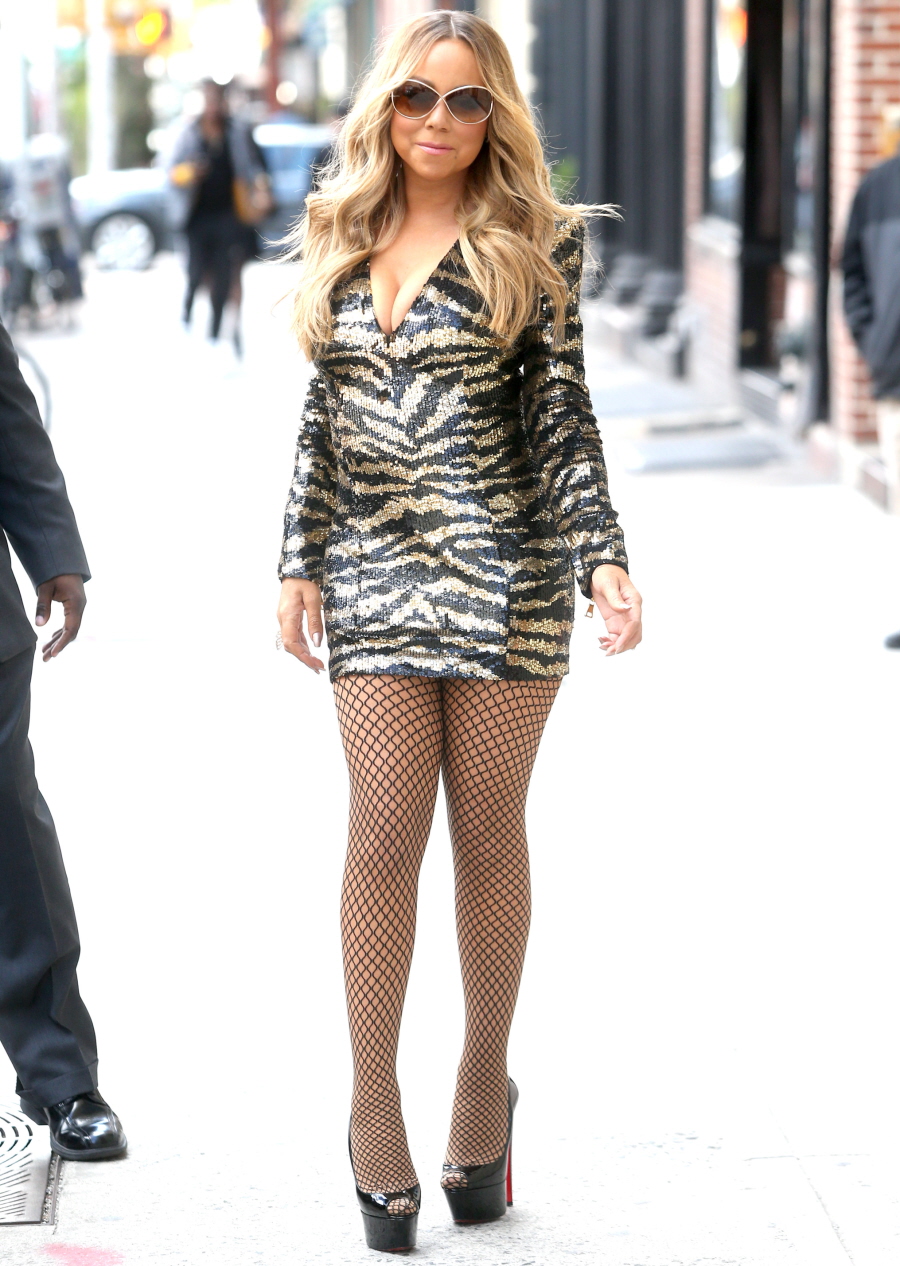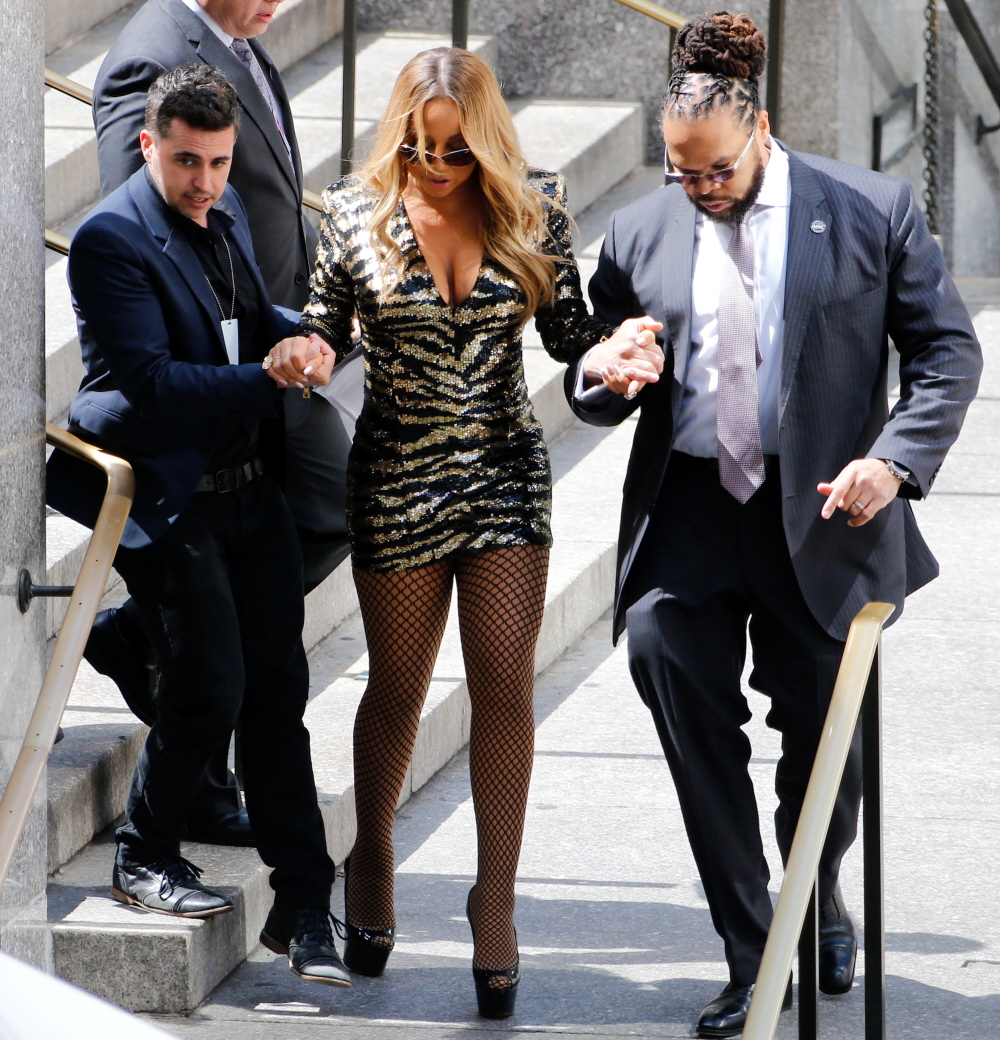 Photos courtesy of Fame/Flynet.