WARNING: this post contains spoilers for the Nashville series finale.
I can't remember a series ending as annoyingly as ABC's Nashville. Everything was going along so well as the episode progressed on Wednesday night. Here's a quick rundown: Maddie un-emancipated herself and came home to Rayna, Deacon and Daphne. Will got back together with Kevin and confronted the hateful TV journalist who lambasted him for promoting his "gay agenda." Gunnar and Scarlett got back together. Layla was exposed as a terrible person (but her album was a hit) and we finally saw Luke's daughter Sage!
This leaves Avery and Juliette. Juliette came clean to the press about the night her manager Jeff Fordham died. She admitted that he died trying to save her from committing suicide and that she went to rehab for alcohol and drug abuse. She walked out of the Academy Awards ceremony before finding out if she won the Best Actress award (she didn't) and jetted home to see Avery and Cadence, who were waiting for her at the airport. Touching reunion time, right? Not so much. Avery was informed that her plane was missing. The end. Are you kidding me? Poor Juliette should have had a happy ending and she ends up possibly dying the same way as Patsy Cline, whom she played in her award-nominated role. Thanks, ABC.
According to TV Line, an alternate, happy ending, featuring Avery and Juliette reuniting was filmed, but producers opted to crush our hearts in the hopes that the show will find a new home for another season. Later on Thursday, it was hinted that we may get to see this scene, even if as a bonus feature on the season 4 DVD.
At least I'm not the only one who is feeling out of sorts about the finale. Connie Britton may be okay with the end of the series, but many are not. Angry Nashville fans took to Twitter to make their displeasure known, with tweets like "I did not spend four seasons on this show for THAT ENDING. At least freaking tweet us what happens" and "NASHVILLE DID NOT JUST END THE SERIES WITH THAT CLIFFHANGER WHAT THE HELLLLLLLLLLLLLL." My sentiments exactly.
I did not spend four seasons on this show for THAT ENDING. At least freaking tweet us what happens. #NashvilleFinale pic.twitter.com/oB58pNuMwr

— Wendi Reichstein (@WendiReichstein) May 26, 2016
NASHVILLE DID NOT JUST END THE SERIES WITH THAT CLIFFHANGER WHAT THE HELLLLLLLLLLLLLL #NashvilleFinale

— Nneka M. Okona (@afrosypaella) May 26, 2016
Beautiful man Charles "don't call him Chip" Esten, who played Deacon tweeted his thanks to ABC.
My deepest and most sincere thanks to @ABCNetwork for four magical years of @Nashville_ABC ✨#GRATEFUL #onward #BringBackNashville

— Charles Esten (@CharlesEsten) May 26, 2016
Equally beautiful man Chris Carmack, who played Will, also tweeted a message of gratitude to the show's fans.
And thank you to all the #Nashies !!! Last check 140k tweets for #BringBackNashville … So much love!

— Chris Carmack (@RealCarmack) May 26, 2016
Deadline reported that Lionsgate is optimistic that Nashville will get a season 5 and are already working on scripts for it.
#Nashies What a cliffhanger! But we won't leave you hanging. There's more story to be told. #BringBackNashville

— Lionsgate TV (@LionsgateTV) May 26, 2016
Entertainment Weekly reported that during a conference call with analysts, the company's Television Chairman, Kevin Beggs, sent this optimistic message:
The fans and everyone else is clamoring for more seasons… we kind of go one season at a time with our thinking, so our near term plan is getting another season," he said, adding that Lionsgate has about four to five potential outlets looking to pick up Nashville and that "most are in-bound inquiries coming to us" to continue the show. "We have long term deals with the cast. These kinds of shows can go on forever and ever. That's our hope and expectation, but we gotta do it one season at a time. We hope to land season 5 and keep talking about the show to come.
Have we really seen the end of Rayna and the gang? (Well, Deacon and Will are the only ones I really care about because, damn, they're handsome.) Are we going to find out what happened to Juliette? (I'm rooting for alien abduction myself.) Let's hope Lionsgate can work their magic and #BringBackNashville.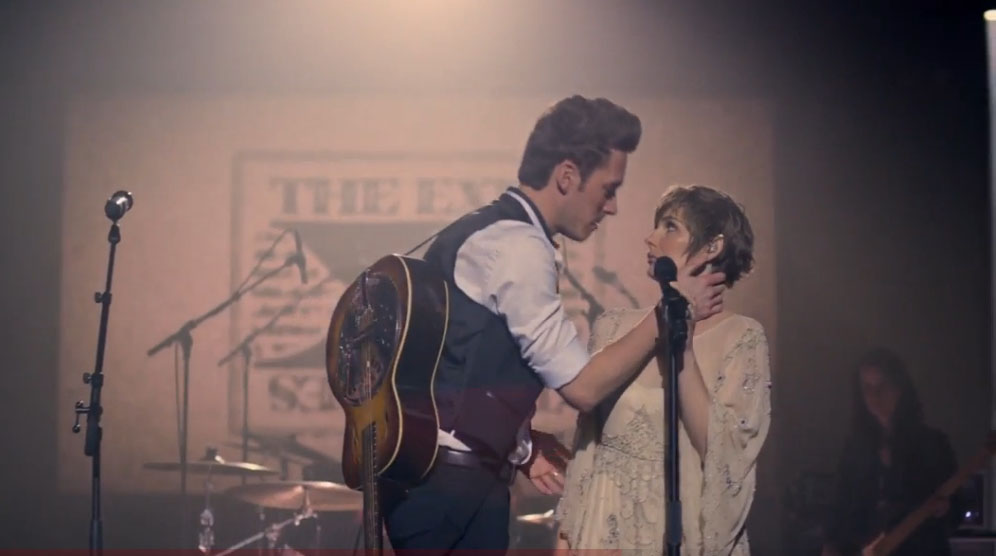 Photo credit: WENN.com, Getty Images