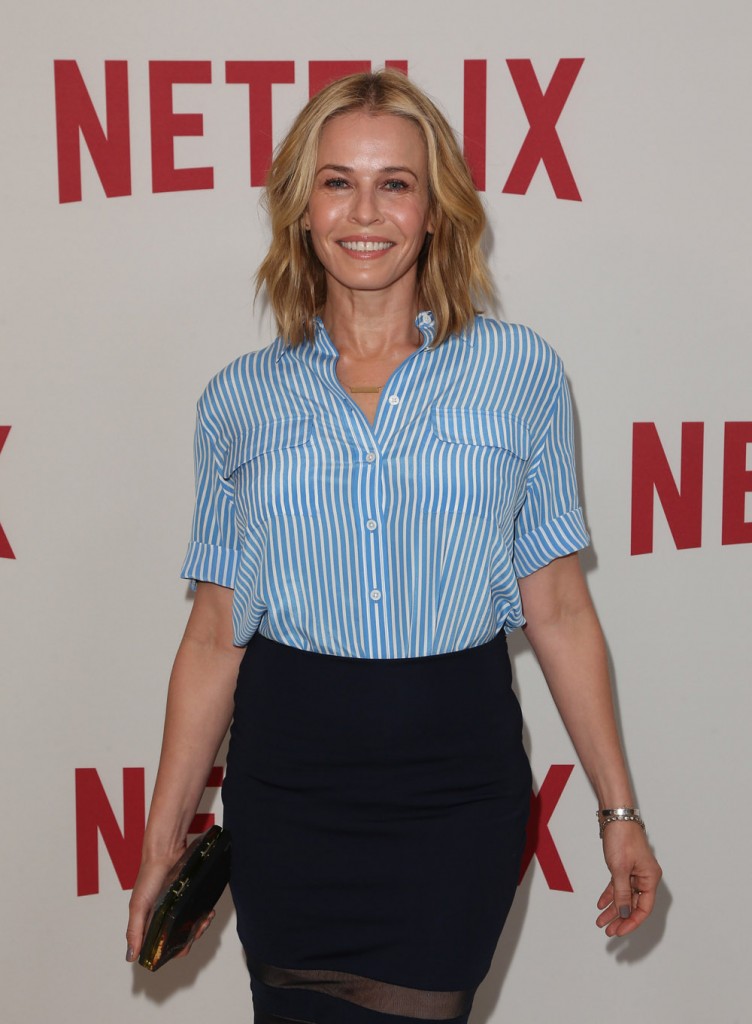 Chelsea Handler's new talkshow on Netflix, Chelsea, is kind of a snooze. It's barely been covered in the press and it's what we've seen from her for years, nasally interviews interspersed with racist jokes and references to how much she drinks. There were some funny "inside Netflix" type video segments in the episode I saw, I'll give her that. The show is said to represent a new direction for Netflix in that it's their first serial talkshow. Only it's unclear if Netflix's original talkshow will be successful. The showrunner just quit after three weeks and word has it that he won't be replaced.
Only three weeks and nine episodes into its run, executive producer Bill Wolff is leaving Chelsea, Netflix confirmed Friday. The series, which airs three nights a week on Wednesdays, Thursdays and Fridays, will continue with its regular production schedule, and will not find a replacement showrunner for Wolff. Though viewership figures will be kept tightly guarded, the show launched to weak reviews.

"I am excited for Chelsea as she continues to produce her singular vision for a television talk show," Wolff said in a statement. "My friends at Netflix provide the foremost platform in developing ambitious and compelling creative content."

Added Handler: "I'm grateful that Bill was part of the pioneering effort to get Netflix's first talk show off the ground."

Wolff, a veteran TV producer, was tapped as the showrunner of Chelsea just two days after his departure from ABC's The View, where he spent a year helping to spearhead a rebrand of the tumultuous talker. Prior to that, Wolff had spent nearly 10 years at MSNBC, where he was an executive producer on cable news programs including The Rachel Maddow Show.

Chelsea marks Netflix's foray into the talk show sphere, and is the streamer's second collaboration with Handler following docuseries Chelsea Does, which launched to stronger reviews earlier this year. The streaming service is reportedly paying her $10 million for the cadre of projects. Handler famously parted ways with her former employer, E!, in 2014, after publicly blasting the network. In an interview on The Howard Stern Show, she said, "E! has just become a sad, sad place to live. They don't know what they're doing, they have no ideas … everything they do just is a failure."
I didn't know that last bit about how Chelsea trashed E! on Howard Stern a couple of years ago. They're printing Kardashian money over at E! and they have new scripted series which are doing well. It's not true that everything that E! does is a failure, but of course Chelsea is just talking about her own exit and it's sour grapes despite the millions they paid her.
In terms of the showrunner leaving, did this guy see the writing on the wall and/or was Chelsea a pain in the ass to work for? Probably a little of both. We've heard that Chelsea can be extremely difficult to work with, and I bet it's scary to clash with her. She has her own ideas about what's funny, which don't always jibe with the majority. Again, the blogs are barely talking about her (this is an exception, but it's a holiday) so while Netflix doesn't release viewer numbers I would bet ratings are low. At least she had the sense to put her dog on the show. More talkshows should have pets to interact with guests.
Chelsea was on The Late Late Show along with Peter Krause a couple of weeks ago and I included some photos of him because I love him. He has that new show The Catch on ABC. Photos credit: WENN.com