Justin Bieber can't seem to keep his hands to himself when it comes to other people's songs. Bieber, who is currently in litigation over theft claims on his song Somebody to Love, now has to answer for the distinctive loop in his song Sorry. Artist Casey Dienel – aka White Hinterland – has filed a suit against Bieber and fellow producers Skrillex, Julia Michaels, Justin Tranter and Michael Tucker, for stealing a loop from her song, Ring the Bell. The lawsuit was filed, Dienel claims, after Bieber ignored her repeated attempts to contact him to rectify the situation. However, Skrillex and Bieber tweeted their innocence to the lawsuit claiming the loop is all theirs.
Skrillex has responded to a lawsuit filed by the artist Casey Dienel which claims he and Justin Bieber stole a loop from the vocalist's song to use as part of their 2015 single, Sorry.

"SORRY but we didn't steal this," Skrillex tweeted on Friday, adding a video which showed how the section of the song was produced. Bieber retweeted him, adding the hashtag "#wedontsteal".

Dienel, also known as White Hinterland, claims the pair used her vocal loop without permission on their No1 track. The clip in question is used repeatedly through her 2014 song Ring the Bell, and she reportedly claims that the "unique characteristics of the female vocal riff" have been copied.

When asked about the case, US DJ Diplo, who worked with Bieber and Skrillex on the Jack Ü project, told TMZ: "I thought they sampled it, but I thought they cleared it. I'm sure they'll work out a deal with her. They don't want to go to court with it."
Here is the tweet with the video that supposedly shows how they created the loop:
SORRY but we didnt steal this 🙏🏻 @justinbieber @bloodpop pic.twitter.com/9897j9sfY7

— SKRILLEX (@Skrillex) May 27, 2016
TMZ caught Diplo as he got off a plane at LAX. He says he doesn't know anything about this case (he is in no way involved with either song) but his views on what happened sound plausible. He thinks that with four or five producers, "somebody added (the loop) and didn't tell anyone." If someone lifted the cord and someone else forgot it was lifted and didn't clear it, it might have been excusable if Bieber's team had tried to correct the error once notified. But that's not what happened; instead they ignored Dienel until she sued. I agreed with Bieber's side on the De Rico thing but not here – those loops are the same. Dienel's lawsuit also claims that Skrillex had to have been aware of her work because they were both featured at the same time twice in Rolling Stone on separate occasions.
I can, however, believe that Bieber is clueless enough to steal someone's loop because he was clueless to the fact that nobody wanted to see this nonsense:
So no pictures with fans but a good old fashioned crotch grab is fine? Child, please. Fortunately he kept his clothes on while congratulating his good friend Lewis Hamilton's Monaco Grand Prix victory Sunday. Instead of grabbing his Baby Bieber, he grabbed Hamilton's giant champagne bottle and took a swig because apparently he just takes whatever he wants.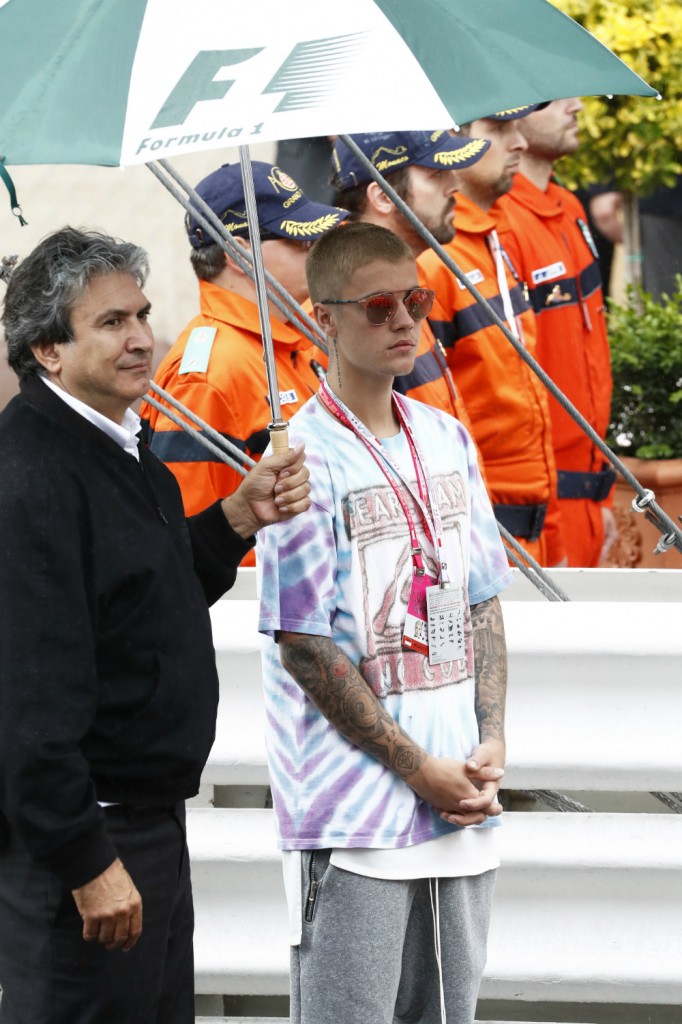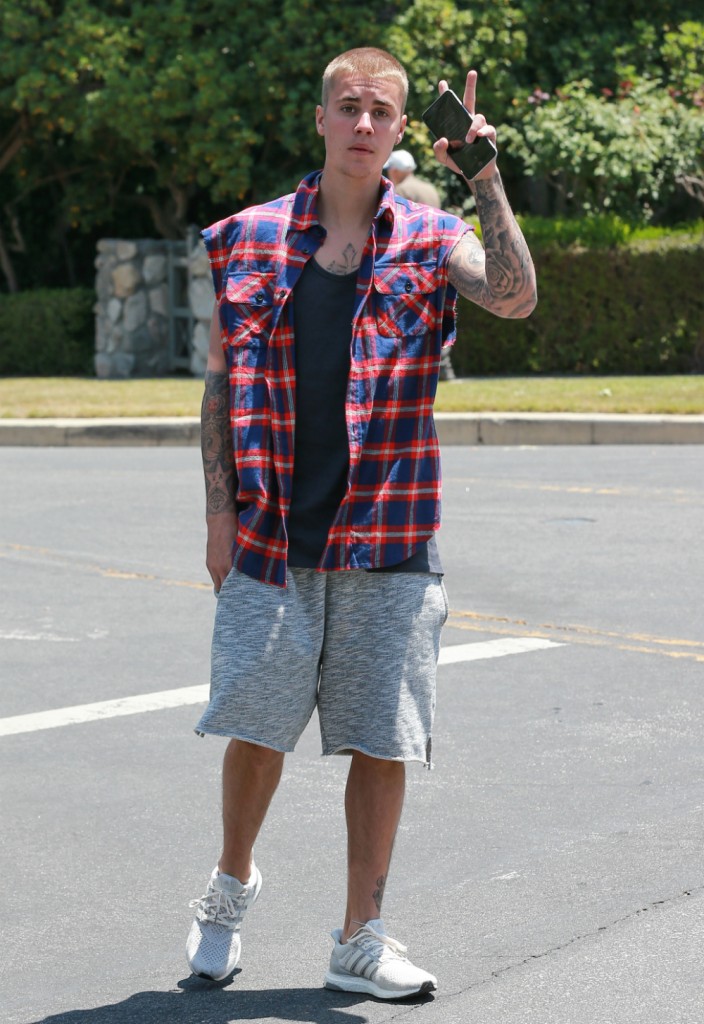 Photo credit: Fame/Flynet Photos, Getty Images, Instagrama nd Twitter