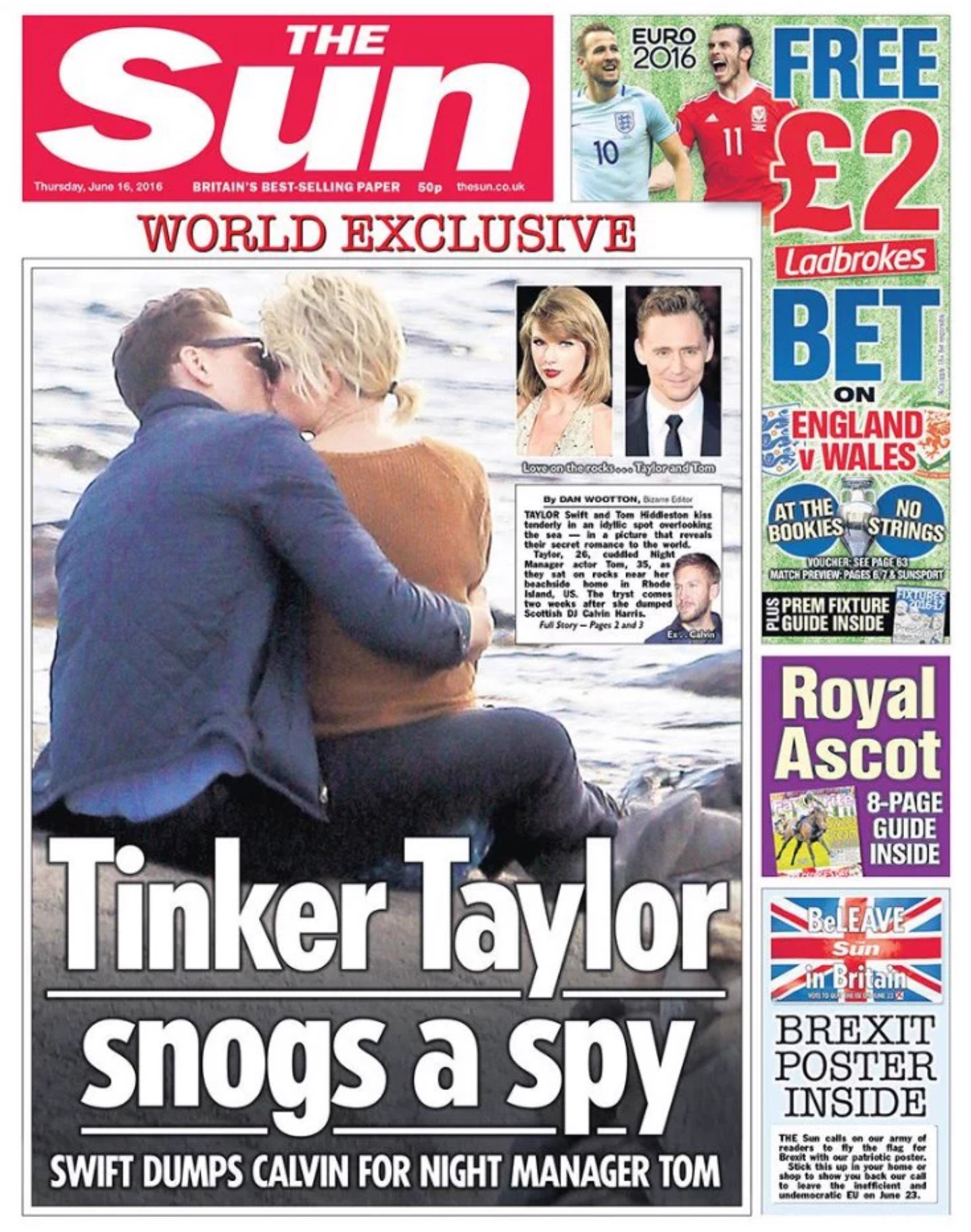 Ever since The Sun dropped those photos of Tom Hiddleston and Taylor Swifty "courting" on the beach in Rhode Island, I've been riding a gossip-high. Everything about this is just… delicious. The memes, the speculation, the tears, the Tumblr meltdowns, the sycophantic press pieces and the "think pieces" slamming Tiddles for their obviously staged photos. I love it all. Tiddles is real. Tiddles is the summer romance we've been waiting for. Tiddles is everything.
Obviously, a lot of people are worried that the photos are just TOO staged. Those people have never, ever paid attention to Taylor Swift before, right? Because these Tiddles photos are remarkably similar to all of her other staged photo-ops with new boyfriends. Remember the Us Weekly exclusive photos with Jake Gyllenhaal? Remember those first staged photo ops with Harry Styles? Yeah. While I have no doubt that Taylor was the one engineering this photo op, give credit where it's due: Tom played along. He wanted to be there. He wants you to know that Tiddlesbanging is happening.
So, here's my analysis of TIDDLES: it helps her more than it helps him. TIDDLES and this photo-op is very much "on brand" for Taylor and she looks like a baller who brilliantly played her ex-boyfriend, Calvin Harris. But is this on brand for Tom? Not so much. But then again, we don't know much about his romantic life other than a handful of Elizabeth Olsen and JArthy sightings every so often. And in interviews over the past few months, I've definitely been getting the feeling that Tom has wanted a girlfriend. Elizabeth Olsen kept playing stupid games about their status and Big-Boy Tom was open to having a real girlfriend, a real relationship, someone he could be photographed with. What I'm saying is that everything could be true, that the photos are staged and that Tom is Taylor's jumpoff and this is all a PR strategy AND that Tiddles is real.
PS… if you check out People Mag's timeline of events, you'll note that People picked up on the same thing I noticed two weeks ago: that Tom arrived in LA (where Taylor was at the time) just a day before Taylor and Calvin announced their split. I think there was overlap, at least "technically" some overlap between Calvin and Tom.
WORLD EXCLUSIVE: The pictures that reveal Taylor Swift and Tom Hiddleston's secret romance https://t.co/nsyBiImDwI pic.twitter.com/l2tQTAMmfw

— The Sun Showbiz (@TheSunShowbiz) June 16, 2016
Taylor Swift and Tom Hiddleston have been spotted KISSING 💋💋💋 pic.twitter.com/a6W9ORzJvx

— Missguided (@Missguided) June 15, 2016
Photos courtesy of The Sun, WENN.