Why have I been feeling for months now that Amy Schumer is sort of "over"? It's not that people have stopped paying attention to her (that's still happening), but it feels like interest in Schumer already peaked (last year) and now she's on the wane. She replaced Lena Dunham as the "controversial" person we were supposed to care about, and now? I just feel like Schumer has one-note and people are tired of it already. But I guess Vogue didn't get the message, because here she is on the cover of their July issue. You can read the full interview (by Jonathan Van Meter) here. She's shilling for her new book, The Girl with the Lower Back Tattoo. Some highlights:
Her hustle: "I wouldn't know what motivates Tina Fey and Julia Louis-Dreyfus. This insatiable drive. I have it too. Sometimes I feel like they're hustling, they want something, and they're not going to stop until they get it, and they play the game. I am very into making up my own rules. Like, I don't want to play the game and succeed at it. I want to redefine it. That's the only way I can deal with it. Maybe that's naïve."

She doesn't get fashion: "I don't think it's stupid; there's no moral reasoning. It's just not my thing. I just have this sense of entitlement that I should be able to feel comfortable at all times, like I could go to bed at any moment in what I'm wearing."

Her feminism & liberalism: "I have this innate need to say things that I think are important for people to hear. And I can't stand injustice, so even if it makes people uncomfortable, I'm not afraid enough to conflict to keep my mouth shut."

Taking care of herself & love: She is a devoted practitioner of TM, avails herself to weekly acupuncture sessions, doesn't touch caffeine, juices every morning, and enforces a prayer circle with her family and crew before each show. She is also seriously involved with Ben Hanisch, a 29-year-old furniture designer in Chicago. "We're in love," she says. "And we're still in a total honeymoon phase. It's a real relationship. Who knows what will happen, but we're real good right now."
I feel like a bad person because I didn't even care enough about this to read the full interview. I rarely do that! I always read the interview. But I'm just going off the quotes Vogue sent to us, and I think that's the way to do it: I'm okay with Schumer if I take her in small doses. And hey, it is nice to see someone on the cover of Vogue who isn't a size 2. Even if Schumer sort of lies about her size a lot?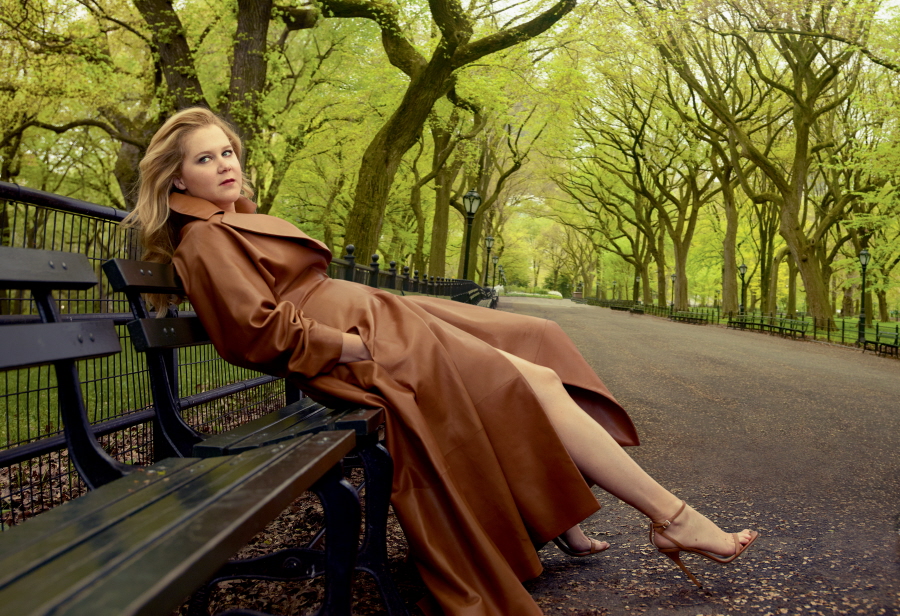 Photos courtesy of Annie Leibovitz / Vogue.