David Duchovny and Gillian Anderson have an long enjoyable joint interview over on Deadline. This is in the Awardsline section, so it must be part of the Emmy push for the X-Files reboot. Apparently the first round of voting closes June 27th, so please if we have any Emmy voters reading consider the new X-Files (and also Master of None and Bates Motel) on your ballots.
Ever since I heard David Duchovny promoting his new book on Fresh Air I've had a renewed appreciation of just how smart and insightful he is. He has a masters in English literature from Yale and his undergraduate degree is from Princeton. I've always found Gillian Anderson a joy to listen to as well, so it's a treat for me to have this interview to report. The problem is that they both say so many interesting things that I don't know what to cut. Reading the interview is like having a great meal. If you're an X-Files fan like me I would recommend that you read the interview at the source, but here are my favorite parts. The good news is that the show is such a hit and that they've both expressed an interest in returning, so we'll probably get more X-Files at some point. Anderson says that no one is is talks yet, though.
The second movie was a problem for them as they wanted to do three
Duchovny: But after the second movie opened against The Dark Knight, and it was kind of a doomed enterprise in that way, I think we assumed it was dead. As television rearranged itself over the last 10 years, the idea of a season changed from 24 episodes, to 6, 8, 10, 12, or whatever. It became apparent that we could exist there, at least temporarily.

Anderson: In my head, at least, was the fantasy of maybe doing three movies. I don't know where that came from, but it was a shame the second was handled in the way it was. We knew we wanted to continue the conversation and try and trump that experience.

They both say that a shorter series arc allowed the show to come back
Duchovny:As television rearranged itself over the last 10 years, the idea of a season changed from 24 episodes, to 6, 8, 10, 12, or whatever. It became apparent that we could exist there, at least temporarily.

Anderson: But the idea of doing a small pack, and realizing that our series works best when we have an opportunity to show all the elements of it, which you can't fit into a single feature, suddenly it could be allowed to be all those things it is at its very best.

On their gag on Kimmel about how technology has changed, and how that affects the show
Duchovny: I honestly think the writers' time is best spent not even concerning itself with the kind of questions about how the show exists now, because I feel like every 10 years or so people like to run around proclaiming that the world has changed and technology has changed us. And the fact is: we're still humans. Our human nature is exactly the same as it was 500 years ago, let alone five years ago. And that's really what the show concerns itself with; human nature, and possibility and the freedom to wonder and wander.

On their chemistry on screen
Duchovny: What exists in the writing, as well, is that these two people are true partners and they complete one another intellectually and emotionally. I do think that's very romantic, when you have a man and a woman treating each other as equals. And not just as equals, but as necessary components of one another. Without the other, they fall as people, as entities, as investigators. It's highly romantic and yet not sexual, though there's a lot of tension.

Anderson: They have a clear depth of caring about one another, and that's what really gets people. They care about one another's welfare, and so even if they're at odds in their beliefs, their caring transcends that, through all nine seasons.

On how they had chemistry when they first met
Anderson: We didn't know each other at all, but for some reason there was something in the room between the two of us that wasn't there with others. To a degree, you can manufacture that as actors, and you have to most of the time, but for some reason there was something tangible and palpable that existed between us, right then.

On if we'll get more X-Files
Anderson: I'm open to the conversation, though they haven't come to us yet. I have no clue when they're going to. I'm getting on with the rest of my life and I'm booking other jobs, so if it is indeed something that they would like to continue, then that conversation will need to be had. And I have no idea when that will be able to take place at this juncture.
I love how Anderson is very blunt and matter-of-fact about her busy schedule and the fact that she's not waiting around for producers to come to her about doing more shows. She's putting producers on notice, which she did before by revealing that she was initially offered half of what Duchovny was for the reboot. You know he's the one who told her that, and that he has her back. Their rapport has always been palpable, which is so much of why the show works. I do think they had something more happening recently but so many of you have told me that's wishful thinking on my part.
As for Duchovny's thoughts on how technology should be written into the show in the future, I disagree that it shouldn't be a consideration. The tech-heavy episodes in the original series were some of my favorites and I absolutely loved The Lone Gunmen.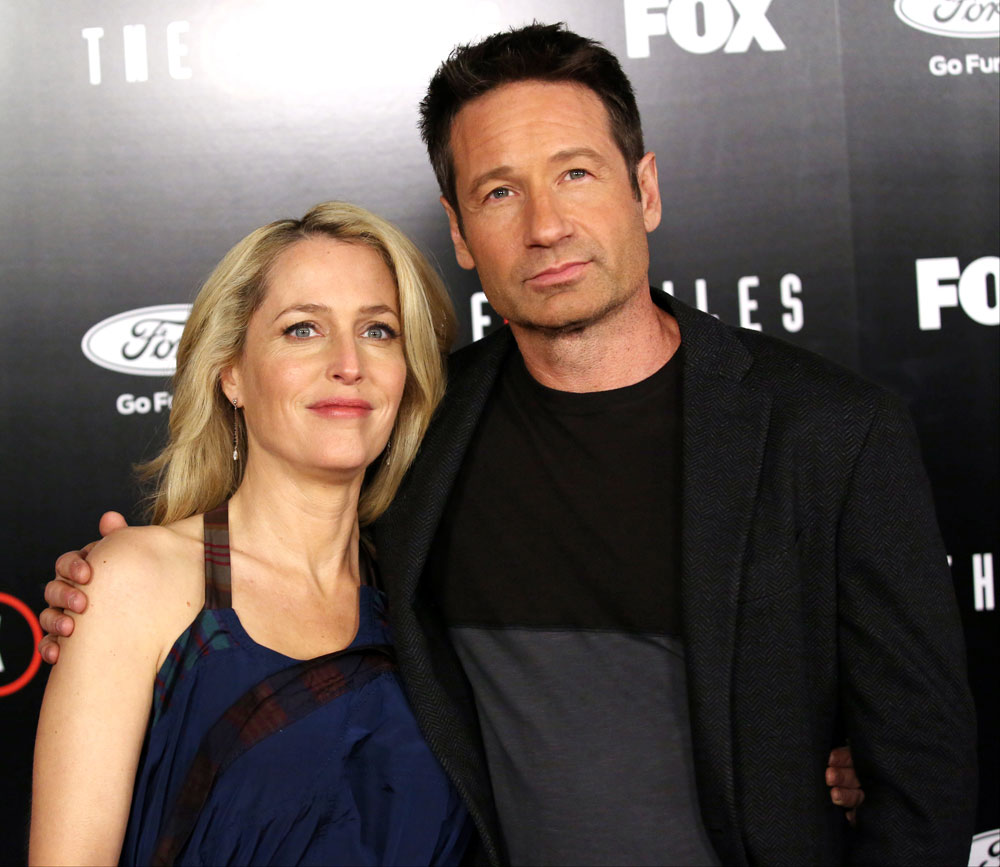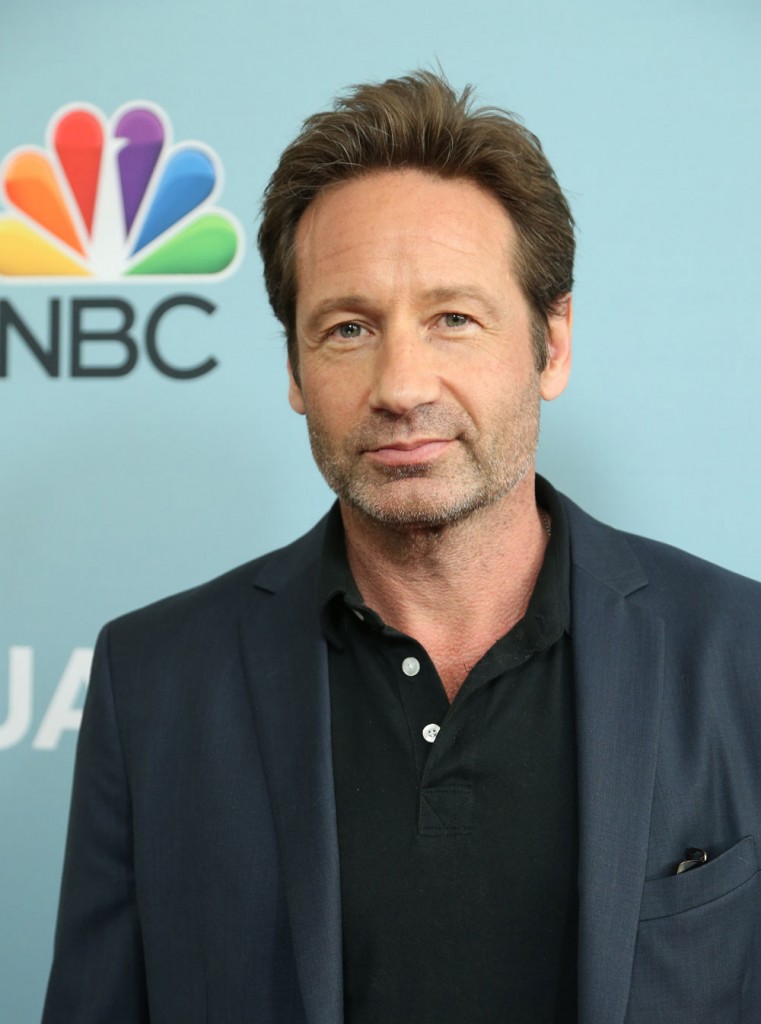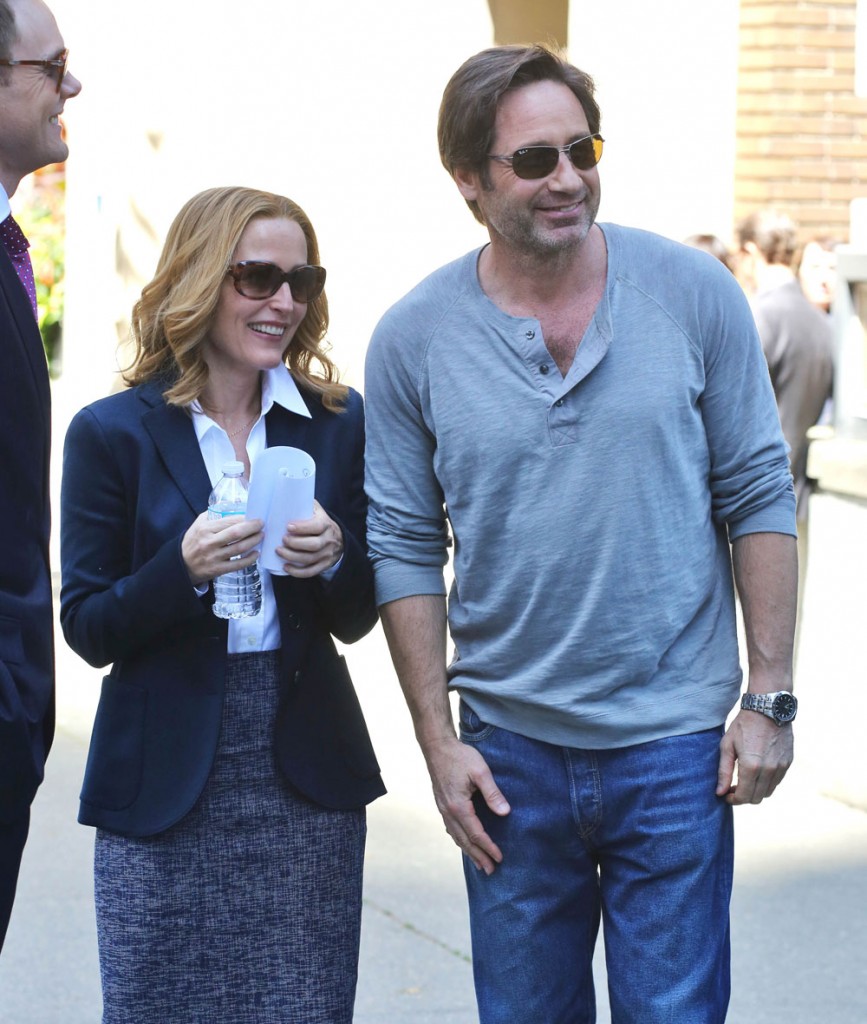 photos credit: WENN and FameFlynet. Header image from Mark Mann for Awardsline