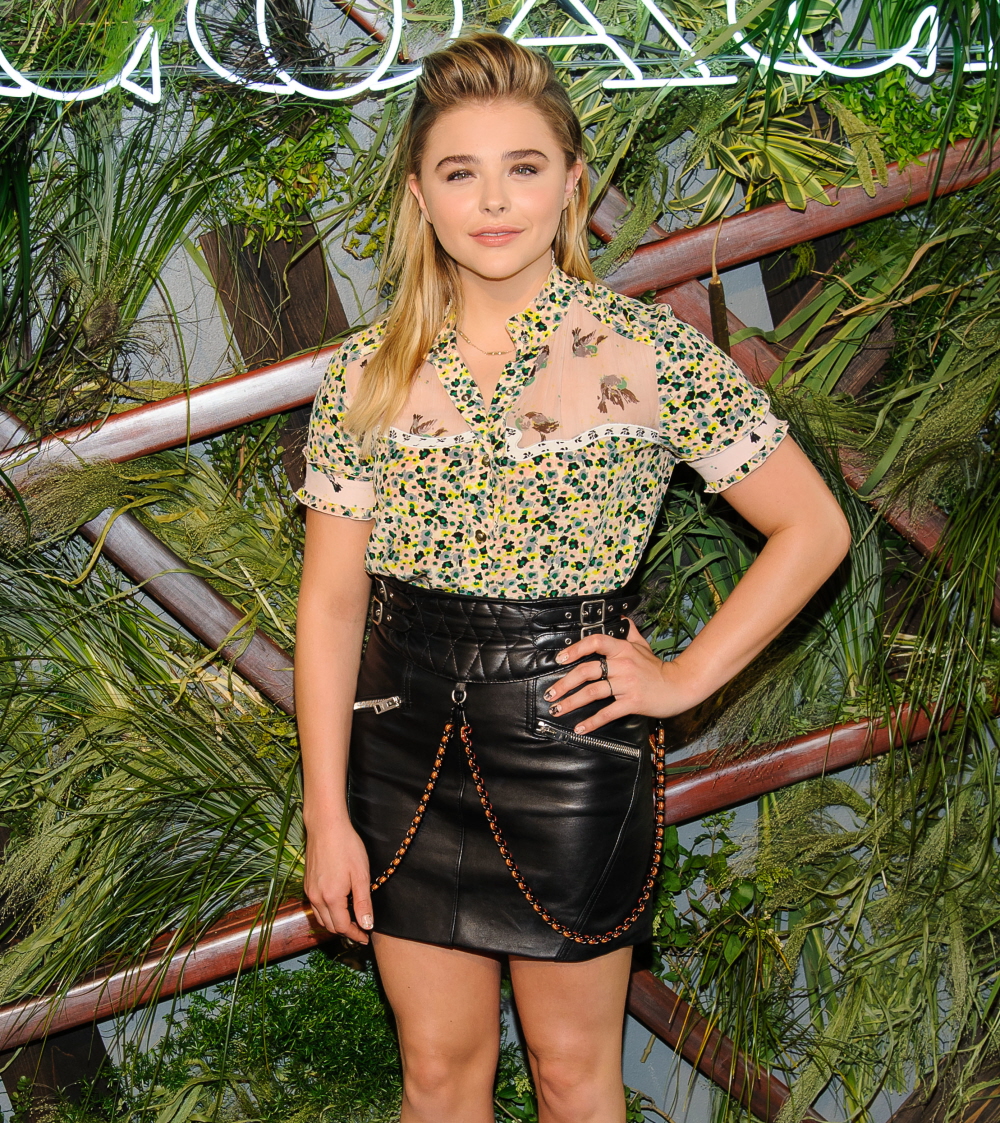 Chloe Grace Moretz has been photographed a lot lately. She's been going to lots of events, for sure, but she's also been getting pap'd a lot. I think it's partly because she's official with Brooklyn Beckham, but I also think she's hustling in general. Hustling to break out, hustling to get work, hustling to be taken seriously as a politically active young person. Anyway, these are photos of Chloe at a Coach event last week. She's the new face of Coach, which is actually a pretty good fit – I bought my first Coach bag when I was Chloe's age! To promote her new contract, Chloe chatted with Elle Magazine about the label, Hillary Clinton, body image and more. I find the body image stuff the most interesting. Some highlights:
Her biggest issues as a young person: "My biggest issue as a young person, male or female, is our educational system. When I turned 18, I decided that I couldn't justify the expense of college. I've made all my own money—I've worked my butt off, and all of [my] savings, I've made those myself. And I can't justify spending my own money and throwing it away to go to college just to pay it back for 15 years. That's going to make me resent an experience that should be so fulfilling. It feels really inappropriate, like I'm getting robbed. So I told that to Hillary Clinton. I said, "Why can't we make it so when kids turn 18, they want to go to college?" It should be free. You shouldn't have to buy education. That's something we need to give to the youth of America because it's going to raise income, it's going to raise job satisfaction, it's probably going to raise empathy and understanding of other people. Education is everything."

Her message as a Coach model: "That's why I try to keep it natural. When I signed onto the Coach ads, we were all on the same page that the hair and the makeup are things you could do in real life. I try to break barriers. I try to not post Instagrams where I Facetune my face and I wear a ton of makeup. I want to be as natural as can be. And I want to break it down for young women so they understand that you're not just "born" like this. Yes, I have had hair extensions. Yes, the reason I have this body is because I work out seven times a week. Yes, I eat really clean—even though I don't always want to, and I definitely cheat. But you're not just born with this. Sometimes you have to fight for and work for things, and be happy with who you are at the same time. And that's a really hard balance but I want to show it to young women."

Realizing she was unique: "When I was 16. I wanted a boob job. I wanted the fat pad under my chin to be removed. I wanted a butt reduction, or whatever. And my mom said, "Absolutely not, you're not allowed to have plastic surgery." And because of that, I found a lot of power within my insecurities. They're what make me who I am now."

What she does on a bad day: "My boyfriend is a huge support. I mean, don't get me wrong, I don't need a man for anything, but when I'm feeling bad about myself, he's like, "Stop. Look at what you say in interviews. Look at what you stand for. Listen to your own words, because you're as beautiful as you say you are! All young women are more beautiful than they think, you know. And I like you more in sweatpants than I do when you're on a red carpet." And it's nice to have a young man who's 17 years old be able to look at a woman that way. I think it means we're on the right track.

She wears cologne: "My boyfriend and I use each other's cologne. He'll wear my female version; I'll wear his male version."
I'm from a generation where a college education was an investment, but it was before tuition costs went through the roof like they have in the past decade. I went to a state college and I walked out of it with a BA and no debt, thanks to my father and the fact that I worked throughout college. So… I feel like college should not be free, but it should definitely be a lot cheaper than it is now. I'm also from a family where "not getting a college education" was not an option, and I don't understand Chloe's line of thinking that she's a rich actress and she doesn't want to spend her money on a college education because she can't justify the cost. If she wants to work, just say that. But saying she didn't want to go to college because of the cost just sounds… dumb.
As for Chloe wanting plastic surgery at 16 to "fix" her body, I'm glad her mother talked her out of it. That's what parents are supposed to do. That's what Kris Jenner was supposed to do when Kylie Jenner wanted to change her entire face and body. Plus, every teenage girl feels insecure about something with their appearance. You're still growing! I like that Chloe talked about that and gave specific examples.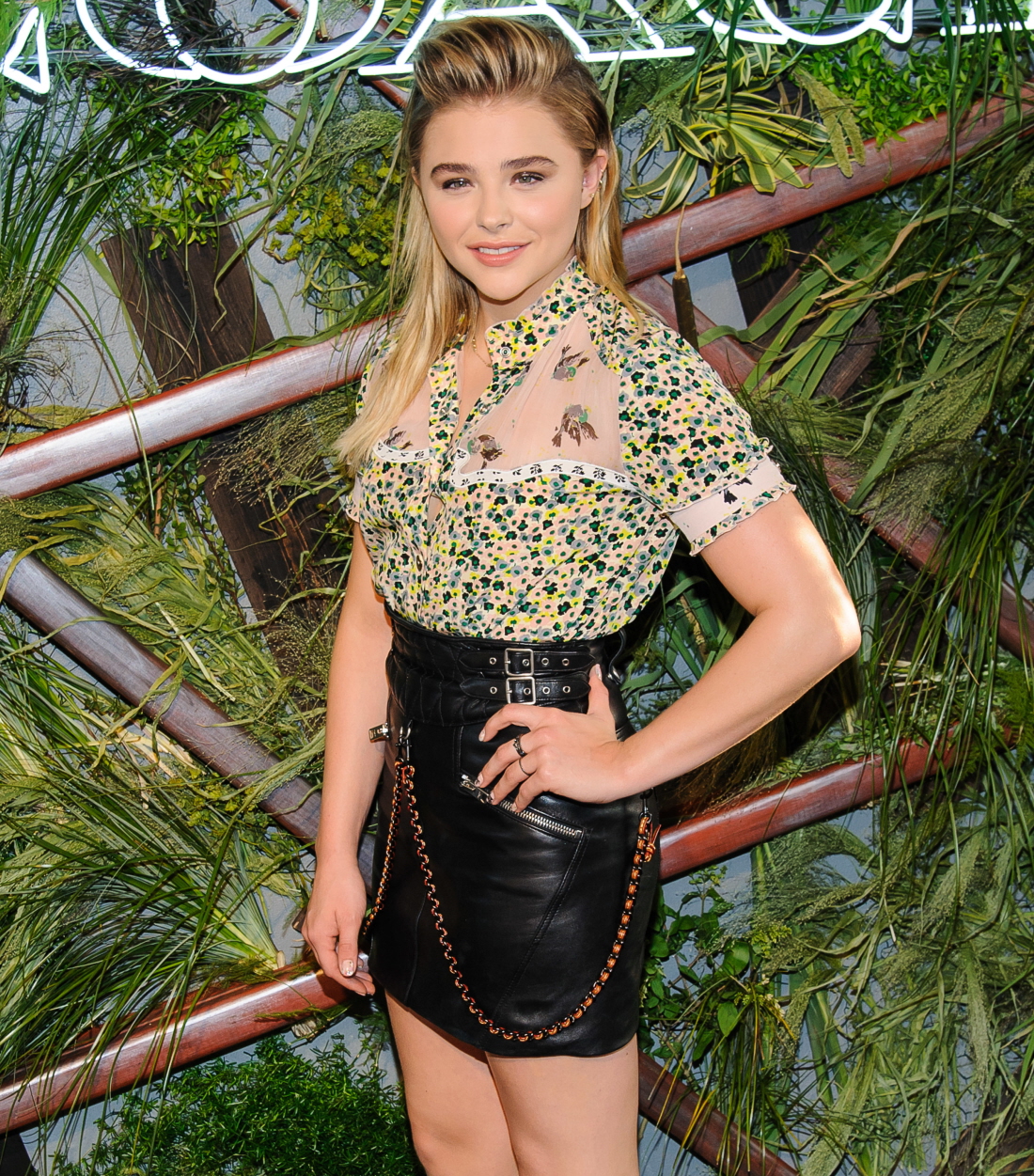 Photos courtesy of WENN, Fame/Flynet.